COVID Seems To Be On the Rise, Again
Following a brief return to normalcy, Latin announced that it would once again require masks throughout the school, beginning Tuesday, May 31.
Latin's Upper School had been mask-optional since March 8, but last week, the school communicated via email that a recent spike in Chicago and Cook County cases convinced the school that masks should once again be mandatory.
Based on data reported recently by the city and county, Latin's Senior Medical Consultant Dr. Leslie Cordes said, "Both case counts and measures of stress on the hospital system are taken into account in determining a region's COVID level." Cook County is currently designated as high risk.
Throughout the city, cases are up about 6.2% daily, leading to an average of 23 hospitalizations per day. At Omicron's peak, there were about six new hospital admissions each day, which is low relative to the Delta and Alpha variants. At Delta's peak, the variant spread twice as fast as its preceding variant, Alpha. Today, Omicron cases are surpassing the total number of Delta variant cases, yet hospitalizations for Omicron have been significantly lower.
Furthermore, given that the hospitalization count includes patients admitted for reasons other than COVID who happened to test positive at the hospital, rates of severe infection may be even lower than reported.
With an increase in community prevalence, many Latin students have undergone COVID testing through school. Among these students is sophomore Noa Paige Bremen, who received a false positive PCR test through Northshore Clinical Labs (NCL), the testing company Latin partners with, despite a negative rapid test. This false positive sent her into self-quarantine.
"I had taken four tests [one rapid, two PCRs, and one at-home antigen test] and the only one that came back positive was the NCL PCR," Noa Paige said. "I started to question whether the school PCR was accurate and if the test was a false positive." After a fifth test, she was cleared to come back to school. "The Latin COVID team and I concluded that the NCL test was a false positive," Noa said.
Joe Edwards, Dean of Students for the 11th and 12th grades, said, "I think the rise in number of cases at Latin reflects the rising numbers we see across the city and country. I'm glad that we as a school community are vaccinated, boosted, and masking at rates that I believe to be much higher than average."
Although neither Mr. Edwards nor Dr. Cordes spoke to the reliability of the NCL testing, Mr. Edwards said, "The school has tests available, too, so I think our community is well-covered with regard to testing options."
The uptick in cases has also brought regular "close contact" notices to most students' inboxes. COVID-positive individuals are responsible for sending an email to Latin's response team, listing names of students they have been near or around in the days leading up to their positive test. One issue has been the withholding of such students' names by those who test positive for COVID, possibly to relieve stress and trouble from the close contacts.
Mr. Edwards said, "My sincere hope is that people are honest and forthcoming in their [close contact] information, since it helps protect the health and wellness of our community."
The Francis W. Parker School also has decided to reinstate its previous in-school mask mandate for the remainder of the school year, given the Centers for Disease Control and Prevention's recommendation that masks be worn in indoor spaces. Chicago Public Schools, however, are currently mask optional.
Dr. Cordes said, "Each phase of this pandemic has presented its own challenges. There has been so much progress in prevention and management of COVID, however, the virus continues to evolve and mutate, and we have to keep an eye out for new variants of concern."
Leave a Comment
About the Contributor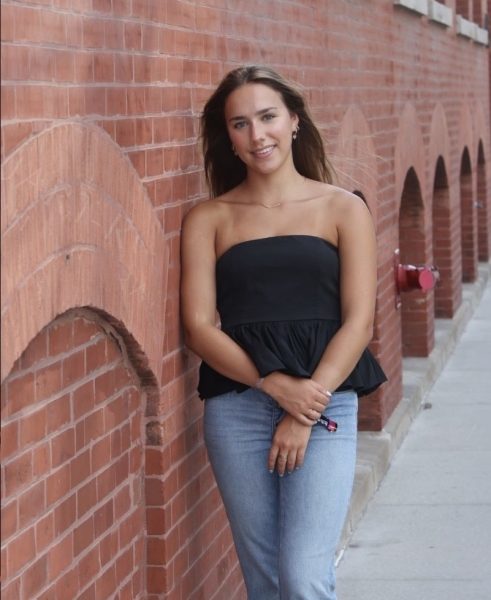 Annie Hallinan, Managing and Standards Editor & Media Editor
Annie Hallinan ('24) is a senior at Latin who is beyond excited to return to The Forum for her third year on staff. Aside from serving as Managing &...