Starbucks Reports Poor Behavior of Latin Students: Romans Fear a Veto on the Frappuccino
First it was Chipotle, then the Learning Commons, and now, Latin students face threats of a ban on visiting their beloved local Starbucks.
On one warmer-than-usual Wednesday in February, 11th and 12th Grade Dean of Students Joe Edwards took to the Wrigley Theater stage and informed the student body of a phone call he received from an employee at the Starbucks on North & Wells—a popular hotspot for Romans in need of a caffeine fix.
To his dismay, the employee was not calling to offer Latin students free frappuccinos or a taste test of their newest cake pop flavor; the employee was calling with a major concern regarding the rowdy behavior of certain community members in the coffee shop.
According to multiple sources across different grade levels, a group of Upper Schoolers headed to Starbucks with an unopened sparkling beverage. Once they arrived, the drink exploded all over the establishment, causing a scene that ended in the students being kicked out.
But this incident was merely the final straw to a number of behavioral episodes at Latin's nearest Starbucks. Mr. Edwards said he felt embarrassed when Starbucks called him. "The primary concerns expressed to me," he said, "include things like moving chairs and tables around without replacing them when finished, noisy behavior that frequently disrupts other patrons, and leaving huge messes behind including garbage, cups, and food waste."
This list of concerns mirrors the current behavioral patterns in on-campus spaces like the Learning Commons and the Pit, but students' consistent abuse of public facilities is especially problematic.
In addition to their inability to clean up after themselves, Upper School Romans recently lost their access to Learning Commons collaboration rooms due to excessive noisiness and a failure to adhere to room capacities. Rooms reopened to students on Monday, though with stricter reservation rules than before.
Mr. Edwards—who can sometimes be seen walking the halls with a Starbucks iced coffee in hand—also noted reports of Latin students addressing Starbucks' workers in a disrespectful manner, though it's often unclear which Upper Schoolers are to blame since the coffee shop is an off-campus establishment.
Freshman Jeremiah Wheatley, despite being unsure of all the facts, believes the most recent incident was fully intentional. Jeremiah said, "One kid purposefully opened a shaken can on someone and either a worker or a manager came in and told them to leave."
If behavior like this continues, some Upper Schoolers speculate that more serious consequences could arise. Last May, Chipotle—located just around the corner from the scene of the soda explosion—banned the Romans from dining inside their restaurant, and a similar protocol could easily be enacted at other destinations near Latin.
Freshman and Starbucks' devotee Eva Lapiere communicated the disappointment she'd feel if Starbucks followed in Chipotle's footsteps. "I'm really not sure if Starbucks will end up banning Latin students, but if they did, I would be pretty sad," she said. "It seems like Latin students go to [this] Starbucks location a lot, so I think the whole community would be disappointed."
As for junior Anaitzel Franco, words cannot espresso how much she loves sipping a coffee midday. She said, "Starbucks is so close to school and I often go there to reward myself."
Anaitzel mentioned that her go-to Starbucks beverage is an iced coffee with both classic and caramel syrups. "I'd feel like a limb was cut off if they banned students," she added.
Although there's no telling if students will have to hike a half mile south to grab their favorite cold brew at the school's second closest Starbucks location, the possibility of Piper's Alley turning against the Romans still looms large. For now, the fate of coffee connoisseurs at Latin rests on the behavior of the greater Upper School community.
Many students realize, however, that poor behavior should no longer be condoned, whether on or off-campus. Junior Amanda Valenzuela acknowledged that Upper Schoolers need to represent their school in a positive light. "I think it's incredibly important that we respect our environment and not only our facilities team but also our peers," she said. "I hope we live up to that."
Mr. Edwards echoed Amanda's expectations for the student body, saying, "We have wonderful students, and I know that everyone knows how they should behave in Starbucks. It's just a matter of making it happen."
The manager of Starbucks on North & Wells declined to participate in an interview with The Forum and refused to leave any comments for Latin students. Nevertheless, the bio of his Instagram account still reads, "Latin's top-voted favorite barista," so his feelings can't be entirely negative.
Until Starbucks makes another move, Upper Schoolers can continue to make their quick trips to Piper's Alley, though it might be a good idea for students to leave any orange-and-blue paraphernalia in their lockers for the time being.
And for any students looking to stir up some trouble, make sure to leave your unopened sparkling beverages at home. Starbucks presumably won't be frappe the next time they feel a familiar sense of déjà brew and have to kick out a latte more students.
View Comments (1)
About the Contributor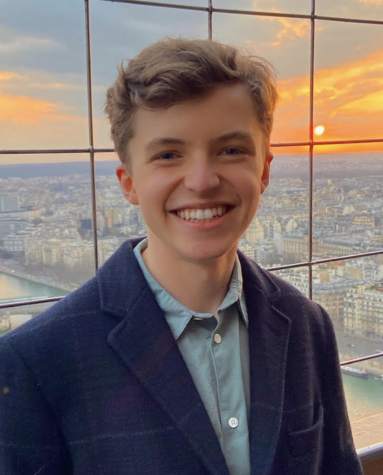 Will Baiers, Features Editor
Will Baiers ('23) is a senior at Latin and could not be more excited to serve as a Features Editor. Will has a passion for spotlighting current events...