Going Out with a Bang: Latin Summer Sports Teams Win State Titles
Over the past few months, Latin's summer sports teams have worked tirelessly to win games, break records, and win state championships. This year, for the first time in Latin's 133-year history, the school finished with two state titles—in girls track and field and boys tennis.
Meanwhile, boys baseball and boys volleyball won their regional championships, and boys track and field also finished the season in style at the state championship meet on Thursday.
The girls track and field team dominated their state championship meet, competing in the 2A division this year against some larger schools, but their victory did not come easily. Race day was a scorching 88 degrees Fahrenheit, and two of the Latin runners competed in four events.
But the hard work paid off.
Seniors Bea Parr and Marianne Mihas, junior McKenna Fellows, and sophomore McLaine Leik led off the meet with a huge victory in the 4 x 800m for the first relay win in Latin's history. In the 3200m run, meet-favorite Ava Parekh, a junior and one of the top distance runners in the nation, ran comfortably just behind the leader for most of the race and then blew by her in the final lap, giving Latin another first-place finish. Senior Olivia Syftestad placed seventh in the 3200m.
Marianne won the 800m final, finishing her high school career with at least one individual title in every state meet. (Marianne won the state title in the 1600m as a freshman, and won both the 800m and the 1600m as a sophomore. There was no state meet last year amid the COVID pandemic.) Ava added a fourth-place finish in the 800m.
And then in the 400m run, which took place only about a half hour after the 800m, Marianne placed second, running a blistering PR of 57.7 in the midst of her four-race afternoon. And in the 1600m, Ava placed second, and Bea placed fourth. Additionally, Alice Mihas added points to Latin's winning total, placing eighth in shot put and ninth in discus, even though she began training for these events only this past year.
By the time Latin got to the final event of the meet, the 4 x 400m relay, they had already wrapped up the team title, so their fifth-place finish in that event wasn't even needed. The race offered further evidence of the team's incredible talent and heart.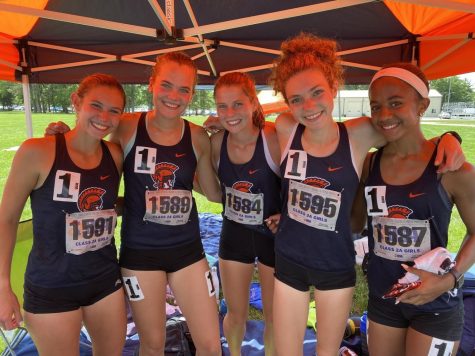 Recapping the season, Bea said, "We didn't have very many competitive meets throughout the season, but our team did a really good job of staying in the right headspace and working hard no matter the circumstances to prepare for state. This year, state was set up differently, so there was less time in between events, but everyone was able to contribute." She noted, "The win was so long awaited and it was awesome for us seniors to end our [high school] careers this way and feel like we all contributed."
Marianne added, "I couldn't imagine a better end of any of our high school running careers. To finish this year, with this special team, with a state championship was absolutely amazing."
McKenna remarked, "Our performance at state was a culmination of all the time we dedicated this season to improving not only as runners, but as teammates. The win means so much more than just a title; it's a testament to our collective effort, and it makes me elated that our seniors could experience something like that for their last year."
Girls track and field isn't the only team bringing a state title back to Latin this year. Boys tennis won the team championship in the 1A division and also won the state doubles title. Junior Will Benford said, "Our passions for Latin tennis gave us the greatest bond, and it was awesome to make these bonds stronger throughout the year. It was such an honor to be able to win the title, and I'm so proud of the team for our success."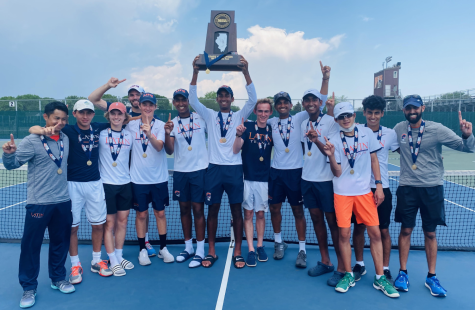 On the first day of finals, with temperatures in the high 80s, team captain and senior Sujan Garapati went 3-0 in his singles matches, and junior Will Benford went 2-1. Sophomores Akshay and Kiran Garapati won all three of their doubles matches, and junior Sam Cutinho and senior Antonio Feliciano y Pleyto went 2-1 in doubles. On Day Two, Sujan won his quarterfinal match but then bowed out in a tough semifinal. Akshay and Kiran continued their winning streak, crushing opponents all the way through the championship doubles match, which they won 6-2, 6-1, completing the entire tournament without dropping a set.
After three days in the sun, and with Sujan's previous win already safely securing the state title, boys tennis returned home as champions. Akshay and Kiran, nicknamed the "twin duo" by their team, were dominant state doubles champions. Overall, the three Garapati brothers scored more points by themselves than the entire second-place team. Kiran said, "Our passions for Latin tennis gave us the greatest bond, and it was awesome to see these bonds stronger throughout the year." The pair lost an average of just one game each set throughout the season.
"A lot of preparation went into state," said Sujan. "We had a really good week of practices beforehand where I could tell that everybody was focused and making good strides with their individual games. Lifting that state trophy felt amazing. It's a moment that will stick with me for the rest of my life."
Boys track and field had four athletes earn all-state honors at the state championship meet on Thursday. The team's top three distance runners led the way. In the 1600m run, Junior Ryan Hardiman finished third, and senior Peter Bernhardt finished eighth. Sophomore Akili Parekh finished sixth in the 3200m run. And senior Cole Fuller placed seventh in the 300m hurdles, leaving Latin with the school record in that event.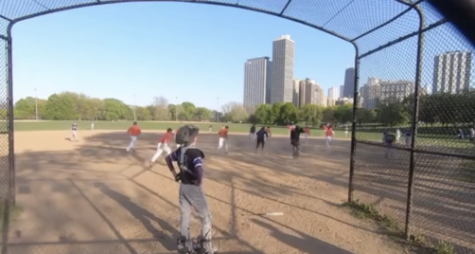 The boys baseball team also had a successful season, ending with a 15-4 record. They won the regional and the sectional semifinal game, but they unfortunately lost the sectional championship in a tough game against Timothy Christian. Junior team member Ryan Kramer said, "The season was probably one of the most fun [and] successful seasons [that] I've ever [had] at Latin. The team didn't feel like a team, but more like a family and brotherhood. We all bonded very well, which definitely helped our success." Ryan concluded by saying, "The team made [its] first sectional championship appearance for baseball at Latin in a long time, and it seemed that it wasn't just a few people who contributed to the success, but really the team as a whole."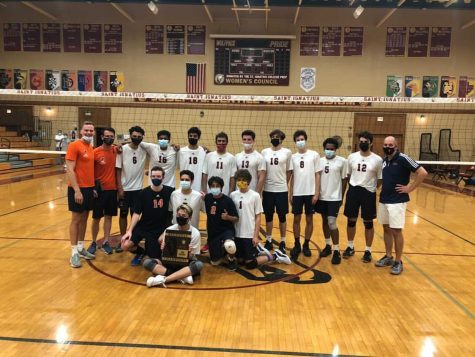 Last but certainly not least, boys volleyball enjoyed a triumphant and memorable season. The team was strong all season and beat St. Ignatius to win the regional finals. Junior Joseph Schwister said, "The excitement I felt after winning was greater than anything else in my playing career. I felt proud of our team, and I'm confident we're going to do great things next year."
Their season ultimately came to an end in the sectional semifinal against Oak Park and River Forest High School. "My teammates and I were just extremely grateful to have even had a season," said senior Darius Nabers. "As a whole, this year has looked so different. From practicing with masks, adhering to social distancing policies on buses to games, and having an ever-changing practice schedule, it took a lot for us to stay on the court."
While the 2020-21 school year has undoubtedly been the most unprecedented year in Latin history, the major success of the summer sports teams seems to be the light at the end of the tunnel.