Hutchison Has a Clue
After many months of rehearsing, filming, and editing, Clue, the student-run play directed by senior Frances Hutchison, premiered on May 21. Clue is the first student-run play to be presented in a movie format, which was an innovative step in COVID-era productions.
Frances began planning for Clue back in April of 2020. Theatre teacher Nick Baer said, "She managed it down to the second. In some cases, changing it to make it a film worked in her favor because she had such a clear vision."
The planning of each shot and angle is a luxury that most play directors do not have. Sophomore Cole Hanover, who played Wadsworth, said, "Thanks to Frances meticulously planning out every shot in advance, and junior Alyssa Batcheler's god-tier filming and editing, the transitions between virtual and in-person shots are unbelievably seamless to the point where, half the time, my parents couldn't even tell there was green screen."
The techniques necessary to create a seemingly maskless movie were very different to those used in previous Latin productions. Cole said, "It's a balance of in-person acting and green screen acting, two techniques that actors have had to juggle a lot over the past year." This year, the predominant method for the performing arts was over Zoom, using green screens to create cohesive settings.
Combining green screens with in-person shots was an ambitious task. Junior Caroline Cruz, who played Ms. White, said, "Many of the scenes, I noticed, we had filmed individually. We had filmed them in a garage or at our homes." Caroline spent many rehearsals at Alyssa's house, where Frances chose to film much of the movie, responding to junior Claire Lee-Zacheis' prompts, pretending to have a conversation with up to eight other people. Thankfully, she said, "When you put it all together, you couldn't even tell."
Clue's movie format meant that actors no longer had to memorize their lines in advance. Just like Hollywood, where actors often read their lines for the first time moments before filming, Caroline said, "I would just have to remember one line beforehand, and then we'd film, and then we'd be done, and then we'd go on to the next scene."
Filming posed a few challenges for actors as well. "In a normal live performance, your acting is contained within that night," Cole said, explaining that it is easier to stay in character when it's all on the same day. "Because this was a movie, and filming times were spaced out, the actors had to make sure their characters were consistent every time." On the bright side, he said, filming "gave us the opportunity to spend more time tapping into our characters' mannerisms and motivations."
Alyssa, the cinematographer and director of post production, had never before worked on a project this large. Clue ended up being over one hour long, full of animations, green screens, Zoom and in-person shots, and audio recorded on everything from AirPod microphones to expensive cameras. "Alyssa did so much work," Frances said. "Basically, this entire show would not be possible if Alyssa was not as talented as she is."
Alyssa's editing job was not an easy one. "Finishing the film really came down to the wire," Alyssa said, "with holes being filled days before the premiere, so I did have to compile a lot of the scenes in the final week leading up to the due date." The limited time during shooting days also meant that multiple takes were not always possible. "We had to move fast. Almost every shot you see in the film is a first or second take, which is mainly due to a lot of prepping and great work by the actors." She said her favorite parts of the editing process were making the intro and outro animations because "Frances gave [her] a lot of free creative reign."
Before the premiere, Frances said, "It looks so good. I'm hoping people like it. I'm feeling really really proud of it." Of course, the audience's reaction to the movie was overwhelmingly positive. The audible laughing and gasping in the theatre was a welcome change of pace from the muted Zoom experience, and it added a feeling of community to the in-person premiere.
Theatre teacher Frank Schneider said, "I think it's amazing how much Frances accomplished with this show. It's just stunning, and I'm just super impressed with the fact that this was her show. I mean, she, Alyssa, and the cast just took it and ran with it and made something amazing."
Leave a Comment
About the Contributor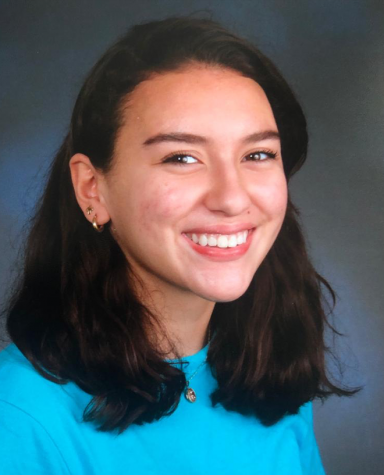 Angela Gil, Features Editor





Angela Gil ('21) is a senior at Latin and is honored to be serving as ​The Forum​'s Features Editor. She has written for ​The Forum​...