Uniting the Community By Sweeping the Beach: Earth Day with the Green Group
On April 25, the Green Group held a beach sweep around North Avenue Beach to celebrate Earth Day. The 33 attendees, a mix of students and teachers, each picked up a large trash bag's worth of litter from the area, finding items like bottle caps, cigarettes, disposable and reusable masks, dog toys, and, oddly enough, multiple parts of a car.
Despite the limitations that the pandemic has imposed on clubs, the Green Group managed to organize a group event that made a difference. Junior Keely Moll, a co-head of the Green Group, said, "We were able to host a beach sweep because we were outside, wearing masks, and socially distanced." In preparation for the beach sweep, Keely did some research on the history and significance of Earth Day. She said, "The thing that is contributing the most to positive change are the laws and acts implemented thanks to Earth Day's founder, Gaylord Nelson, that help regulate the resources and energy that many large companies use." Looking forward, Keely said, "We are all hopeful to start hosting Upper School beach sweeps about every month, during the warmer months, starting next year."
Junior Ascher Cahn, a devoted member of the club, said the beach sweep underscored the value of teamwork. He was reminded of "how much of an impact a group of people can have. It is hard to imagine cleaning up the entire beach by myself, but as a group I thought that we did a great job."
While she is not a member of the Green Group, senior Rebecca Wanger participated in the beach sweep and explained her belief that any kind of trash pick up is productive. "Especially," she said, "for avoiding plastic pollution in the lake." She also noted that "because of the time period and the pandemic, there was not too much trash to pick up." Typically, during the colder months, there tends to be less litter on the beach because fewer people are going to the beach; during a pandemic, that trend is amplified. On the other hand, disposable masks, which threaten fish and bird populations that live in and around the lake, made up a large portion of the litter found during the beach sweep.
Keely encouraged students to reduce waste production that may pollute Lake Michigan by "starting with small lifestyle changes. For example, purchasing a reusable water bottle, straw, mug, etc. will prevent more waste than you may think." On a larger scale, "Doing things like notifying restaurants or grocery stores of the amount of waste they are contributing to by seemingly minute things like handing out plastic straws, or only providing single-use plastic bags, will ultimately help environmental awareness and push large businesses to take responsibility and do their part." Lastly, and most importantly, "Getting involved in service, research, educating yourself, and even occasionally coming to Green Group meetings," Keely explained, "will contribute to a positive impact."
"The best way to keep waste out of the ocean and lake," Ascher added, "is to not litter at all. It is very hard to keep track of where trash ends up, so it is really important to not let trash get out there. This is especially true for smaller pieces of trash and plastic that can be blown around easily." Microplastics in the Great Lakes obstruct aquatic animals' digestive tracts when they are mistaken for food, destroying long-standing ecosystems. Additionally, those microplastics can travel up the food chain, ending up on the plates of humans. For instance, at Latin, the massive amounts of plastic that come with each of the hundreds of daily lunches (in the form of plastic bottles, plastic cutlery, and plastic packaging) might one day make their way into an unknowing community member's fish tacos.
Keely, Ascher, and Rebecca encourage Latin students to attend the next beach sweep, whenever it will be. "I had a great time," Rebecca said. "The weather was nice, and everyone was super excited and supportive. It was a great day!"
Leave a Comment
About the Contributor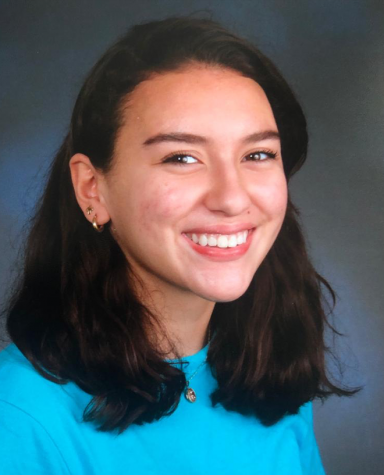 Angela Gil, Features Editor





Angela Gil ('21) is a senior at Latin and is honored to be serving as ​The Forum​'s Features Editor. She has written for ​The Forum​...