Male Politicians Continue to be Accused of Harassment. The 'Hero of the Pandemic' is No Exception.
Not long ago, New York Gov. Andrew Cuomo was beloved by America and the Latin community alike. Throughout the pandemic, he captivated the nation through his candid yet comforting briefings.
How the mighty have fallen.
On December 13, Lindsey Boylan, a former aide to Gov. Cuomo, accused the governor of sexual harassment. Additionally, she recently published a personal essay about her in-depth experiences with the governor. Cuomo's team shot down the accusations, claiming they were not based in truth. "Look, I fought for and I believe a woman has the right to come forward and express her opinion and express issues and concerns that she has," Cuomo said. "But it's just not true."
About three months later, another former aide, Charlotte Bennett, came out with similar allegations against the governor. Cuomo stayed silent. Just one week later, Anna Ruch, who met Cuomo at a wedding, called him out for his inappropriate advances with her in September 2019. Ana Liss, a third former aide accused him of both harassment and assault. Karen Hinton spoke about an inappropriate situation that occurred in a hotel room after a press conference in 2000 with Cuomo. Another woman, who chose to stay anonymous, said he lured her into his mansion last summer. She reported it to the Albany police, and they are looking into the incident further. And most recently, Jessica Bakeman, a former statehouse reporter, accused him of touching her inappropriately during a photo shoot.
After the third accusation, Cuomo spoke. "It was unintentional, and I truly and deeply apologize for it. I feel awful about it, and frankly, I'm embarrassed by it, and that's not easy to say. But that's the truth." Additionally, he claimed Ruch's allegations were merely a misunderstanding of the situation.
Following the sixth allegation, Cuomo emphasized his former point that these instances were all misunderstandings. "First, I'm not aware of any other claim. As I said last week, this is very simple, I never touched anyone inappropriately," Cuomo said. "No one ever told me at the time that I made them feel uncomfortable."
However, many of Latin's community members feel this apology is not authentic and does not excuse Cuomo from his actions. Maeve Healy, senior and Co-Editor-in-Chief of Latin's political magazine, Discourses, said, "It is difficult because it feels as if he is still beating around the bush for me. He doesn't want to own up to it, because he doesn't want to lose the support. It is very showy, and [his apology] isn't doing anything to give justice to the women, or the citizens of New York."
Ivy Schenk, senior and Co-Head of the Intersectional Feminist Alliance (IFA), had similar thoughts. "It's telling to me that he thinks of himself first in regards to this 'situation,' an interesting choice of words as well, and not of the people accusing him, as I am sure it has been an extremely difficult time for them even more so," she said. "He also doesn't end his 'apology' with an apology—ironic, rather the last thing he does is reassure that he did not 'intend it.'"
When the pandemic hit New York, the state that at points had the most cases in the U.S., Cuomo took immediate action. Starting on March 2 of last year, he began his daily coronavirus briefings that would soon become well-known throughout the United States. In the briefings, he provided a warm and honest perspective that comforted many. "For a few months at the start of the pandemic, Cuomo's daily meetings were broadcast nationally and seemed to reassure more than just New Yorkers that he had a plan and would take action to protect the virus from spreading," said Cara Gallagher, an Upper School politics teacher.
"That is essentially why these allegations hurt so much," said Ivy. "These people that are doing great one day are doing such bad things the next."
Cuomo was considered the "hero of the coronavirus pandemic," according to The Atlantic. But the noble rank he was held at soon came to an end as the nursing home death scandal came to light. As reported by The Wall Street Journal, in July 2020, Cuomo's team communicated 6,432 dead nursing home residents—not even close to the real number, which was 10,000 at the time. The nursing home death count has increased since then.
Workplace harassment has been invariably prevalent. Since 2017, when the #MeToo movement began, more women continue to speak out against powerful men and inspire others to do the same. "While these stories of sexual harassment are not surprising, as a society, we can't grow desensitized by the frequency of these situations," said Upper School History teacher Stephanie Stephens. "Instead, we must remain committed to making the workplace safe for everybody."
While Cuomo is now facing immense backlash, in past cases, sexual assault and harrassment allegations have died down after a few weeks, and the world has moved on to the next issue. Often, white male politicians do not lose support or their jobs, regardless of the accusations against them. Donald Trump remained President, Joe Biden was elected President, and Brett Kavanaugh was put on the highest court in the nation. Will the allegations against Cuomo die down? Will he be reelected? Will public opinion of him decrease?
"I think that Cuomo will lose female support," said Maeve.
Ms. Gallagher agreed, saying, "Certainly, the allegations that have been rolling in from three women who worked for him and experienced unwanted advances that were sexual in nature (touching, hugging, uncomfortable questions, etc.) from Cuomo raises serious doubts that history will look back and call him a 'national hero.'"
Upper School history teacher Ernesto Cruz said, "I would hope more people begin to question their participation in the deification of this individual as they begin to understand who he really is."
Since both the harassment allegations, as well as the nursing home death coverups, many politicians and government workers have called on Cuomo to resign. Democrat and Majority Leader of the New York State Senate Andrea Stewart-Cousins was the first, and many have followed with similar calls for his resignation. Reactively, Cuomo said, "I'm not going to resign because of allegations. The premise of resigning because of allegations is actually anti-democratic."
On Friday, New York Democratic Senators Chuck Schumer and Kirsten Gillibrand became the most recent to support the resignation of Cuomo. In a joint statement, they said, "It is clear that Governor Cuomo has lost the confidence of his governing partners and the people of New York. Governor Cuomo should resign."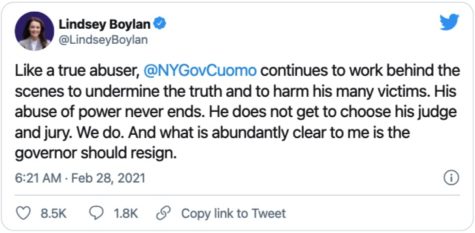 Lindsey Boylan, former Cuomo aide and the first woman to accuse him, published a tweet largely in favor of his resignation. "His abuse of power never ends," Boylan said. "He does not get to choose his judge and jury. We do. And what is abundantly clear to me is the governor should resign."
With new information in the nursing home scandal coming out, there is concern that the allegations will be overlooked. "I hope that the abuse investigations and the bravery of the women that came forward are not forgotten or overshadowed by other news and events as Governor Cuomo addresses the nursing home story and other COVID developments," said Upper School librarian and faculty advisor of IFA Gretchen Metzler. "If abuse allegations are treated like a passing news story, it will only make it harder for people to come forward in the future. I hope that Governor Cuomo takes these allegations seriously and that public opinion continues to push for accountability."
In October 2020, Cuomo released his newest memoir, American Crisis: Leadership Lessons From The COVID-19 Pandemic. In his book, he repeatedly brings up how strong of an advocate he is for women, especially in comparison to Donald Trump, the President at the time. "I am Catholic but have had my issues with the hierarchy of the Catholic Church," his memoir reads. "I support a woman's right to choose and marriage equality. The Catholic Church is vehemently opposed to both."
He goes on to explain how being in favor of these rights has been difficult for him considering his religion. After the book was published, Pope Francis came out publicly stating that he now supports LGTBQ+ civil unions in the church. Cuomo also signed legislation protecting women and their rights during the wake of the #MeToo movement in 2017. Ivy said that Cuomo's actions in support of women "make you question his intent. Was this his way of counteracting that before [the accusations] happened? I would like to believe he had good intentions," she said.
"I think it goes to show that politicians will support legislation and act very differently in their private life," Maeve said. "That is the thing about politicians. We don't know how they act in the private sector."
Many publicly-accused men hold a lot of power, which they sometimes use to exploit others. "Hierarchies that exist in political offices where, for instance, a governor is at the top, with many people competing for his attention, time, and their own professional advancement, can create conditions that lead to problematic cultures," said Ms. Gallagher. "These cultures are often ripe for inappropriate behaviors, such as unwanted sexual advancements or harassment, to not only occur frequently but also create a culture of complicity where they become normalized, tolerated, and protected."
Ms. Metzler emphasized Ms. Gallagher's point saying, "Power imbalances, in this case between a governor and female staff members, cannot be overlooked," she said. "Fear of retribution, whether it's fear of losing opportunities or even a job, makes confronting abuse in the moment or coming forward later a very brave act—made even more difficult when an elected official in a high office is involved."
Years after the the 2017 #MeToo movement, sexual misconduct allegations continue to come out, and as a community, advocates are working to normalize the conversation around inappropriate behavior. Cases of sexual harassment and assault impact not only those directly affiliated, but the female population as a whole. "It is this ripple effect. It affects everyone, even me reading it," said Ivy.
Watching a person who guided America through a time of crisis face such serious and upsetting accusations can take a toll on many people, especially women. Maeve said, "I think that has affected everyone, whether they are a politician or a regular civilian, in a variety of different ways."
View Comments(1)
About the Contributor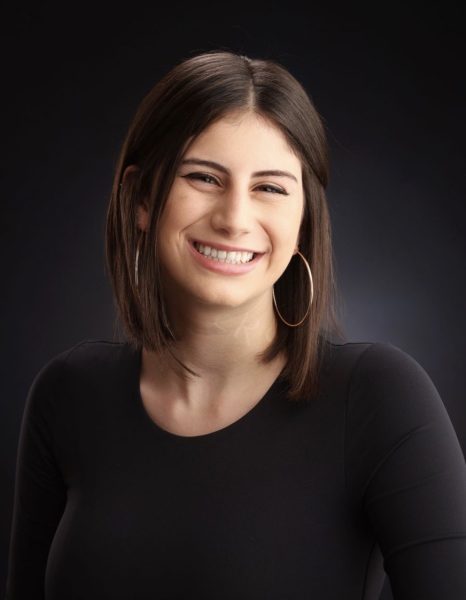 Eliza Lampert, Editor-in-Chief
Eliza Lampert ('24) is a senior at Latin and is overjoyed to serve as one of this year's Editors-in-Chief. During her time writing for The Forum, she...