HeadSpace: 'A Direct Line of Communication to the Leadership of the School'
HeadSpace, a new program at Latin, began this October, offering students the opportunity to engage in a series of small group conversations with top administrators.
Head of School Thomas Hagerman and Assistant Head of School Ryan Allen will meet with 12 students on select Thursday mornings, providing a platform for open conversation. Students may ask questions about school policies and express their ideas, all while munching on some breakfast treats.
"The overall hope is that the student body will feel they have the opportunity to make their voices heard by accessing a direct line of communication to the leadership of the school," Ms. Damaska—who manages the logistics for HeadSpace—said. "On a more granular level, [Dr. Hagerman] and [Mr. Allen] want to get to know the students better and hear their thoughts and ideas. After all, the students are the central reason why they do what they do."
She added, "Dr. Hagerman wanted to continue the tradition of accessibility that students have had with leadership in the past."
In theory, HeadSpace is an opportunity for students to make their voices heard to Upper School administration members. In practice, however, it is hard to spread awareness about the program.
While "there wasn't quite the turnout [they] were looking for" at the program's first meeting on October 5, Ms. Damaska said, "we're continuing to look for ways to make it more accessible to students."
The HeadSpace program's initial announcement and subsequent meeting-specific times and RSVP forms have been announced by email. With a never-ending list of emails from various clubs and classes, many students miss the announcements when browsing their inboxes.
"I've gotten a couple of emails, but I think some people might overlook them," freshman Edie Park said. She instead suggested, "promoting it more, maybe at gatherings."
While the program has faced issues in spreading awareness about its existence among the student population, students who are aware of the program expressed interest in future meetings. "I haven't participated yet, but I'm hoping to go a few times throughout the year," Edie said. "I appreciate that they're doing [the HeadSpace program] because it could help students connect with the administration."
Junior Sammy Episcope agreed, "I think that [the HeadSpace program] is a great way for students to get to know our Head of School."
Although there have been some bumps in the road, HeadSpace is open to change. Ms. Damaska said, "Everything [but group size] is up for discussion and we will continue to pivot until we find the set-up that works best for most."
Leave a Comment
About the Writer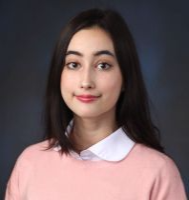 Sofia Grimm, Digital Editor & News Editor
Sofia Grimm ('25) is delighted to serve her second year as Digital Editor and her first year as News Editor. Her third year writing for The Forum, Sofia...