War in Israel and Gaza Hits Home For the Latin Jewish Community
Sophomore Ellie Falk woke up on October 7 and felt suffocated by the news.
"When I first heard the news that Hamas invaded Israel, my heart sank with worry and grief about what would happen to these innocent people," she said.
The news is embedded in social media, Google, history class, and family dinners—but to many members of the Latin community, the news has become personal.
On October 7, Hamas invaded Israel, massacred 1,200 Israelis, and took more than 200 Israeli hostages. Since then, Israel's response has led to over 10,000 civilian deaths in Gaza, according to the Gaza Health Ministry, and a growing humanitarian crisis. What makes the Hamas invasion unique is that civilians are the target.
This war has caused a global rise in antisemitism. Many universities including Harvard, Cornell, and George Washington University have held pro-Palestine rallies that turned from peaceful political protests to antisemitic comments and violence. "My family and I worry constantly about my brother and my cousins all living on college campuses that have received antisemitic threats," senior Elsie Cohen said. "It is terrifying having to live in fear simply because of our religious beliefs."
Antisemitism has also affected members of the Latin community.
"Since October 7, I've seen the impact of the war feed into people's excuse of being antisemitic," Ellie said. "School is supposed to feel like a safe place, and right now it doesn't. As a Jewish person, I feel uncomfortable being in an environment that is just ignoring what's going on in the world, which is causing more antisemitism and misinformation to spiral."
Elsie has also noticed the increase in antisemitism. She said, "Much of [the antisemitism] has been explicit and conscious, like the threats to kill or hurt Jewish students made at my brother's college and people on social media saying the Jewish people as a whole are at fault for this."
However, because of their communities, many Latin students aren't feeling alone in these sentiments. "I find that many of my non-Jewish friends have expressed great interest in what is going on in Israel and Gaza right now," junior and Jewish Student Connection (JSC) Co-Head Elana Goldwin said. "They can [sympathize] with me and the other people who are being directly and indirectly affected by the ongoing events in Israel, and that has helped me feel heard as a Jew at Latin."
Latin's affinity groups have continued to be a safe space for students during this difficult time. "Just having the JSC community has been a big help and a great place for me to feel utterly safe sharing my opinions," Elana said.
JSC spoke at Gathering right after October 7 to explain the facts of the invasion to the Upper School community and ask for their support.
Additionally, Head of School Thomas Hagerman said, "Our faculty and staff, like the rest of the world, have been impacted. Some of the direct impacts include the death of loved ones, concern and fear for friends and family members in the region, and concerns about local reactions and impacts."

"[Antisemitism] has affected me personally in the way that I'm more aware that I'm a Jew," Upper School history teacher Debbie Linder said. "It makes me more aware of potentially being vulnerable. And I don't wear my Judaism on my sleeve, so I have that privilege."
Upper School history teacher Matt June reflected on the connections between these current events and the content he teaches in Nazi Mind. "The long history of antisemitic and anti-Jewish hate that led to the Holocaust has certainly not gone away," he said. "And the same conditions that fuel that hate—the othering, dehumanization, and narrowing of our universes of obligation—are equally driving the current crisis. In fact, one of the first sources we study is 'The Danger of a Single Story.' It seems this current crisis and the public's response, in so many ways, also reflects those dangers."
However, many Latin students don't feel that the school has done enough to acknowledge and properly educate the community about this complex war and its history.
"[There] has also been subconscious antisemitic behavior," Elsie said. "Teachers that pretend nothing is happening and don't see that Jewish students are affected, people who default to believing propaganda without verifying any facts, or those who blindly repost things on the internet without looking at sourcing or even clicking on the account to see if the information is true. Although the intention is not to hurt us, that is the outcome."
Elana agreed that education is a powerful way to combat ignorance. "Just taking a little bit of time out of one class period to explain the simple facts of this war can go so far. As of right now, so many kids are finding their information on social media, and that should not be the case."
Junior Mel Butler, a non-Jewish student, agreed. "I think there hasn't really been any education about this conflict, at least in my experience," she said. "I find it rather disappointing since this is affecting our school population on both sides. I think that if there were objective resources sent out to inform the student body, it would save a lot of disinformation from circulating."
However, education about a topic as complex as this is not always that simple for the Latin faculty. "If you're teaching truth," Ms. Linder said, "you shouldn't have to worry about what you're teaching. But you have to be sensitive to how people are feeling. And regardless of what your opinions are, you have to be sensitive to knowing that people have feelings and they hurt depending on what you say."
Jewish students are battling their anxiety as they live their daily lives at school. "At the beginning of the war, it was hard for me to do my best work both at school and at home because so many of my thoughts and so much of my time were consumed by learning and thinking about those people in Israel who are being so badly hurt," Elana said.
Junior Emily Goodman echoed Elana's sentiments. "The war in Israel and Gaza has made it difficult for me to focus because my thoughts are with the many people who are suffering," she said.
While ties to Israel remain stronger than ever for many Jewish students, so does their fear. "I am fortunate enough to not have lost anyone as a result of the war, but I have close friends in Israel who are at risk, and I know many people who have friends or family who have died," Elsie said. "As a Jewish person, you are only ever one degree away from knowing someone who died in this war. I worry constantly about the people I know who are in Israel living in at-risk areas, and if I am not texting with them, I am anxiously checking their Instagram status just to be sure they are all still alive."
View Comments(1)
About the Writer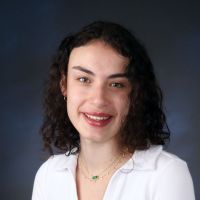 Natasha Benjamin, Arts Editor
Natasha Benjamin ('25) is excited to serve as an arts editor this year! This is her third year writing for The Forum, and she enjoys writing film reviews...