Athletic Director Position Remains Vacant at This Stage of the Game
Even with fall athletics in full swing and registration for the winter sports season open, Latin is still operating without an athletic director. A few weeks after the close of the 2022-23 school year, Head of School Thomas Hagerman informed Latin's Upper School community that Athletic Director Kristen Richter had resigned after serving a single year in the role. The search for a replacement has just begun.
Whoever is hired next will represent the fourth athletic director at Latin in five years. No one has lasted long in the job following the retirement of Tom Bower, who served in the role for nearly four decades. The school initially selected Sonny Lim after an international search, but he held the position for only two years. Tim Cronister stepped in as interim director for a year, and then, after another search, the school hired Ms. Richter.
Coach Bower's considerable shoes appear hard to fill. A Latin School legend, Mr. Bower was behind various Latin athletic initiatives, including the Captains Council, Hall of Fame, Latin's connection with the Positive Coaching Alliance, and the famous banners in the Field Gym. In addition to his long standing role as Athletic Director, Bower also served as head coach of varsity boys and girls soccer teams. He led both these teams to a state championship during his tenure at Latin.
"When I started, my sort of philosophy or mission statement was that I wanted the department to win as many games as possible, but I also wanted the program to teach life lessons," he said. "It was really important to me to give everybody on the team a good experience, not just the players I thought were going to help us win."
For now, while the position remains vacant, current Assistant Director of Athletics Kathy Presberg is the main point of contact for coaches and parents. Latin's newly hired Athletic Operations Coordinator, Jamie McInerney, and newly appointed Middle School Athletic Director Beth Lonergan will assist Ms. Presberg in the day-to-day functioning of the Athletic Department. Additionally, former Assistant Director of Athletics, Dave VanderMeulen, will potentially offer part-time assistance.
New Assistant Head of School Ryan Allen will be responsible for the department until a new director is named.
While new to Latin's administrative team, Mr. Allen is not new to Latin School or Latin Athletics, having been a part of Latin sports teams and coaching staff for years. As a student, Mr. Allen played soccer and basketball. He also coached basketball at Latin in the early 2000s. As a former athlete and coach, Mr. Allen said, "I'm excited. I've had my view on athletics for quite a bit of time, and so I am excited to partner with that team and really think about the co-curriculars overall and how to support the school."
Given the considerable turnover in the position following Mr. Bower, many are asking: Is there a problem inherent in this position at Latin? Mr. Allen intends to find out. "As an alum I have had a sense of [turnover] going on but not knowing why. So really trying to assess the needs of the department and kind of get a sense of that."
Ms. Presberg identified some of the critical characteristics needed for the position at Latin. "You definitely really [need] good listeners," she said. "They have to want what's best for the kids—that comes first."
Echoing Ms. Presberg, Mr. Bower said, "Athletic directors have to be tremendously good listeners … and be a really detailed person."
Latin athletics also pose some unique challenges for any athletic director. "This is a really different place to work as an athletic director, considering our facility restrictions," Ms. Presberg said. "We have really nice programs with great kids and responsible coaches, but the facilities can be a real hold-up."
In the meantime, it appears as though Latin athletics is carrying on with business as usual. Senior and field hockey co-captain Zoe Larsen said, "I feel that the Athletic Department has done a great job in making the lack of an athletic director pretty unnoticeable."
Other students report even being unaware that the position remained unfilled, which may be concerning in and of itself.
"I noticed that it is just the norm at other schools that the Athletic Director will go to at least two to three games for each team every year, and I don't remember the Athletic Director coming to one cross country or track race ever aside from Mr. Cronister," junior and boys cross country captain Ben Gibson said.
Students are hopeful that whoever fills the position will look to correct such deficiencies. "I feel like our athletic directors shut down a lot of combined sport spirit, which I believe is a missed opportunity as one of our biggest values is community," Zoe said.
Asked how quickly the school will hire a replacement, Mr. Allen indicated that Latin's administration would take time to evaluate what sort of applicant might best serve the needs of the department and be most suited for the desired continuity. "I'm just trying to get to know the program to get a sense of, you know, what the strengths are and where are some areas that we may want to look at," he said.
While Latin takes its time to find applicants who are the right fit, there certainly are those who feel the absence of an Athletic Director. "As a captain whose parents are involved with a lot of logistics and planning for big games like Homecoming and Senior Night, it is more work planning such things that I think it would have been if there was an Athletic Director," Zoe said.
Fortunately, the Athletic Department is stepping up to fill the gap. "We are working hard, for sure, in here to cover all the bases," Ms. Presberg said.
While no longer involved in Athletic Department hiring, Mr. Bower offered seasoned advice to whomever might next fill the role he successfully and consistently held at Latin. "If we were to focus on teaching the life lessons, ultimately the win would end up taking care of itself, and we would have been successful. But if we're focused on winning only, then we're missing out on the great opportunity to teach life lessons."
Leave a Comment
About the Contributor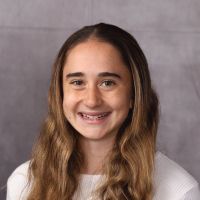 Mia Kotler, Editor-in-Chief
Mia Kotler ('25) is thrilled to be one of the Editors-in-Chief for The Forum this year. She is a passionate writer who enjoys expressing her views and...