Spring Signing Day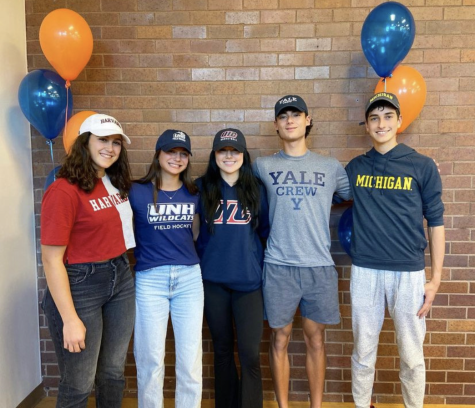 This year, 11 Latin seniors have committed to colleges to continue playing their sports at the collegiate level. These athletes cover a diverse level of play, regions around the United States, and sports overall. Ranging from squash and crew to baseball and soccer, the Latin Romans will be represented well across the country. Each of these students has worked tirelessly to achieve their goals, so let this article be used to congratulate them once more.
Avery Rosenberg (Squash, Colby College)
As one of the two Latin students going to Colby for sports, Avery is excited to be a part of the Colby community. He feels that the team is a good fit for him and that he can comfortably jump right into the lineup. Avery committed to Colby for squash because of the sports-to-academics balance the school offers. He said, "I decided to choose Colby for squash because I like being a student-athlete; it keeps me busy and is a great way to stay healthy."
Daniel Braun (Squash, Haverford College)
Throughout his childhood, Daniel played both baseball and squash, but he focused on squash once he got to high school. He knows Haverford has the perfect combination of his interests, so he plans to pursue political science and history in the classroom. "I chose Haverford because of the community. It is a tight-knit community, very committed to its honor code, and the squash team is a microcosm of that community," he said.
Megen Sanaj (Basketball, University of Illinois-Chicago)
Basketball has been an integral part of Megen's life since she was 9 years old, and she is excited to have the opportunity to continue playing at the University of Illinois-Chicago. From fifth grade on, Megen has been dedicated to going to college for basketball, working tirelessly to reach her goal. The University of Illinois-Chicago seemed to be the perfect fit for her because of its rigorous program and academic opportunities. While she is excited to remain in Chicago, Megen hopes to play professionally overseas in Albania in her future, saying, "My whole family is from Albania, and some of my family still lives there. I want to give back in a way by playing for Albania and playing for my other 'home.' Representing who I am is important to me."
Alice Mihas (Track & Field, Harvard University)
Alice is looking forward to participating on Harvard's track and field team, particularly their impeccable throw squad. Choosing Harvard was the perfect choice because she "really loved the community and felt at home on the campus." To Alice, being a student-athlete is more than simply playing the game or performing against others—it builds a sense of community. Even before she started taking track seriously, Alice could not imagine a future without playing together on a team, no matter the league or difficulty. Ready to turn a new chapter of her life, she said, "I am looking forward to spending the next four years with the track team."
McLaine Leik (Field Hockey, Dartmouth College)
The college recruitment process was a lot different for McLaine since she did not realize she wanted to play field hockey in college until the summer before her senior year. Through emailing and working with college coaches and attending summer clinics, McLaine worked quickly for the opportunity to continue her field hockey career. Once she got into Dartmouth from academics alone, McLaine reached out to the coaches once more, in hopes of a future in field hockey. They emailed back, watched her play at a tournament, and the commitment process began. "When they told me that I was officially on the team, I was completely ecstatic," she said. McLaine is looking forward to her new Dartmouth journey.
Jadyn Aling (Soccer, Washington University in St. Louis)
It has always been Jadyn's dream to compete at this level of soccer. She said that WashU is an excellent opportunity for her. "It is a perfect conglomerate of everything I wanted in a college: strong academics, a super competitive program, and a great, medium-sized community." Along with these reasons, she feels cared for by the community and coaches because they stood with her through a serious injury. With a new start at WashU, Jadyn says, "I am so excited to continue both developing as a teammate and player in a new environment with new challenges."
Patrick Shrake (Baseball, Colby College)
Ever since he was a little kid, Patrick has loved baseball. Once his sophomore year arrived, he got serious about pursuing collegiate-level baseball. As it was for Avery, Colby was the best choice for Patrick because of its great academics and athletics program. While he doesn't know what major he is going to pursue, he said, "I think it's going to be a good fit for me."
Anthony Valentin (Rugby, Indiana University)
While his parents encouraged him to try all sorts of sports as a little kid, Anthony has always had a passion for rugby. Anthony has been playing for eight years, and he said, "It's something I love to do, and I knew I wanted to play it in college." One of the reasons he chose Indiana was because of the Sevens rugby, the version played in the Olympics, as opposed to the larger team of 15s. The school has a great Sevens program, and Anthony even got the opportunity to watch them play in a tournament and bond with the team.
Akili Parekh (Cross Country and Track & Field, University of Michigan)
Running has been an integral part of Akili's identity for as long as he can remember, so having the opportunity to continue that in college is a privilege he's ready to take advantage of. Akili knows Michigan is a great fit for him. He said, "It has an incredible combination of challenging academics and vigorous athletics." In addition to academics and athletics, a team community is very important to Akili. He is excited to embark on a new journey next year and develop both as a person and athlete.
Ago Ghiso (Crew, Yale University)
Committing to Yale crew was euphoric for Ago. Yale stood out for him because of the coaching staff and athletes, on top of it being an elite school. For Ago, that made the process so much easier, which caused Yale to be a high priority for recruiting. "I feel that Yale was the perfect fit for me as an athlete, a student, and a person," he said.
Carly Warms (Field Hockey, University of New Hampshire)
Carly has fallen in love both with field hockey and the University of New Hampshire. She knew she wanted to continue her field hockey career, saying, "I didn't want my season to end after senior year, and I wanted the team culture to continue in college." While there are many reasons to choose UNH, one of the biggest was the team community. "When I visited, I already felt a sense of belonging on the team, like I knew I would be a part of a family," Carly said. Providing a welcoming environment with supportive coaches and players focused on the sport they love, the University of New Hampshire is a perfect fit for her. In addition to the team dynamic, the location is another pro. Being close to Boston, the ocean, and ski resorts was too good for Carly to pass up.
Leave a Comment
About the Contributor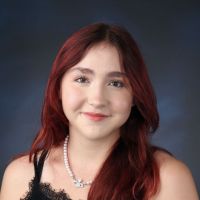 Kayley McCutcheon, Staff Writer
Kayley McCutcheon ('25) has written for The Forum since spring of her freshman year and will continue to share stories with her fellow Latin peers. The...