What I Did & Didn't Love About 'Love & Death'
READERS BEWARE: Minor Spoilers Below
***READERS BEWARE: Minor Spoilers Below***
What's not to love about a primetime HBO television show? From the series that started it all, Game of Thrones, to the 25-time Emmy Award-nominated Succession, to the most tweeted-about show of the decade, Euphoria, HBO is truly home to some of the most entertaining shows airing today. Get ready to add Love & Death to the list.
Based on two Texas Monthly articles of the same name and the 1984 book "Evidence of Love," Love & Death explores the shockingly true story of Candace "Candy" Montgomery (Elizabeth Olsen), the Texas housewife who in the 1980s struck her best friend and neighbor Betty Gore (Lily Rabe) 41 times with an ax over the love affair she had with Betty's husband, Allan Gore (Jesse Plemons).
However, the best quality that Love & Death exemplifies is the depth and complexity involved in the writing, directing, and performances. Screenwriter David E. Kelley returns to HBO with a bang. His previous HBO shows, Big Little Lies and The Undoing, earned him prestige in the television industry, and his work here is no different. He teamed up with Lesli Glatter, another reputable television director known best for The Morning Show and Pretty Little Liars. Together they made a show with the goal to "tell an American tragedy and a character-based story that wasn't just about how this happened but why it happened," Glatter said in an interview with Forbes. Something 2022's Hulu series Candy, which followed the same events as Love & Death, cannot say.
Don't get me wrong, Candy was thrilling in its own right. Its sharp editing combined with its horror tone made for an almost remake-style drama retelling that was perfect for people looking for just another true crime docuseries type of program. However, be it the show's shorter length or uneven pacing, even Jessica Biel and Melanie Lynskey's astonishing performances as Candy Montgomery and Betty Gore couldn't lift this show up to the titillating level that Love & Death consistently rides from start to finish.
Interestingly enough, Love & Death was just two months into filming when they heard that competing streaming service, Hulu, had greenlit the series, and it was quick to begin filming in order to meet its May 9, 2022, release date, a whole year prior to Love & Death's release.
When asked about this in an interview with The Wrap, Kelley said, "If you had asked me, would we have done it, knowing that someone else was doing it first? They probably would have given me pause, but my answer at the end of the day would still be yes, because I think the projects are very different."
I agree with Kelley, because while Candy and Love & Death may cover the same story, they couldn't be more different in almost every other way. Candy tells the events of this story out of order, beginning with the day Betty was murdered, then piecing together the rest of the story from there. Love & Death, on the other hand, crafts a more nuanced foundation, and then begins the murder and its effects chronologically to an already multi-faceted story of the dark side of suburban Americana.
Freshman Caitlin Creevy said, "Personally, I think this made the story a bit more approachable from what I saw, because I think it can be difficult to toggle between story points when they're not in the original order."
Playing a malevolent housewife is nothing new to Olsen, whose fan base exploded in her Emmy-nominating turn as Wanda Maximoff in the Marvel Disney+ show, WandaVision. She manages to manipulate the audience by thinking that every time you consider disliking her character for committing such an awful crime, you find yourself sympathizing with her portrayal as someone who wants something more for herself, feeling there's little importance left to her life after marriage and kids.
While Olsen does a remarkable job, it is actually Plemons who I found to be more interesting because his character, Allan, is a passive, respectful, and honestly lonely man who seems unwilling to directly acknowledge that the spark in his and Betty's love life has died, and rather than tell that to his wife, who is struggling with postpartum depression, he uses this affair as a scapegoat. A touchy role to play as one-half of one of the most twisted love triangles you have ever seen, but Plemons nails it.
The most notable issue with the show is Rabe's Betty Gore. It has nothing to do with her performance; rather, there is simply not much time spent on it. The aspect of the story that I found most interesting was that it was actually Betty who brought out the ax, furious with Candy over the affair. It is this precious reason why Candy was able to be found "not guilty" during the trial by calling her murder "self-defense" to Betty's threatening approach. So, given that Betty initiated the violence, you would think we would spend more time seeing what makes her tick and what desperation made a church-going mother of two and choir singer one day pick up an ax.
After watching the first episode of the show, Upper School filmmaking teacher Jesse Chehak, said, "I'm hooked! I can't wait to see the ax-murdering scene. That's what I'm waiting for. I think that Jesse Plemmons is incredible, and the production design, the way that they did his hair, it all really amplified the sense of horror that is 1980s paranoia."
Senior Olivia Barnes echoed this statement. "It's a really good mystery that left me with a lot of questions."
Love & Death is a show about relief, morality, truth, and, yes, love and death. And those two factors are explored correspondingly and mutually exclusively to one another. It explores the life and death of love in marriage, families, workplaces, and predominantly friendship, all wrapped up in a true-to-life murder story that gets even more riveting as it goes along.
If you are looking for something to get you through the final strenuous weeks of school, Love & Death will continue to air weekly on HBO Max. Just try the first three episodes and thank me later.
Leave a Comment
About the Contributor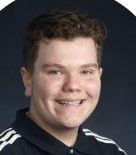 Ignatius Doherty, Staff Writer
Ignatius Doherty ('26) is a freshman and is honored to be joining The Forum staff this year. Having a lifelong interest in writing, he plans to bring a...