A Month of Asian Heritage in a Year of Asian Joy
Legendary photojournalist and activist Corky Lee was honored with a Google Doodle on May 3, commemorating Asian American Heritage Month. This doodle set the month's precedent as one that honors not solely the Asian activists who defined the past, but also their artistic counterparts who created new futures. Lee, self-described as an "American-Born Chinese (ABC) from NYC," demonstrated his identity in two hemispheres; despite his triumphs, it was the background of the Asian American struggle that memorialized his work to outside collectives.
The Basement Workshop organization, active from 1970 to 1986, was the first Asian American political and arts organization in New York City, and they hosted the most iconic of Lee's work—the photos taken of protests in 1975 against a mountingly hostile police presence that was endemic to Asian neighborhoods.
Over 50 years later, Asian creatives now parade the massive triumphs of representation in Daniel Scheinert and Daniel Kwan's film Everything Everywhere All at Once and the local victories of the Asian Student Alliance's (ASA) own. This May, the Latin community looks back on a year of Asian accomplishments during the brief span of a single month.
After the success of the Latin American Student Organization's (LASO) talent show, the co-heads of ASA felt inspired to change up the typical slideshow shown in years prior. Junior and ASA head Rowan Ing said, "I think a talent show was a great decision since it aligns with what I think AAPI month represents: a time for AAPI people to express themselves in a uniquely Asian and American way. So far, it's been amazing to see how many students, parents, and staff contribute, whether they are talents, promoters, or just there for the show."
With ASA's mounting visibility within Latin, some ASA members see it as an overdue reminder. Sophomore Malia Chen said, "I came from a predominately white Catholic middle school, so having an affinity that allowed me to connect with other students of similar culture and ethnicity was really comforting. However, I do think ASA could do a better job of promoting student engagement with activities based on our culture. Especially since ASA is such a diverse affinity, there's a lot of opportunities for us to learn from one another—yet our meetings haven't focused on trying to do that, and I think that shows with the meeting attendance numbers."
On-screen, Asian identities have never been—in a literal sense—invisible; though for most generations, these roles existed scarcely outside surface-level stereotypes. Latin parent and visual artist Mark Yee said, "As an Asian, I'm embarrassed to say, on many levels, that I know very few Asian-centric movies or media. Bruce Lee's martial art movies were a staple of my childhood. Crazy Rich Asians as an adult. Am I missing something in-between?"
This phantom relationship with Asian representation is where films like Everything Everywhere All at Once become revolutionary compared to their predecessors, joining Lee's manifesto on portraying an America that includes Asians—and a part of Kwan's on showing another that is incomplete without them. "Everything Everywhere All at Once transcends boundaries in so many ways. The film said, at least to me, that everything we have done prepares us for what we are doing right now," Mr. Yee said.
"Leading up to Asian Heritage Month, I was glad to show my artwork at Latin on the second floor," Mr. Yee said. "I retired from the Federal Reserve, but now I make large-scale abstract paintings on canvas using paint, oil, enamel, and ink. My paintings are a little like Everything Everywhere All at Once—they have a bit of everything in them: failures, accomplishments, and aspirations."
As much as this month commemorates the activists who fought for the Asian community, there wouldn't be any community to fight for without its artists.
Leave a Comment
About the Contributor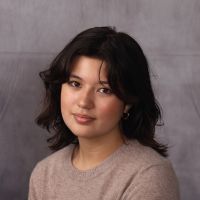 Lyla Granich, Features Editor
Lyla Granich ('26) is honored to serve as one of the Features Editors during her sophomore year. Through tending to Latin's cultural body in her writing,...