Senior Art Shows
Latin's Senior Art Gallery highlights impressive work from the graduating class; the current edition features work by Sanaiya Luthar, Elro Starr, and Mariana Diaz. The exhibit displays a manifold example of art in its different forms, arraying from photographs to illustrations and painted sneakers.
Upper School visual art teacher Shannon Kerrigan is a firm believer in the benefits that sharing artwork with the school community can provide. According to Ms. Kerrigan, exposure is a pivotal element of the artistic process and can "contribute to the vibrant cultural life of your community." This exposure brings opportunity and recognition beyond Latin, while simultaneously providing a chance for feedback and celebration from peers. Ms. Kerrigan emphasized the importance of this, saying it "allows you to engage with others who share a love for the arts, and contributes to the cultural fabric of your community."
Senior Mariana Diaz began her journey with photography during her freshman year in Latin's Photography 1 class, where she explored the art form mainly through film photography. "Ms. [Betty Lark] Ross's class truly flourished my love for photography through the variety of photoshoots we did," she said.
Mariana continued photography throughout her time at Latin; her collection, titled "Recents," was accumulated with the intention of portraying her growth in craft throughout her high school career. The collection highlights assorted styles of photography taken in various times and places.
Included in Mariana's portfolio are portraits of her younger brother photographed with Ms. Ross during sophomore year to landscapes taken in Barcelona during her senior year Project Week. Mariana said, "Though I enjoy photography, I do not plan to pursue art in college except for any spontaneous photos I take along the way."
Elro Starr has been an artist since she was a child, and experiments with many different forms of art such as digital art, embroidery, and claymation. "I love how it gives me the ability to create something. If I have an idea, I can actually make it real," she said. Elro's gallery focuses on painted shoes: her true calling.
"When the art teachers reached out about a gallery, they told us to come up with a collection that had some kind of unifying theme, and other than that, we had full creative freedom," she said. Elro had commissioned art in the past, and decided that the Senior Art Gallery would be the perfect opportunity to showcase her work and attract future clients.
Elro plans to pursue Aerospace Engineering in college but is certain she will continue art because "I'm certainly going to need some right-brain activity to balance all the STEM work I'll have to do," she said. "Intricate art? Abstract design? College spirit? Anything your heart desires!" (If you are interested in your own pair of custom shoes, send her a message on Instagram: @lambda.arts).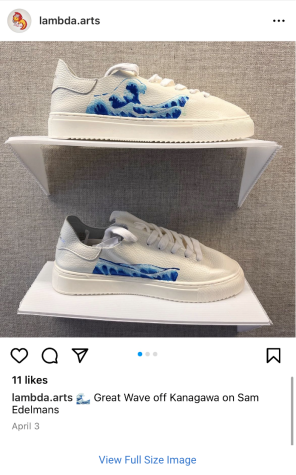 Senior Sanaiya Luthar began drawing at 5 years old. "I put a lot of practice into this when I was younger," Sanaiya said. "I didn't care so much about how the outcome was, and that allowed me to build up my confidence, and to fail. I think sometimes going bold and pushing yourself out of your comfort zone can be something huge."
Sanaiya's exhibit, "Looking Back," is a retrospective collection featuring four distinctive sections. The first quadrant highlights her illustrations from Even Before You Were Born by Terril Martinez, a book she illustrated. The second section features work from this past school year, and the third quadrant is made up mostly of artwork completed during the pandemic.
The final section of the exhibit, The Mannequin Saga, includes her collection created in the AP Studio Art class she took at Latin. "The whole point of this series is to give some commentary on what it means to come out of your shell," she said. "I have mixed up realistic faces with these more abstracted and generalized mannequin bodies to talk about the difference between being what is really yourself and being a more generic version of yourself."
One piece from The Mannequin Saga, titled "The Performance," portrays two hands puppeteering mannequins and represents strangers performing an appealing first impression. The artwork was done with pencil and charcoal in a "reverse shading" technique, which is done by shading with a darker utensil and erasing where natural highlights would be.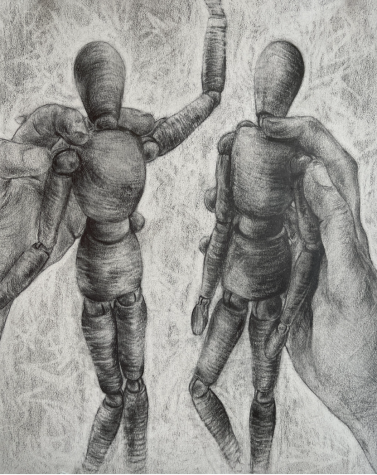 When asked if there is an overall theme to her artwork, she said, "People. That's what I think. I'm focused on having fun and representing fun in the most realistic way possible. I just try to take whatever assignment has been given to me and make it more interesting than it was maybe intended to be. And interesting can mean whatever you want it to mean."
Sanaiya quoted graphic designer Milton Glaser, "There are three responses to a piece of design. YES, NO, and WOW!" She added, "What I am going for is wow, and the ability to start a conversation. I do not consider myself a storyteller, but when other people do, it means we had the chance to talk about things I am not sure I can articulate without art. I think art is an act of endurance, and seeing somebody endure and make something that resembles the real world has always been a wow factor to me."
Sanaiya is planning to incorporate creativity into her studies in college. She is considering majors such as Design, Marketing, Architecture, or "anything with a creative component. At a school like UChicago that encourages interdisciplinary thinking, I do not see how I would not be pursuing art in college," she said.
Leave a Comment
About the Contributor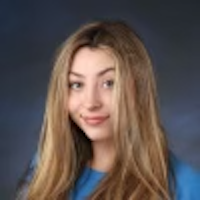 Lizzy Miller, Sports Editor
Lizzy Miller ('25) is a junior at Latin and is so excited to return to The Forum as a Sports Editor this year. This is Lizzy's second year writing for...