Chicago's Choice: A Divided City Speaks
Brandon Johnson's win over fellow Democrat Paul Vallas in the April 4 runoff to become the next Mayor of Chicago yielded a mixed response from the Latin community.
While both candidates agreed on many Democratic principles, such as a woman's right to choose, the two consistently clashed on issues of public safety and taxes. Unsurprisingly, the most frequently debated issues in the Chicago Mayoral Forum surrounded the candidates' proposed solutions for the increase in crime during Mayor Lori Lightfoot's term.
Former CEO of Chicago Public Schools Paul Vallas ran his campaign promising a safer Chicago and gained an endorsement from Chicago's Fraternal Order of Police. By reinstating a community policing model, rebuilding officer staffing, establishing a Forensic Crime Lab, and implementing other policies, Vallas emphasized that he could decrease crime in Chicago. In the February 28 and April 4 elections, Vallas attracted voters primarily from the city's wealthier areas including downtown, Lincoln Park, and River North.
Latin senior Devin Abraham said, "Public safety was important to me in this election, as crime has increased throughout the city." In terms of which candidate he aligned with, Devin added, "I supported the candidate who I believe would crack down on crime by strengthening our police force and supplying them with the necessary resources to do so."
On the other hand, Brandon Johnson embraced a "holistic" approach to tackling Mayor Lightfoot's failure to ensure a safe city for all Chicagoans. Johnson gained robust support for his strategy to address the root causes of violence and crime by expanding mental health services and raising funding for youth employment programs. Another pillar of Johnson's public safety proposal includes hiring 200 detectives for the Chicago Police Department. Since refusing to condemn looting during the 2020 riots, dialogue increased surrounding the possibility of Johnson defunding the police, if elected. During his mayoral campaign, he vowed not to do so, promising instead to implement "a strong plan" for the Chicago Police Department by reallocating resources.
In the Chicago Mayoral Forum on March 30, Vallas deemed his opponent's plan "foolish," while Johnson spoke about how Vallas' expectation for retired officers to join CPD forces seemed "ridiculous."
Christopher Hodges, the Johnson campaign's Faith Outreach Coordinator, underscored how "the politics and policing of old have to change because it has not worked in terms of stopping crime."
In an interview with The Forum, Mr. Hodges said, when asked about features of Johnson's public safety plan, "I think giving people jobs, allowing people to get counseling for free, and affording high school graduates opportunities to go right into trade school would be a strong stance against crime."
In regards to the candidates' public safety plans, senior Daniel Braun said, "The campaign that resonated the most with me was probably Paul Vallas.'" Daniel accentuated Vallas' history of public service while concurrently recognizing Brandon Johnson's qualifications.
On the day of the runoff election, 148 members of the Latin community—112 Upper School students and 36 faculty members—participated in The Forum's mock Mayoral Runoff Election. Overall, Vallas received 52.7% of the vote, Johnson collecting 47.3%.
Interestingly, 65.2% of students voted for Vallas, while 86.1% of faculty members voted for Johnson (full results here).
Sophomore Andres De Marco said, "It seems like many public school teachers supported Brandon Johnson, but I think that even is the case here at Latin." As a former teacher and organizer for the Chicago Teachers Union, Johnson relied on support from various unions across the city in the runoff election. In the penultimate Mayoral Forum, Vallas said, "The Chicago Teachers Union leadership have wreaked havoc on the Chicago Public Schools."
Andres added, "Though Brandon Johnson represented many teachers, it is important to consider that Paul Vallas was the CEO of CPS, and he has experience leading various other school districts around the country."
Awaiting the official results, students spent their Tuesday night monitoring election coverage and attempting to predict the winner of the tight race. Devin said, "I followed the results very closely, but it was difficult to gauge who would secure a victory because ward-specific results weren't available at that time, so it was a waiting game until more data became available."
During the early hours of the evening, Vallas held a slight lead over his opponent as votes arrived. Mr. Hodges, who spent election night at Johnson's base, said, "I was nervous, and when asked if I wanted to see Brandon, I said 'no' because if it went left, I didn't want to be there."
A total of 38.67% of registered voters turned out for the runoff election, a slight increase from the February 28 general election. Andres said, "I think the turnout is really disappointing, especially among young people in almost every recent election."
Serving as an election judge for the February 28 general election, Daniel observed many Chicagoans ignorant of voting practices, so he assisted them with the procedure. "It felt like I was doing something good and helping people, especially since I can't vote," he said. "It still felt like I was making a difference."
Though many citywide polls suggested Vallas held a slight edge over Johnson, voters proved otherwise. In The Forum's mock election, 73.6% of respondents predicted that Vallas would win, most likely relying on polls and the prominence and diversity of Vallas' endorsements.
"These issues impact every single person that lives in Chicago, not just those who do or don't vote, so I think it's really important to pick the candidate who resonates most closely with your ideas," Andres said.
Leave a Comment
About the Contributor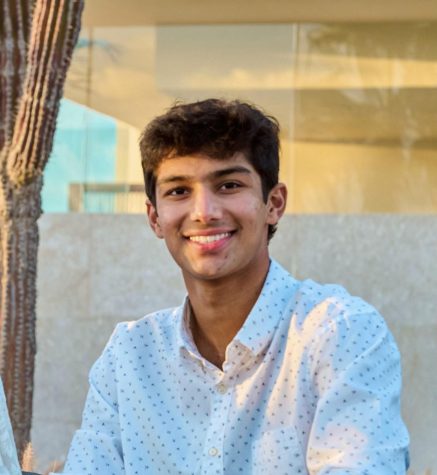 Armaan Shah, Editor-in-Chief
Armaan Shah ('23) is a senior at Latin and is thrilled to be serving as an Editor-in-Chief of The Forum. He has covered a wide range of topics and encourages...