The Amazing Race Makes For an Amazing Project Week
Sixteen Upper School students and two advisers embarked last month on a unique five-day Project Week replication of CBS' The Amazing Race. US math teacher Chris van Benthuysen and US Latin teacher Sarah Landis traveled to California for the project, first racing in San Francisco, followed by Los Angeles, and ending the challenge with a red-eye flight back home to Chicago for their final challenge.
Stephanie Rever Chu, Director of Alumni Engagement, said she was happy that Latin alumni were able to help with this project. "We keep a database of where everybody is," she said. "From that list, I just take a look and see where we have the greatest concentration of people who I think would be willing to be helpful. So we're always looking for alumni who have been involved with the school in a way."
In 2014, Mr. Van's second year at Latin, the school piloted a Survivor Project Week idea similar to The Amazing Race. The project ran three times, including in 2022.
Mr. Van and Ms. Landis figured out all of the logistics for the first Amazing Race Project Week back in 2020, but it was ultimately canceled minutes before departure because of COVID protocols. The original project was set to travel down the East Coast, including stops in New York City, Boston, and Washington, D.C.
In this year's project development process, Mr. Van said, "We had to meet with a few people higher up because we were kind of breaking new ground with Project Week about having students off on their own away from chaperones." To keep track of students, everyone was required to download Life360, a tracking app, with their school email. "There was not really much resistance to it," he said.
When asked what three words he would use to describe the week, junior Brendan Berman said, "Exciting, exhausting, and rewarding." He said his favorite part of the trip was visiting Los Angeles' Sony Studios, noting, "It was cool to see the artifacts and details behind some of the movies they produced."
Freshman Riley Jacobson described the trip as "unexpected, spontaneous, [and] amazing," adding, "I loved going on Hollywood Boulevard and walking around seeing the Hollywood star walk."
The backbone of The Amazing Race Project Week were the alumni in each of the three cities. The group met with two to three alumni each day in every city, and during these visits, alums were able to help students navigate the area and discuss life after Latin. For example, alum Chris Quazzo '15 met students at Hollywood Boulevard, gave them a list of clues to find the stars, and then the various teams raced to find them. Brendan said, "The alumni were very cool people, and it was good to meet and work with them to see what people who had the same school experience grew up to be."
Additionally, students hiked with alum Kate Phinney '01 to see the iconic Hollywood sign.
"Alumni really love to be asked to do things especially that have to do with students, and those opportunities especially for those who live out of town are few and far between, "Ms. Chu said. She also noted that "having access to a place that might be an interesting spot to create a challenge" is definitely something she considers when reaching out to alumni.
Riley said, "It was really interesting to talk to the alumni and hear about the[ir] high school experience[s]."
But getting to California to meet the alumni didn't come without an element of suspense. Undisclosed destinations and freedom for students made The Amazing Race a standout trip. Prior to the date of departure, students had no idea where they were going. "We gave the students a very detail-light forecast of what the weather would be like, so they could at least plan [for] cold, warm, wet, dry," Mr. Van said. He even indicated that students tried to uncover the destination using only the weather report and their phones.
"Their parents—most of them did not know," Mr. Van said. "We told them at the February meeting, we said, 'we're kind of asking you to go out on a limb and trust us with this, that we're not taking you into a war zone.'"
Only one family requested the location before Monday morning. And aside from the Project Week committee, only "a handful of teachers" knew the location, Mr. Van said. "We made sure everybody was on a need-to-know basis; we were pretty coy about it."
He added, "I was actually surprised that we didn't get more hunting from them, trying to ask us questions that would give them clues. I think that might be a credit to them, that they were embracing the idea behind the project. There was a little bit of gamesmanship trying to figure it out."
"Just seeing the way the team all got into it, the way they bonded with each other, they seemed to really embrace a lot of it," Mr. Van said.
He continued, "I have to tip my hat to the 16 students who were on our project—the amount of autonomy students were given—there is a lot of trust in that, and so that can go really well or really not well. Everybody did that. It was because they all bought in. It's only a race if people are actually trying to beat each other."
"Speed bumps"—a term used in the CBS production to indicate taking a break from the challenge—proved essential in affording teams rest. However, some students might have required even more down time. "Most of the days were outside doing challenges with very little time to rest," Brendan said, indicating that he and the team might have benefited from more frequent breaks.
However, Ms. Landis said, "I was really proud of the way teams handled just being thrown into novel situations—thrown into new cities where they didn't have a lot of experience—and they figured it out."
Brendan said, "The week was very difficult as a whole, and it was very tiring, but looking back on it, I appreciate everything we did and would recommend it to everyone next year."
View Comments (1)
About the Contributor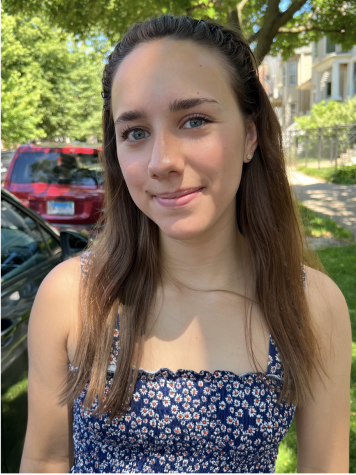 Annie Hallinan, News Editor
Annie Hallinan ('24) is a junior at Latin who is thrilled to be one of The Forum's News Editors this year. In her articles, Annie has covered the Chicago...