A Viewing Guide to Upcoming DC Movies
It has long been debated which is better, DC or Marvel. Fans of both love to pick their favorites and offer them full support on social media. However, it is notable to most DC fans that the conversation surrounding superhero content has notably shifted to Marvel in recent years. And DC's controversial past isn't helping their argument, either.
The controversy began in April 2014 when director Zack Snyder was knee-deep in production for DC's upcoming mega movie Batman vs. Superman: Dawn of Justice and was tapped to direct another upcoming DC movie, Justice League (think DC's version of The Avengers). Two years later, in March of 2016, Batman vs. Superman: Dawn of Justice was released to a largely negative response, with 29 percent on Rotten Tomatoes. That being said, there was still a potent fanbase for the movie as it grossed just shy of $900 million.
In a sea of fan confusion and debate over the quality of the film, one thing remained clear—DC needed change. Nonetheless, DC was just as involved with Zack Snyder as Zack Snyder was with DC, and both agreed to see his production through to the fullest extent. Not only did Warner Bros. give the film a $300 million budget, but they also allowed Snyder to introduce his versions of Aquaman, Cyborg, and The Flash.
Snyder was in the middle of production when his 20-year-old adopted daughter Autumn Snyder tragically committed suicide. Born in China, but raised in Pasadena, California, with her adoptive parents Zack and Deborah Snyder, Autumn had a passion for the film industry, just like her father. Snyder initially wanted to continue working on this project but decided it would be best if he took a break from the film to cope with this tragedy.
This left Warner Bros. with two choices: Wait on the film, upsetting fans and losing millions of dollars in the process, or continue on but abandon their current director. Rather than wait for Snyder to return, Warner Bros. decided instead to look to the competition, Marvel, for a path to follow. Who better than the director of two billion dollar-grossing Marvel films, Joss Whedon?
Whedon had just departed from Marvel, having previously directed The Avengers and its sequel, Avengers: Age of Ultron. The original was a box office and fan hit, and the sequel delivered a commercially successful movie that was criticized for lacking the marquee emotional depth superhero movies thrive on. DC Studios took it one step further, pivoting its superhero content to fit a more lighthearted tone following the box office bomb: 2016's Suicide Squad. Not so ironically, Marvel began doing the same thing, to great fanfare.
Working with a half-done film, Warner Bros. executives demanded Justice League be under two hours to achieve a traditional theatrical release. This forced Whedon to whittle down Snyder's nearly completed four-hour cut. Whedon made the shocking decision to strip out almost all characters of color, added sexually suggestive scenes with Wonder Woman, and complied with Warner Bros.'s request for the film to have an overall candy-colored look. A year later, in November 2017, Whedon's Justice League debuted and was met with fan and critic disappointment. This proved to be the final nail in the coffin for this franchise's self-implosion.
DC fans sought their own form of justice and banded together to form what's known today as #RestoreTheSnyderverse. A compilation of millions of tweets all made in a single day, fundraisers, Times Square billboards, suicide prevention donations, and many more fan efforts, #RestoreTheSnyderverse proved to Warner Bros. that Snyder's original vision for his film was worthy of release. Seeing intense fan interest, Warner Bros. and Zack Snyder complied. In the end, #RestoreTheSnyderverse was a clear reminder that ignoring your fans' requests entirely will never work out. Just Star Wars fans.
By 2021, Zack Snyder was working through the pandemic, readying his four-hour cut for a worldwide release. DC fans across the world were present, driving some of the highest viewership in the history of HBO with the debut of the film on March 18, 2021, on HBO Max.
Upper School Counselor Andrew Miller said, "I view this story as one where he was able to do something that celebrated his daughter's life while creating a blessing out of her memory, has helped more people to learn her passions and hopefully seek help, and was a way to create a legacy for her through his work, too."
In another effort to renew itself, DC Studios hired Guardians of the Galaxy Director James Gunn, a controversial figure himself, and The Conjuring producer Peter Safran to rejuvenate fans' excitement and establish DC in its own right, free of any of its past drama. How better to begin a fresh start than with a new slate of DC movies and television series?
The slate is set to kick off on March 17 of this year with the return of the fan-favorite character Shazam in Shazam: Fury of the Gods, but star Zachary Levi has recently gotten into his own form of controversy regarding anti-vaccination tweets. Returning to the cast alongside Levi is Asher Angel in the role of Billy Batson, who will face off against a new duo of gods played by Helen Mirren and Lucy Liu, who come to Earth in search of magic.
Shortly after, on June 16 of this year, The Flash, once more featuring a highly controversial star, Ezra Miller who has recently been embroiled in assault and grooming allegations, will arrive in theaters. This is supposed to be DC's big summer movie, as it features the debut of Supergirl and the return of Michael Keaton, who will play one of multiple Batmen in the upcoming film as The Flash attempts to save his mother across the multiverse. This film will reboot DC with a fresh slate of actors across the board.
And after that comes Blue Beetle, the story of a Mexican teenager who comes in contact with an alien beetle who supplies him with superpowered armor to fend off the film's villain, Victoria Kord, played by Susan Sarandon. The film will be released on August 18 on HBO Max.
Up next is the sequel to the billion-dollar grossing Aquaman, Aquaman and The Lost Kingdom. Featuring the highly contentious Amber Heard, fans are wary to return to this underwater adventure even if her role in the film has been cut to under 10 minutes of screen time. With the movie still a ways away, few plot details have been revealed other than the fact that the film will feature an environmentalism theme.
The first project to be entirely helmed by the minds of Gunn and Safran is Creature Commandos, an animated series that writer Gunn took to Twitter on February 24 to announce is "starting production; almost done casting."
Following Creature Commandos is Waller. The titular character will continue to be played by Oscar award winner Viola Davis in the role of Amanda Waller, a ruthless government operative and overseer of the Suicide Squad. The series has been created by Watchmen writer Christal Henry and Jeremy Carver of Doom Patrol.
Next up is Superman: Legacy, which Gunn is "in the middle" of writing. Most likely to follow one of Superman's better-known comic books of the same name, no plot details have been revealed for the project just yet. Unlike many of his other projects, Gunn has guaranteed a theatrical release date for this film of July 11, 2025.
Hoping to live up to the multiple successes of past HBO shows, Lanterns will revolve around the iconic DC character known as Green Lantern. Although this show will feature multiple Lanterns, it will be focusing on Hal Jordan and Jon Stewart with "a few other Lanterns peppered in," Gunn said. Gunn also described it as a True Detective-esque show with the Lanterns serving as space cops watching over Earth.
After that is The Authority, a group of superheroes who believe the world is broken and are looking to bring it toward salvation by any means necessary. Gunn mentioned it is a "passion project" of his.
Moving along, DC Studios has added Paradise Lost, a Game of Thrones-inspired show set on the island of Themyscira full of an all-female warrior tribe and the home of Wonder Woman. Freshman Aidyn Jones said, "Ooh, Paradise Lost. Yep, I think Paradise Lost will be my favorite 'cause it's Wonder Woman. Duh."
Debatably one of DC's most iconic heroes is Batman, whom Gunn will introduce his own version of alongside his apprentice Robin, in Batman: The Brave and The Bold. This movie is based on Grant Morrison's comic book run of the same title, in which a young assassin and son of Bruce Wayne, Damian Wayne, is forced to work with The Dark Knight.
Yet another HBO Max show is on its way with Booster Gold, a superhero fanboy from the future who uses futuristic technology to return to the present day. Gunn calls it "imposter syndrome on an HBO Max series."
Every franchise needs its science fiction fantasy film, and DC is getting one with Supergirl: Woman of Tomorrow, which, similar to Batman: The Brave and The Bold and Superman: Legacy, is based on a comic book of the same name and follows a jaded Kara Zor-El across the galaxy. Sophomore Mel Butler added, "I'm most excited for Supergirl: Woman of Tomorrow because I love all the female representation!"
And last but not least is Swamp Thing. Gunn described it as a "very dark horror story and the origins of the monster who is Swamp Thing." Logan director James Mangold is in talks to direct the upcoming feature.
And that is all for James Gunn's first chapter of what he hopes will be an eight- to 10-year plan of cohesive DC storytelling across all entertainment mediums under the title "Gods and Monsters." With all this drama behind them, DC fans are ready for a superhero takeoff like never before. Up, up and away!
View Comments(1)
About the Contributor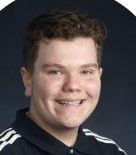 Ignatius Doherty, Staff Writer
Ignatius Doherty ('26) is a freshman and is honored to be joining The Forum staff this year. Having a lifelong interest in writing, he plans to bring a...