'Magic Mike's Last Dance' Is An Empty Tease
Happy Valentine's Day! What better way to celebrate than with everybody's favorite romantic franchise, the Magic Mike Trilogy. Contrary to what you might think, these films about male strippers with rippling abs are suitable for more than just the bachelorette-party demographic. Or … at least the first two are. The third and final installment, Magic Mike's Last Dance, is an anomaly of mediocrity.
But before we dive into this film's follies, let's unpack what makes Magic Mike—and Magic Mike: XXL, its vastly different but slightly superior sequel—so great. The original film is all about exploring the less glamorous side of the male entertainment industry. Mike is tasked with mentoring a younger performer who lets the fame get to his head, facing corruption and exploitation, and Mike has to deal with realistic financial struggles and the dilemma of bringing a significant other into his chaotic lifestyle. It's grounded, gritty, and true, based off of Channing Tatum's real life experience as a stripper in Tampa early in his career.
Magic Mike: XXL makes the unexpected, yet worthwhile choice to remove The Kid (who got corrupted) and Dallas (Matthew McConaughey's character who corrupts) from the equation, focusing instead on the other male entertainers in Mike's group, often overlooked. We get new layers of depth to these men; we learn their passions, feel their fears, and fall in love with each of them as they go on a road trip culminating in a monumental performance at the stripping convention. It's much more lighthearted and comedic than the first film, but still beautifully shot and heartwarming. The viewer's heartstrings are tugged each time one of the characters refers to their road trip as their "One Last Ride." One Last Ride, huh? I guess not. Even though nobody asked for it, we got a threequel.
Magic Mike's Last Dance ignores everything that made the first two films about more than the triviality of men gyrating their bodies. If I were to capture the "magic" of the previous Magic Mike movies in one sentence, I would say they are a love letter to the sun-burnt aesthetic of Florida that we might write off as meaningless swampland; they subvert tropes of toxic masculinity by fleshing out the relatable off-stage lives of the dancers you see on stage, forcing you to put yourself in their shoes. Magic Mike's Last Dance takes place in London, has no relatable struggles, and we get to know zero of the dancers who perform in this movie.
One unique, James-Bond-esque aspect of the series is that even though Mike puts his entire career and livelihood on the line for his love interest in the first movie, they break up offscreen before the second film, and Mike has a different love interest in each movie. There has never been a love interest more involved in the plot of the movie until this one, and that's Salma Hayek's Maxandra. Channing Tatum could have romantic chemistry with a sock at this point, so it's no surprise that the two share some tender moments. But I have to say, with a heavy heart, that this is the first time I have ever not enjoyed a performance from international icon and sweetheart Salma Hayek. Guys, she's bad in this. And I don't think it's entirely her fault; her acting style doesn't exactly mesh with the tone these movies are meant to achieve, and she had to fill in for Thandiwe Newton, who left the film. Still, painful to watch.
Hey, remember all the great supporting characters we spent Magic Mike: XXL getting to know? Yeah, they're on a Zoom call with Mike for about a minute in this movie, each of them reduced to caricatures of themselves lacking the authenticity of their personalities. However, the character butchered the most is Mike himself. Here, in this arc ripped straight from Pretty Woman, Mike is thrust into luxury as if he's some schmo they grabbed off the street. Mike has proven himself time and time again to be the most competent and well-rounded member of his community, but in this film, he's Shrek, oafishly waddling from the swamp to the castle. The most infuriating example of his character misinterpretation is that before he goes out with Max and her elitist friends, he struggles with tying a tie and needs the butler to help him. Not only did Mike wear nothing but a tie in the first film, and not only did he wear a full suit and tie to meet up with his rowdy friends in the second film, but he wears a tie in the opening bartending scene of this very film! Does Steven Soderbergh have amnesia? Oftentimes, when you can tell that the quality of filmmaking, writing, and acting have all gone down astronomically in a sequel, it's because the studio mandated it and used deceptive contracts to shackle together all the people necessary to make the film. But that's not the case here; from everything we can tell, this film was a passion project of Soderbergh that he felt needed to be made. Why, you ask, is an enigma to you and me.
My best guess is that Soderbergh spent the pandemic catching up on Ted Lasso and became enamored with a hunky, charming American being sent to London by a mysterious, wealthy divorced woman to sabotage the industry her ex-husband adored, forcing him to train a group of athletes at the top of their game, only for him to blow everyone away with his genius, talent, and most importantly, heart. Beat for beat, this film shamelessly tries to replicate the raw emotion of Ted Lasso, but gives viewers all the wrong messages. I can't tell any of the dancers apart whom Ted, I mean Mike, trains. The plotline about "Oh no, they're gonna shut down the theater and we have no more money!" doesn't have any actual stakes or consequences. Most importantly, the thing all the ladies come for, the actual strip dancing, feels geriatric and awkward this time around, not silky smooth like before.
Star Wars: The Rise of Skywalker. Spider-Man 3. Little Fockers. All these films suffer from the curse of a franchise's third movie lacking any of the gusto or integrity of the first two. The curse becomes even sadder when the drop in quality seems to be the fault of the creatives, and not the corporation. Saddest of all, not even a 42-year-old Channing Tatum can dance his way out of this curse to dignify his Last Dance. If my mom, this film's target audience, started dozing off on multiple occasions, they should know they did something wrong.
Leave a Comment
About the Contributor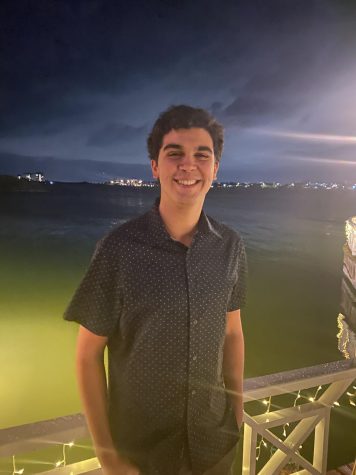 Cole Hanover, Staff Writer & Illustrator
Cole Hanover ('23) is a senior at Latin and has written/illustrated for The Forum since 2021. He has always read The Forum throughout his high school...