Say 'Guten Tag' to the Holiday Season at Chicago's Christkindlmarket
For some Chicagoans, nothing screams the holidays more than being packed like sardines on December's chilliest night, struggling to pronounce the German word for "mulled wine," and sipping overpriced hot chocolate that shares a similar flavor profile to Swiss Miss. The city's Christkindlmarket—with three locations and a cult following of locals and tourists alike—has returned for its 26th year, providing a cheerful yet underwhelming dose of red-and-green spirit.
After braving the cold and plunging into an abyss of sugar-fueled children, it's difficult to enter the market without feeling like a Scrooge. At the Wrigleyville location, rustic huts line Gallagher Way, an outdoor event space just west of the Friendly Confines. Vendors sell a plethora of holiday-geared items, with highlights including souvenir ornaments, jewelry, winter fashion, and, of course, plenty of food and drink to go around.
There's a bizarre feeling about being next to Wrigley Field and smelling Bavarian sausage and spiced nuts instead of Vienna Beef hot dogs and fake nacho cheese sauce. The Christkindlmarket draws from centuries of European tradition, with the first-ever holiday market dating back to 1298 in Vienna, Austria, according to The Guardian. While the Christkindlmarket roots itself in German heritage, its vendors represent cultures from many corners of the world, much like the diverse nature of Chicago.
Likewise, when the founder of Christkindlmarket Chicago, Ray Lotter, devised his plan to bring a European tradition to the city, he wanted to help German businesses gain traction in the United States. Working alongside the German American Chamber of Commerce of the Midwest Inc., Lotter gave financial support to immigrant entrepreneurs while spreading an appreciation for German culture.
Vendors such as Fons Empanadas and La Boulangerie & Co., despite seeming somewhat incongruous in their surroundings, pave the way for a more exciting visitor experience. The balance they provide makes the Christkindlmarket feel like a cross between a traditional European Christmas market, a summer farmers market, and a kid-centered carnival.
In execution, though, the Christkindlmarket can't decide what it wants to be, as it attempts to take too much on at once. There's certainly a little something for everybody, but the fun and games can last only so long, or at least until the disposable hand warmers wear off.
A quick peruse around the market is all you need to feel giddy with holiday cheer, but the Christkindlmarket might not necessarily leave you wanting more. That's not to say the beloved Chicago tradition isn't worth your time; after all, there's a reason why the market expanded from a small plaza with 13 booths to much larger venues, with up to 55 vendors at the Daley Plaza location, for example.
For visitors looking to maximize their time, a few vendors stand out from the rest—and their lengthy queues often give a hint. At the Wrigleyville venue, Bob's Belgian Hot Chocolate—the market's signature hot cocoa vendor—is almost certain to have a lineup. Unfortunately, though, Bob doesn't quite live up to the hype. His hot chocolate lacks the decadent, rich flavor profile necessary to justify a long wait time. And for $9 a cup, the disappointment hits even harder. Though Bob serves a small gingerbread cookie alongside each cocoa concoction, the cookies taste bland, dry, and oddly store-bought, much like the nostalgic Pepperidge Farm variation. Save yourself time and money by heading elsewhere for your hot chocolate fix, or even buy the instant packets since they will likely taste the same.
Some other vendors did, however, seem particularly enticing and worth a visit. Baked Cheese Haus serves gooey, drool-worthy sandwiches with raclette, a Swiss cheese that has a fondue-like texture. The smell is rather pungent at first, but once you see the cheesy creations for yourself, you'll be curious to taste what all the fuss is about.
At Puffy Houzz, Dutch poffertjes, which resemble miniature pancakes, top the menu. Customers can opt for their poffertjes with Nutella, fresh fruit, or additional toppings, making for the perfect indulgence. Similarly, Jour Des Crepes whips up traditional French crepes and provides numerous filling choices for any meal of the day.
If you're in the mood for a savory snack, Prince of Pierogi should be on your list, in addition to the Milwaukee Pretzel Co. and The Austrian Lodge—each serving their take on Central European cuisine.
An honorable mention goes to the West Town Bakery booth, which has a brick-and-mortar location across the street, though it closes at 3 p.m. on weekends. Their signature "Cake Balls"—donut hole-sized morsels of goodness—are too addictive to refuse and will please any sweet tooth. Side note: If the line for Bob's Hot Chocolate is too long, West Town serves up its own hot cocoa creation, and you're sure to wait for less time and pay a lower price.
There's truly something to satisfy anyone's palette, and the Christkindlmarket excels at providing a wide range of food items, including some options that are harder to find throughout Chicago.
As for additional festivities, visitors should check the market's official event calendar to plan their visits accordingly. Highlights include holiday movie nights on Wednesday evenings, carolers who sing classic Christmas tunes, stilt walkers who roam the fest at leisure, and carousel rides for children and the young at heart. These bonuses enhance the market's existing offerings, though nothing stands out as tremendously impressive or noteworthy.
And why bother with outdoor movie nights when average temperatures in December hover around freezing? The idea might sound nice, but when the sun goes down and the wind picks up, it's an entirely different story.
New this year, the holiday spirit extends inside Wrigley Field for an admission fee of $5 per person. This expansion includes small rides and games with clever titles like the "Hot Cocoa Cups" and "Infield Express," and prices range from $4-$16. Ice skating, souvenir merchandise, and specialty food and drink options are also available for an extra cost. If you're willing to splurge a little, you can rent private, heated chalets for a starting price of $60 per person for two-hour windows.
Though it's hard to pass up any visit to Wrigley Field, the Winterland activities are best geared toward younger audiences, and there's not much to see once you get inside. The baseball diamond remains covered, so all of the fun and games are jam-packed in the outfield.
Additionally, much like the Christkindlmarket, holiday music fills the air at a high decibel, but it's not nearly loud enough to cover the noise of overexcited children. Even later in the evenings, their squeals are deafening.
For a modest $5, though, it's worth exploring the historic ballpark if you have the extra time. Walking onto the field, visitors can live out their dreams of becoming an MLB star or the next concert headliner. The opportunity to view the stadium from a player's perspective—one that most Cubs fans will never experience—is completely surreal and justifies the entrance fee alone.
Another highlight of the festivities within Wrigley Field is the impressive holiday decor and attention to detail. Light-up Christmas trees line the lower level like dominoes, making the ballpark highly Instagrammable. Compared to the market, the ticketed experience offers fewer crowds and more room to move around without being sandwiched in all directions.
While the activities inside the ballpark might feel disappointing to those above age 10, any Chicago history buff or holiday fanatic can find pleasure in the unique opportunity it provides to enter the stadium off-season.
In reality, the Christkindlmarket creates a holly-jolly facade capable of reeling in over one million visitors per year, yet it fails to move beyond mediocrity. Sure, the vendors are charming and the Christmas cheer is palpable. But once you finally arrive with hundreds of other people who had the same idea, you might feel more disappointed than anything else.
The crowds, sadly, take away much of the enjoyment of attending the market. Consider visiting on a weekday, but even then, you'll probably find the venues just aren't large enough. Without making any purchases, one can easily tour the entire market in under 10 minutes, which might be a good thing if the weather is particularly frightful. Still, after 26 years of operation, the market feels in need of a long-awaited refresh.
Unless you're desperately searching for a wooden nativity scene or yet another glass ornament to add to your collection, there's a good chance you'll leave the market empty-handed. The vendors, though fun to browse, are mostly impractical and aren't worth going out of your way to see.
If you happen to catch a break from your endless to-do list, the Christkindlmarket offers an opportunity to embrace a beloved Chicago tradition and possibly support a few local businesses. The festivities run through New Year's Eve, but rest assured knowing the market will likely continue for years to come. Going in with moderate expectations—and the patience to deal with hyper children—will allow you to make the most of your visit. A hefty winter jacket wouldn't be a poor idea, either.
Leave a Comment
About the Contributor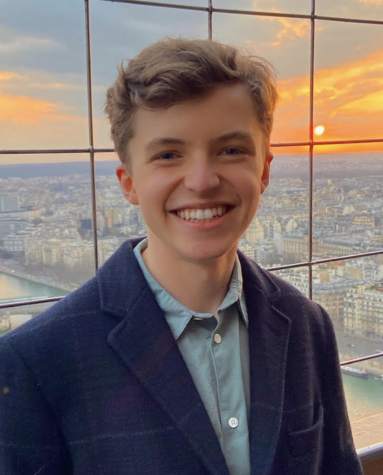 Will Baiers, Features Editor
Will Baiers ('23) is a senior at Latin and could not be more excited to serve as a Features Editor. Will has a passion for spotlighting current events...