Turning the Camera on Chehak
This year marks Jesse Chehak's second year teaching photography and filmmaking at Latin, but his extensive work in the field of photography has been relatively unknown to Latin students—until now.
Chehak's first photo was a blurry snapshot of his mom taken on his family's Polaroid SX-70. Since then, he has taken many spectacular and moving photos. "Photography means that I carry a license with me that offers an excuse to talk to anyone, knock on doors, explore, and travel," he said. "Photography is a great excuse to engage."
His photography career sparked when he took a gap year between his sophomore and junior year at New York University. He discovered his love for photography in anticipation of creating something new. "My favorite part of photography is being really far away from home and knowing that I will be bringing back something that many have not seen."
Chehak's biggest inspiration is Frederick Sommer. "He was a modernist photographer whose avant garde approach to seeing, art-making, and literature continues to inspire my relationship with art," Chehak said.
Chehak's early love for photography only grew, and with that, so did his collection of work. His images have been commissioned and published by publications including Dwell, Fortune, T Magazine, Newsweek, Nowness, Travel + Leisure, W, Wallpaper, Wire, and The Wall Street Journal Magazine. He has also produced campaigns for the brands Aetna, DuPont, Johnson & Johnson, Lexus, Nike, American Express, Orange, Vestas, LP, and T-Mobile.
One of his proudest moments as a photographer has been "being included in PDN's 30 under 30 at the age of 25 [and] traveling to Shanghai, St. Petersburg, and Oslo to shoot a global campaign for American Express where I got to hire my friends and make something extraordinary.
"Being a freelance artist/entrepreneur is difficult, because it feels like I am only as good as my last work or idea. I never really know when the commission will come in and from whom. So there have been times in my career when it felt like no one was out there anymore, that I was old news."
But Chehak remains optimistic. "These are low-point moments that become opportunities to do something new—to innovate."
Awards and work aside, Chehak just loves the craft and adventure of photography. "I really like to photograph trees and rocks because they don't talk back," he said. "I also really love getting thrown into a chaotic moment and coming back with documents of that energy."
Junior Julian Lopez said that Chehak "really just taught me how to have fun with photography and how to do it without a specific topic in mind, allowing me to be creative and continue independently."
Chehak enjoys exploring the world, sharing his discoveries and his perspective. He has lived all across America and traveled to other parts of the world, photographing everything from people, to architecture, to nature. His photos embody the moment, and just looking at them, one can almost feel the heat of Jamaica, or hear the sounds of a marching band. His photos of people radiate emotion.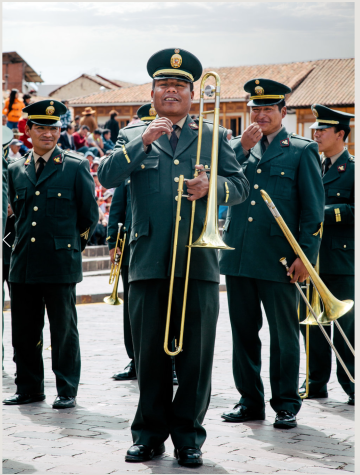 Regarding his artistic process, he said, "I try not to be too controlling or too aloof. To be present and receptive to the unexpected as though it were information. A mentor taught me that art-making is sort of like holding a bird in your hand.  If you squeeze it too tightly, it cannot sing. If you hold it too loosely, it will fly away."
When studying other photographers' work, he likes to think past the photo itself and into the artist. "I try to imagine how it was made, and why it was made."
As a teacher at Latin, Chehak hopes to inspire his students. "No matter where [my students] end up or what they end up doing in their lives, [I hope] they find time and space to make art and share it with their community."
Sophomore Raphael Uchoa de Paula said that Chehak "is really chill. He gives you all the advice you need to take photos. When you're on a family vacation and your mom says, 'Who is going to help me take this photo?' you can volunteer because [he] taught you that stuff."
When asked if he could be remembered for the rest of time for two photos, Chehak said the photos would be "a picture of a dream, and a picture of something invisible."
If you would like to view some of his work, you can find it here.
Leave a Comment
About the Contributor
Winston Spreitzer, Staff Writer
Winston Spreitzer ('24) is delighted to be returning as a staff writer to The Forum this year. In the past, he has written articles about rock climbing,...