Organizing P-Week Proves No Easy Feat
As students wrapped up their school day, phones buzzed, notifying them of a new email. It was that time of the year again: Project Week registration. Soon, hallways filled with chatter from students about their top choices, ranging from local projects to ones as far away as Buenos Aires, Argentina.
After two years of cancellations and one year of domestic-only programming, Latin's beloved Project Week is finally back in full swing and will take place the week of March 13, 2023. With 16 in-town projects, 17 out-of-town, and two Global Exchanges with schools in Cape Town and Berlin, Upper School students face a myriad of options to choose from.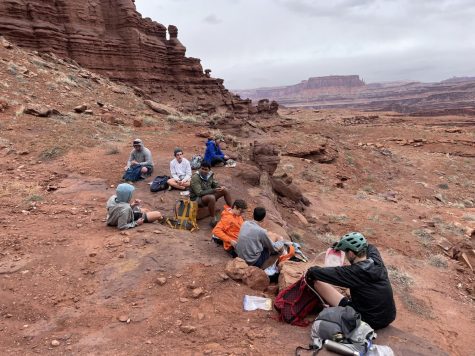 Since the announcement of this school year's projects, students have had plenty to say about the options available. "I was super impressed with the out-of-town selections, there being some new Project Weeks that I had never heard of before," senior Alice Mihas said. "I was so happy to see that the international trips were back."
Junior Gideon Burnett echoed Alice's thoughts. "I always prefer out-of-town because I love exploring outside of Chicago and seeing what other places have to offer," he said.
Though students are excited by the out-of-town selections, the in-town options were received with less enthusiasm. "Most of the in-town projects I feel just mimic my daily life," senior Madison Vanderbilt said. "There's definitely less variety than in years prior."
On a more optimistic note, Alice said, "I do think, in comparison to last year, the in-towns are a little less exciting, but still some fun ones there, too."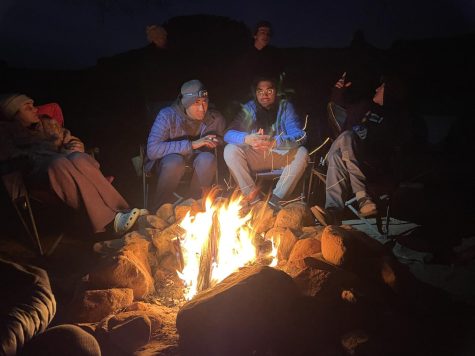 Despite Project Week returning to its traditional format with four international projects, Upper School faculty, staff, and administrators face unique challenges in planning projects, given inflation and the continued presence of COVID.
The process for planning Project Week started at the end of last school year. Upper School Spanish teacher and Project Week Coordinator Xavier Espejo-Vadillo said, "We opened up the [project proposal] form, and we had three projects just in the first few weeks of summer."
Upper School English teachers Ann McGlinn and James Joyce will lead "Cinema City: Chicago in Film." The project will center around Chicago's film industry and writing film reviews. "For those who've been [at Latin], the ideas, the creative juices, start flowing over the summer," Ms. McGlinn said. "Do you want to stay in town? Go out of town? That's a really big decision in and of itself."
The next step in planning Project Week was gathering a committee in August. "We look at every single proposal from different lenses," Mr. Espejo-Vadillo said. "We have people involved looking into diversity, equity, and inclusion, finances, everything."
Faculty proposals have a strict deadline of September 23, according to Upper School math teacher and Project Week Coordinator Ed Mahoney.
After receiving feedback from the Project Week Committee by the end of October, teachers made changes to their projects. From there, Mr. Espejo-Vadillo and Mr. Mahoney assembled the Project Week Catalog. Students then ranked eight projects, of which no more than four may be out of town. Project Week assignments will be announced tentatively on November 30.
Mr. Mahoney said, "All faculty are involved in Project Week, and all except new folks are expected to propose a project. That's not to say all projects proposed will run, but most of them do."
While the planning process was business-as-usual in terms of the timeline, faculty and the Project Week Committee had to consider inflation as well as the risk of COVID.
Each year, the administration and Project Week coordinators set a price cap. This year, the most expensive project is "West End on Demand," costing $3,040.
Project Week costs are not covered by tuition. Seeing that the difference between this year's most and least expensive projects ("West End on Demand" and "Cinema City: Chicago in Film," respectively) is $2,915, Gideon acknowledged the impact that costs can have on a student's decision of projects. "It is a little upsetting that some people have to factor [Project Week costs] into their rankings more than others; I think that this can create a large disparity in project participation."
Alice had hesitations about the possibility of incorporating projects into tuition. "There is a large cost difference between an in-town and an international [Project Week], so I think that there would be a lot of pushback [from the Latin community]."
Latin currently provides financial assistance for Project Week if a student receives financial aid. Part or all of a project's costs may be covered, depending on a student's level of financial aid and previous use of financial aid toward Project Week.
While students are often focused on the outcome of Project Week and appreciate teachers' efforts, many do not know the challenge of planning projects. "I really don't know anything about the process," Alice said.
Flights have been the most difficult to plan and fund. "Since the pandemic, different airlines have created different deposit structures," Mr. Mahoney said. "So to reserve a flight, which we need to do, it takes a considerable non-refundable deposit."
"We can't make deposits on flights until we have students," he said, "so [faculty] are proposing their projects with an assumed price. It's definitely one of the biggest challenges."
As Project Week coordinators, Mr. Mahoney and Mr. Espejo-Vadillo serve as advocates for faculty and keep productive conversations flowing to ensure that projects will be ready for display in the catalog.
"This is my second year in the role, but it's stimulating learning about all these ideas people have around the building," Mr. Espejo-Vadillo said. "Reading the catalog is totally different than giving feedback and speaking with every single person about their ideas."
Similarly, Mr. Mahoney said, "In that sense, it's fun to witness what everyone's doing in a way that's not necessarily inside our typical teaching roles." This year, for instance, two chemistry teachers are leading a project in London that focuses on various aspects of theater in the West End.
Ms. McGlinn shared that faculty enjoy this extra time to connect with students outside of the building, in town or out. "It's so much more focused on something that has nothing to do with the day-to-day of Latin that you just form a very different relationship with students."
Senior Quinn Lovette went dog sledding in Ely, Minnesota, during last school year's Project Week. He said, "Dr. [Nichol] Hooker was on a trip with her family in Ely and saw a sign for [dog sledding] and organized her project based on that. It's so cool how teachers can share their interests, experiences, and passions with students."
Mr. Mahoney concurred with Quinn, saying, "I think it's worth noting this is not only a program that highlights faculty passions, but it's also something that's very altruistic. It's not like if you don't sleep in your bed for the next five, six, seven days, there's additional compensation. And it takes incredible sacrifice."
"I just can't wait to see what's in store for this year," junior Asher Bremen said.
View Comments (1)