Hagerman, Holloway, and the Art of Nick Cave
In preparation for one of the most ambitious exhibits the museum had seen all year, Chicago's Museum of Contemporary Art (MCA) strung thousands of multicolored mobiles from its atrium down to the second-floor lobby. At first glance, Chicago-based artist Nick Cave's "Spinner Forest" is immensely Instagrammable. Deceptively innocent and pastel, the installation introduces the exhibit's implicit mantra: Things are not always what they seem. Inside the kinetic-balanced streamers, silhouettes of objects such as guns, teardrops, and bullets spin towards the viewer, creating a dazzling yet disorienting underpass to Cave's latest collection.
In a brief interview, Head of School Thomas Hagerman reflected on the MCA exhibition and his career as an educator on all sides of the country—from the vibrance of Chicago existing as a "diversity built of people, cultures, and ideas" to the more homogenous Northwest. Dr. Hagerman said he has a fondness for modernist artists and their rejection of conventionality, present in Cave's art as a form of political dialogue.
Arguably, the most intriguing part of the exhibition is "Soundsuits": a runway-esque arrangement of full-body costumes that obscure just about every aspect of the wearer. Some are bejeweled, others are (literally) covered in garbage, but they all force the viewer to see the performers behind a carefully constructed exterior. As a limb of his found object assemblage, Cave incorporates anti-Black memorabilia into his work, reclaiming and preserving somber yet resonant aspects of American history.
Upper School Visual Arts teacher Christine Holloway said that "[Cave] also has a way of taking common materials and making it look extraordinary," a practice the artist incorporates to uplift the ordinary and humble the extravagant. "Using community outreach in [Cave's] art practice is something I admire," she added.
The artist has been proactive as a member of his community, from addressing institutionalized racism at an Irving Park high school to his multidisciplinary communal space right across the street; its windows adorned with a mosaic spelling out the simple message of "love thy neighbor."
Freshman Clark Scroggins was fortunate enough to attend Cave's opening party and meet the artist. He noted him as an impactful figure in the MCA's iconography and an overall "cool dude wearing all Rick Owens."
Cave's aforementioned "Soundsuits" was discussed in tandem with Louis Vuitton fashion designer Virgil Abloh, particularly for the bold chromatic display and utilization of space and texture. Prevalent hip-hop singer and producer Benjamin Reichwald, known by his stage name Bladee, was another artist mentioned over similar themes—particularly the culturally convergent and aesthetically unapologetic beat of contemporary alternative art, uniting the Swedish rapper to his American counterparts.
The gallery will make a bittersweet departure on October 3, though Cave's rich maximalism and brilliant messaging will remain a prominent piece of Chicago's lived-in history.
Leave a Comment
About the Contributor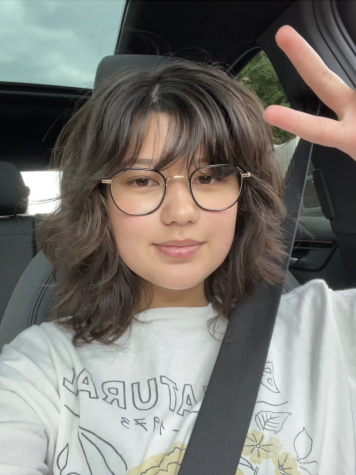 Lyla Granich, Staff Writer
Lyla Granich ('26) is excited to be joining The Forum staff this year. Having been involved in the arts all throughout middle school, she plans to address...