With Fond Memories of His Own Student Experience, Alum Eager to Give Back to the School As Board Chair
When Latin's Board of Trustees called on alum Robert (Bob) Chapman '78 in June to succeed departing Board Chair David Koo, Mr. Chapman recognized that this was no small task. Latin had a new Head of School coming in and faced unique challenges, including re-establishing a sense of community and engaging in collective bargaining with the faculty union.
Still, Mr. Chapman says he had no reservations about taking on the role of board chair. "Given all that Latin has done for me and for my family, I just feel like for me personally, it's just the right thing to do," he said. "It's a challenge, but I'm passionate about Latin."
Mr. Chapman has been passionate about Latin since his days as a student. He first arrived at Latin in 1964 as a junior kindergarten student. He was co-editor of The Forum in 1978 and played basketball throughout his high school career. He continued his interest in child development and his love for the game by coaching at schools around Chicago such as Frances Xavier Warde and St. Ignatius. His Latin involvement continued in the role of a parent, volunteer, and, since 2019, board member.
Latin's Board of Trustees provides oversight to the school and its operations. Among many roles, the board sets the overall tone and vision for the school, approves its strategic plan, assists in the development of key policies, and takes responsibility for the school's substantial budget—including setting tuition rates. The board is also responsible for hiring the Head of School. According to Mr. Chapman, the board provides "what I'll call thought leadership or thought partnership to the administration."
Mr. Chapman's gratitude for Latin has made him dedicated to giving back to the community. "Why I've stayed with the school is because I really loved my time at Latin," he said.
Although Mr. Chapman continued his studies after Latin at the University of California, Berkeley, earning undergraduate and law degrees, Latin remains the place he credits for much of his success. He said, "I felt I got a great education that not just prepared me for college—which I was able to handle very well because of what I was taught at Latin—but just how to be a good thinker and how to analyze things, how to communicate with people, how to address issues, how to be a good person, how to be active."
Latin's consistently superb teaching staff is a primary reason Mr. Chapman finds the school to be so special. It is with this respect and admiration that Mr. Chapman will help steer the board in its collaboration and negotiations with the Latin School Union (LSU).
When asked about working with the union, he acknowledged that the process is a challenge, but he also expressed a sense of optimism. "It's a very collaborative process, and it takes time to get through the process, to reach what we all want to achieve, which is a fair and equitable collective bargaining agreement." He added, "I believe that both sides with the union leadership and our leadership are working very hard to collaborate."
Upper School English teacher, Diversity, Equity, and Inclusion (DEI) Curriculum Coordinator, and Vice President of the LSU, Brandon Woods, feels the new transition is going fairly smoothly. Acknowledging Mr. Chapman's long-time devotion to the school, Mr. Woods said, "As an alum and parent of alums, [Mr. Chapman] has been part of the Latin community for a long time, and we are looking forward to a productive process and a fair contract."
Board Vice Chair Dara Milner echoed these sentiments, noting that Mr. Chapman's "strong listening skills and community dedication engenders trust." She also said that Mr. Chapman has a "great ability to connect with [the Latin] community."
Mr. Chapman has also pledged to focus on confronting some of the other difficult issues currently facing Latin in a "constructive and transparent manner." He said he has been particularly impressed with Latin's increased commitment to DEI. "I think our focus on DEI is very important," he said. "Our commitment to growing the diversity, both of our students and our faculty, I think, is great."
Seeking to unify the community, Mr. Chapman said, "There have been some relationships … between students, faculty, parents, alumni that have taken a little bit of a toll over the last few years. What I bring to the table is helping build those relationships and to make people feel comfortable that they have a voice in Latin."
Challenging and changing times may have met their match in this dedicated and enthusiastic Roman. In fact, his greatest challenge may be in finding Latin's flaws. "I'd love to tell you something that I don't like," Mr. Chapman said, "but I can't think of it off the top of my head."
Leave a Comment
About the Contributor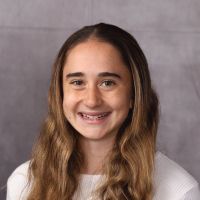 Mia Kotler, Editor-in-Chief
Mia Kotler ('25) is thrilled to be one of the Editors-in-Chief for The Forum this year. She is a passionate writer who enjoys expressing her views and...