Get to Know Mr. Faulkner!
Many are eager to learn more about the new Upper School science teacher Jonty Faulkner and how his journey led him to Latin.
Mr. Faulkner grew up in a town known as Plymouth in Southwest England. His childhood revolved around being outdoors—his hobbies included hiking, sailing, camping, and surfing. For his undergraduate years, Mr. Faulkner went to the University of Exeter, where he majored in chemistry and law for undergrad, and later completed training in secondary education and teaching. In 2020, he received his masters in international education through a distance learning program at King's College London.
While at Exeter, Mr. Faulkner discovered his passion for rowing. He raced on the university's rowing team and later coached it. Despite having never done the sport before, he quickly came to love it, and said, "Rowing was my life."
Mr. Faulkner noted that coaching the university crew team was what inspired him to become a teacher. "I never really knew what I wanted to do when I grew up," Mr. Faulkner said. "But the idea of coaching and helping others was very much something that I loved, so I focused on turning my passion to help others get better at things into a career I would enjoy, and I have not looked back since."
At Latin, Mr. Faulkner teaches chemistry and physics. "For me, chemistry explains the world as I see it," he said. "It's an awesome subject, albeit it is a bit difficult at first to see the unseeable—with the miniscule size of atoms and all, you can't exactly play with them out of a lab. I was just really attracted to the way that it explains behavior, materials, and how the world around us works."
Despite noting the subject's difficulty, Mr. Faulkner noted that the "weird and unseeableness" of chemistry appeals to him. "What really draws me to teach chemistry is watching students make links [between theoretical and practical knowledge]," he said. "They see how electrons are arranged in atoms, then how that corresponds to the elements' behavior and the alloys of the compounds beyond the microscopic level to then [form] what we see in front of us. Those a-ha, those eureka moments—all teachers thrive off that."
Mr. Faulkner most recently worked at the British International School, or British, for 11 years. He was hired as a chemistry specialist who taught middle school science and high school chemistry, biology, physics, and IB chemistry. At British, Mr. Faulkner also worked as the school's lower high academic coordinator (which involved leading external examinations such as International General Certificate of Secondary Education and AP, academic tracking, and reviewing the curriculum), collaborated with the United Nations International Children's Emergency Fund on a project to encourage students to see their place in social good, and started a middle school rowing club.
When asked about why he decided to leave British, Mr. Faulkner said, "It was a tough decision. I was at British for 11 years and through that time I'd seen the school grow from a graduating class of four to just over 60. I'm really thankful for the school; I would not be the teacher that I am today without my experiences there."
"But it came to a point," he continued, "where I thought about what's next, and I think a lot of people see this through their life journeys that sometimes [a person's next step] is staying at one place for a long time and other times it is trying new things. For me, my future is in America, so being at a British school made me feel like I was bringing the past into the present."
He also noted, "Having heard about Latin's prestigiousness and general awesomeness for over 11 years, I couldn't not go for the opportunity and take a chance to see if Latin wanted me, and I feel so fortunate to have been selected and chosen to be a part of this amazing community."
What truly appealed to Mr. Faulkner about Latin was the environment. "Spending the day [at Latin] and seeing how people worked with each other, whether student or faculty, made me realize how special the environment here is," he said. "There is a magic at this place and that excites me." He added, "I just remember being up on the roof for lunch time after my morning interviews and before my demonstration lesson, and it just felt right. I'm a big believer in going with your gut instinct, and Latin didn't just give off good vibes—it gave off the most amazing vibes."
Every teacher has a unique teaching style, and it appears that Mr. Faulkner's is effective: to self-assess his own teaching style. "I like to make analogies and allow for student discovery," he said. "I don't necessarily see the best way of learning as giving students a list of things to learn. There is a time and a place for lectures, but certainly in a subject like science where you can physically tinker with things, conduct experiments, and play with data, it can be more effective to build that idea of a common understanding together through kinetic learning. That, to me, is what learning is about, so I try to build my teaching style off of that." He added, "I try to look at the classes in front of me as a bunch of individuals and what would those individuals get most out of during the 50 or 90 minutes that I've got."
Sophomore Avani Shah, one of Mr. Faulkner's previous advisees at British, said, "Mr. Faulkner focuses on pushing people outside their comfort zones while guiding them in the right direction."
Mel Butler, a sophomore and current student of Mr. Faulkner, said, "His classes are always very interactive and fun! [Mr. Faulkner] is always throwing a joke in here or there, and it makes learning chemistry all the more exciting."
Currently, Mr. Faulkner teaches four classes: two sections of ninth grade physics and two tenth grade honors chemistry classes. Despite having more experience in chemistry, Mr. Faulkner said, "I have grown to appreciate the physics behind chemistry and think that it's awesome that I can teach both those subjects."
He added, "The two subjects are great to ease me into the American schooling system and how things are at Latin. I have nothing against biology, it's a wonderful subject, but physics and chemistry are definitely where my interests lie."
But what does Mr. Faulkner plan to do after he is eased into the American schooling system? "I plan to settle down and learn all things Latin," he said. "This place is awesome, but it is a lot—there is a lot of tradition and how the school works that I need to learn so starting or coaching something would be something more for the future. With the example of a rowing team, it'd be relatively hard to find committed individuals, as rowing is a difficult sport, so it'd really just depend on the feasibility of that." He added, "I am conscious that I need to do my best by my students and classes." Mr. Faulkner did note, however, that he would be keen on helping and supporting science-oriented activities.
Mr. Faulkner also said, "I know that there is a huge program of electives here at this school and that there are certainly a wide range of science classes that are offered. When thinking about what else we can offer, I do have a few ideas in mind, but nothing solid yet. Back in the United Kingdom, I did teach a bit of history, and while I certainly do not want to step on any of the history faculty's toes, because they're amazing, I am wondering whether mixing science and history together could be a possibility."
Students seem to love Mr. Faulkner's teaching thus far. Mel said, "I believe that I'll excel in chemistry under his teaching!" Avani agreed, saying that he's "someone I could always find for advice throughout middle school."
Although not everyone has met Mr. Faulkner yet, it looks like he plans to stay at Latin for quite a while, so there will be plenty of time to do so."I know it's cheesy," he said, "but I really hope that my future is here at Latin."
Leave a Comment
About the Contributor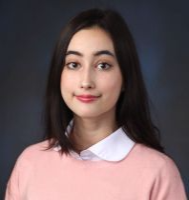 Sofia Grimm, Digital Editor & News Editor
Sofia Grimm ('25) is delighted to serve her second year as Digital Editor and her first year as News Editor. Her third year writing for The Forum, Sofia...