Mr. Morale & The Big Steppers: A Review of Kendrick Lamar's New Album
Kendrick Lamar is back after 1,855 days with his new album, Mr. Morale & The Big Steppers.
The last time Lamar came out with his own music was in 2017, with his hit album, Damn. It got a handful of awards and recognition and, let's just say, it was a work of art. Hard to top. However, aside from a couple features in other artists' songs, his music career has been quiet for the last five years. Fans were eagerly waiting for this album drop.
One Twitter user wrote, "Kendrick Lamar is Willam Shakespeare reincarnated." He may be today's generation's most celebrated rap artist.
His new album dropped Friday the 13th, and fans were ready to listen. The album consists of 18 songs, featuring artists such as Summer Walker, Kodak Black, Baby Keem, and more. It's a double album, one of them being Mr. Morale and the other The Big Steppers. The entire double album is about 75 minutes long.
Freshman Arin Awalegaonkar, said, "It's very lyrical; it just needs to grow on some."
Personally, I think the album is marvelous. There are so many meaningful verses in this album, and when you listen closely to it, it's clear that the album took time and detail to put together. The album is packed with Kendrick's beliefs, praise for his friends and family, as well as grief. It explores his own problems and how he deals with them, with a side of good music. Even in the more upbeat songs, there is an honest message to his listeners and himself about his own journey and struggles.
My favorite features are "N95" and "Silent Hill," as they are like poetry and rap in a song; these two genres are contrasting, yet they complement each other so well. This album is unlike any other rap artist's and is unique because the songs can range from slow and quiet, to fast and loud.
I'm sure that everyone will be eagerly awaiting the next Kendrick album. But, until then, Lamar is going on tour for his new album and comes to Chicago's United Center on August 19. See you there.
View Comments (1)
About the Contributor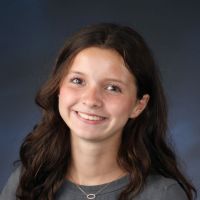 Eva Lapiere, Staff Writer
Eva Lapiere ('25) is delighted to be returning as a staff writer her second year of writing for The Forum. Eva loves covering articles on today's trends...