The French Presidential Election: What Happened, and Why It's Important
On April 14, Emmanuel Macron beat far-right presidential candidate Marine Le Pen and was re-elected as France's president. Latin's French students and teachers followed the election closely, and compared it to past elections in the United States.
Since 1965, the French president has been elected by a popular vote. This year, France had a voter-participation rate of 72%. While France's voter turnout dropped by 10% in the past decade, it is still higher than voter turnout in the U.S. In the 2020 U.S. Presidential election, voter turnout was 67%, the highest in more than a century.
Upper School French teacher Julie Cousin said, "What helps with [the voter turnout for] French elections is that we only vote for one thing at a time. So for this election, we only voted for the president." She added, "In the U.S. it takes a while to actually be informed about who is who and what their views are, because there are so many people you vote for at once, and I feel like that makes a big difference."
Macron's political party, La Republique En Marche, is defined as centrist. The party has both left and right-leaning views. On the other hand, Le Pen's party, Rassemblement National, has right-wing political views including opposition to same-sex marriage, unconditional abortion, and immigration. Le Pen has been scrutinized by the Jewish community for her antisemitic statements. Her father and founder of the party Jean-Marie Le Pen was tried and sued in 2015 for inciting racist hatred against Jews and denying the Holocaust. Jean-Marie was subsequently expelled from the party.
Mme. Cousin noted that in the United States, a politician's personal decisions often influence citizens' opinions of them.
"I feel like there's a lot more about personal character [in politics] in the U.S," she said. "For example, Marine Le Pen is not married, and the current president is married to someone who is 24 years older than he is, and it doesn't really affect politics as much, so that's a very different mindset."
In response to the election as a whole, Upper School French teacher Hugo Duhayon said, "This year, people don't feel much suspense over the re-election of Emmanuel Macron. The general feeling is, 'Here we go again.'"
The election in France was a rematch from 2017, but Macron won by a margin of only 8.5% this time around, much smaller than his 16% victory margin five years ago. The 2022 election result is concerning to many citizens who disagree with Le Pen's far-right policies. M. Duhayon noted, "The recent elections of far-right leaders have real repercussions on people's lives, the global economy, and on issues like climate change."
Mme. Cousin's Advanced Placement (AP) French class followed this recent election to prepare for their upcoming AP exam.
Freshman Andres De Marco said, "We were split up into groups of two to three. Before the first round of the election, each group was assigned one of the three candidates [leading] in the polls, and we had to research their political background and present it." He added, "Then, we switched candidates and we had to research [their] position on a topic that was relevant for the AP test."
Andres echoed M. Duhayon's sentiments, saying, "Other countries' current events can affect us in the U.S. What happens elsewhere can have repercussions here and can affect our daily lives."
Mme. Cousin and M. Duhayon agree that teaching their students about foreign politics and current events is important. "I feel that I teach the language, but I also teach the culture and current events," Mme Cousin said.
M. Duhayon emphasized the importance of recognizing bias and treating others with respect, regardless of their political views, a sentiment that may be applicable to American political discourse, too. He said, "[Teaching] should never be about pushing your views on students but rather about helping them question the world, forge their own opinions, and gain tools to analyze, criticize, and propose solutions."
Leave a Comment
About the Contributor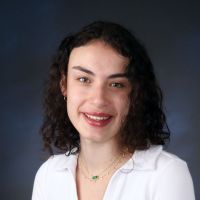 Natasha Benjamin, Arts Editor
Natasha Benjamin ('25) is excited to serve as an arts editor this year! This is her third year writing for The Forum, and she enjoys writing film reviews...