Senior Artwork 'Stuns' in Gallery Two
Three seniors, Noor Ahmed, Matilda Taylor, and Stella Overmier, were featured in the 2022 Senior Art Show. Following that exhibit were installations by Charlie Williams and Alyssa Batcheler.
To kick off the Senior Art Show, Noor made a few wonderful pieces for the exhibit. Beneath The Sakura, Noor's favorite, could be described with one word: pink. It featured multiple different hues of pink and pops of dark red. Noor loved how the colors worked together to build the piece, and she was proud of the landscape and how it drew the eye. She said she particularly loved how "the different pink hues worked together to create the effect of the piece."
The color and detail in this piece were truly beautiful and balanced.
Additionally, Fushiguro's Shikigami, another one of Noor's pieces, was exceptional. She explained how exciting it was to experiment with the negative space and incorporate the "shikigami" into the piece. This work especially stood out because of "the striking palette." Its colors included cool blue and warm orange tones.
Eyes were immediately drawn to Fushiguro, a fictional character depicted between four pairs of hands. Noor explained how drawing hands is usually a challenge for her, so she was "really proud of how they turned out."
Noor's inspiration this year was "the agency, magic, and power of women of color in mythological and fantasy settings." She had a goal to include women of color who "lived as they pleased … unapologetically."
Matilda also did an outstanding job with her artwork. It was not only pleasing to the eye, but could be interpreted beyond the canvas. Five of her pieces in the gallery were from her AP Art Sustained Investigation and were "based on a question [she] would like to explore." Matilda explained how her inspiration for her pieces typically leans toward "people and human emotion."
This year, Matilda's specific focus was the influence that mirrors have on self-esteem and general reflection—body image, insecurity, over-thinking, and beyond. This is such a great focus for art, because so many teens of this generation can relate to it and understand what the canvas uncovers—or, as one may say, what the mirror uncovers.
Matilda added that her favorite pieces were the portraits of her close friends, as she enjoys painting people she knows personally. She truly stunned once again with her artwork.
To top it off, Stella gave us some amazing pieces for the show this year. They used a digital software, ProCreate to formulate these pieces and additional art applications for other outside projects. Their work highlights the theme of "abandonment." This is a great theme because it can be viewed in so many different ways, and Stella's art really projected the message of abandonment.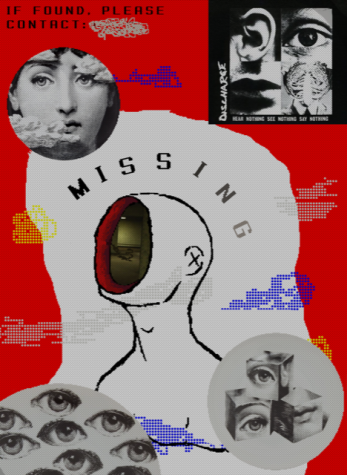 Stella noted that "making art is a place where [they] feel [they] can express [themself] to the fullest." They plan to pursue a future in art, possibly in graphic design, game design, or illustration.
The art was colorful and vibrant, featuring pleasing color palettes from bright neons to muted and calm. There were many different textures and patterns, and the pieces were unique, with different characters in every piece.
Now to the current seniors whose art is being displayed in Gallery 2. Charlie's art featured handmade clothing ranging from homecoming dresses and button-down shirts to bikini tops. Charlie also endeavored in an ISP, "Latin4Lurie," to create and sell custom Latin spirit gear, some of which is vintage Latin clothing. The profits were then donated to Lurie Children's Hospital. As is written in Gallery 2, she has learned that "sewing is an intersection of math and art," though the process "can't be explicitly defined." However, it is evident that through this process, she is able to create unique and admirable pieces.
Alyssa created original art by designing pieces for an imaginary band, "Neon Ego." Working at the intersection of "commercial art, graphic design, and multimedia," she "created all elements of the group's career except for the music itself," including a painted guitar, a magazine, a t-shirt, picks, concert passes, CDs, posters, vinyl, and much more. The unique pieces take on a whimsical, lively feel, even allowing viewers to imagine Neon Ego's sound.
Despite the seniors' differing themes, color palettes, and mediums, each piece was carefully crafted down to the smallest details, demonstrating creativity and true talent. Be sure to check out the outstanding pieces in Gallery 2 for a limited time.
View Comments (1)
About the Contributor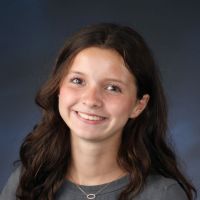 Eva Lapiere, Staff Writer
Eva Lapiere ('25) is delighted to be returning as a staff writer her second year of writing for The Forum. Eva loves covering articles on today's trends...