Meet Latin's First Female Athletic Director: Kirsten Richter
Incoming Athletic Director Kirsten Richter, who begins work on July 1, brings experience serving as a college administrator and coach and says she is eager to join the Latin community.
"Latin has a tremendous academic reputation, and athletics are an important part of the education offered here," she said. "I love how athletics at Latin are integrated into the entire community. We have outstanding varsity teams competing for championships, as well as Lower School students just learning a sport. There is so much opportunity for impactful learning and for students to integrate that learning into other areas of their Latin experience."
Ms. Richter worked previously as an assistant women's basketball coach at Randolph-Macon College in Ashland, VA, and since 2010 has worked at Franklin & Marshall College in Lancaster, PA, where she managed special projects related to athletics and was a senior administrator and head women's basketball coach.
"I think I bring a wide-angle lens that can see how athletics integrates with other areas of the Latin community," she said. "I'm hopeful that my experience at the college level working with admissions, advancement, alumni programs, as well as external constituencies will add value [and] in doing so, I think we can maximize the opportunities and experiences of the athletic program."
In an email to the Latin community, Head of School Randall Dunn noted that Ms. Richter is currently working toward a Master of Science in Education in education entrepreneurship, an interdisciplinary program combining education, innovation, business, and entrepreneurship. She earned a Bachelor of Arts in Government from Franklin & Marshall College and a Master of Education in sport management from Millersville University.
Ms. Richter will be Latin's first-ever female athletic director.
Tim Cronister, this year's interim athletic director, said, "Ms. Richter was obviously the strongest candidate, but she also stood out from the beginning being a woman. Some of the things that we talked about in the interview process were about supporting girls' sports as much as boys' sports. She has worked at the college level and has had a lot of exposure to these equity issues, so I think her coming is going to be huge as we forward women's sports at Latin."
Freshman athlete Mia Kotler discussed why Ms. Richter as the new athletic director is an important step for equality for women in sports. "I think it can be hard for women athletes to watch predominantly men spotlighted in sports, especially on the professional level, and having a woman athletic director can provide a sense of hope and inspiration in terms of women in sports," she said.
Part of Ms. Richter's hiring process was engaging in discussions with, and answering questions from, several of Latin's student-athletes. One of these athletes was senior Alyssa Batcheler.
"I thought that [Ms. Richter] was very receptive to student feedback when talking with her," Alyssa said. "She views all sports teams equally in terms of importance and resources they should be provided, which is something that I don't believe Latin has historically done."
Ms. Richter praised the student-athletes and other representatives of Latin she met with during her hiring process, saying, "I really enjoyed meeting many members of the Latin community during my interview process, [and] I was impressed with the passion and dedication of the students, coaches, and administrators."
Students and administrators in the Latin community said they look forward to the future work of Ms. Richter and hope her leadership will bring with it new opportunities and success for the athletics program.
"Ms. Richter is going to be a role model to the girls at Latin, and she has a lens that a man might not have when we look at things like equity," Mr. Cronister said.
Ms. Richter noted, "I appreciate the women and men in sports and beyond who have worked to move us as a society toward gender equity and make this opportunity possible."
Leave a Comment
About the Contributor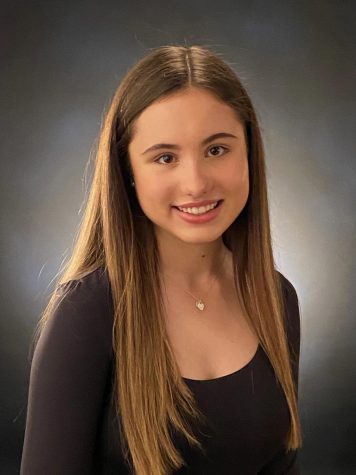 Lily Coleman, Media Editor
Lily "Pickle" Coleman (22') is a senior at Latin and is thrilled to be serving as Media Editor this year. In her time on The Forum staff, Pickle...