Razzle Dazzled by the Upper School's Production of 'Chicago'
Latin's Upper School musical production Chicago exceeded expectations. With immense success in lights, dancing, acting, singing, and more, the cast crushed it. Every night, the show went on without a hitch, demonstrating both the commitment and talent of its featured students.
The leads, senior Alessandra Mafrici and junior Bri Nourie, were phenomenal. Both of them played their roles so well, it seemed as if they were the characters themselves. Alessandra killed her part, Velma Kelly, by representing her attitude and expressions passionately. As for Roxie Hart, Bri encapsulated her mischievous behavior and her fake innocence. Also, their voices were fantastic! While being different from one another, they still sang beautiful duets throughout the show.
Other strong supporting roles include Billy Flynn, Matron "Mama" Morton, Amos Hart, and Mary Sunshine. Each actor showed so much personality, filling the stage with impressive portrayals of their characters. Billy Flynn, played by Cole Hanover with his faux charm, tied with Mary Sunshine's gullible nature, humored the audience throughout their performance. Alyssa Batcheler, who played Matron "Mama" Morton, ruled the stage. Her entrance song drew everyone into her corrupt character design. Through helping both Velma and Roxie, with a price of course, she shone brightly under the stage lights. Amos Hart, brought to life by Max Wilkins, changed the viewers' mood upon entering the stage. Even after becoming invested in Roxie's narcissistic dreams, the audience felt pity and sadness for Amos. A poor man, who would do anything for his unloyal wife, just wanted a happy ending. The secondary leads in Chicago added spice and energy to the already sensational production.
As for the ensemble, every cast member involved had an effect on the show as a whole. With a large group of students who wanted to participate in the musical this year, Performing Arts Department Chair Nick Baer (among others) made sure everyone got a role that would add to the show. The dancers in every performance were completely in sync, dropping jaws across the audience. I watched the show three times and was amazed every time at these talented student performances. Their voices blended beautifully together.
Latin's Chicago shocked the school with its Broadway-esque delivery. Even given COVID, school, sports, and other extracurriculars, the students' hard work paid off and brightened the end of the third quarter. The school cannot wait for the next musical and what it has to offer!
View Comments(1)
About the Contributor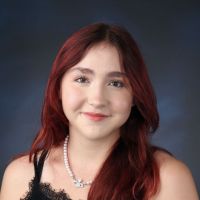 Kayley McCutcheon, Staff Writer
Kayley McCutcheon ('25) has written for The Forum since spring of her freshman year and will continue to share stories with her fellow Latin peers. The...