Chicago in Chicago: A Preview of the Upper School Musical
Chicago, the hit Broadway musical production based on the jazz age of Chicago in the 1920s, is coming to Latin. It's filled with murder, love, suspense, and betrayal. The main character, Roxie, a wannabe vaudevillian, shoots her lover because he walked out on her. This intense story includes the development of the rivalry between Roxie and Velma, a real vaudevillian. Chicago includes famous pieces such as "Cell Block Tango," "Mr. Cellophane," and "All That Jazz." Enjoy an incredible production at 7 pm on March 2, 3, and 4!
The cast of the school musical, Chicago, used a high school edition script. Juggling sports, academics, and other extracurriculars, Latin students work hard to attend rehearsals and keep up with homework. Additionally, this musical is filled with complex choreography, and most of the student actors entered with little to no experience in dance. Upper School dance teacher Adriana Durant has worked alongside Upper and Middle School Performing Arts Department Chair Nick Baer, the musical's director, and Middle and Upper School chorus teacher Gabriel DiGenarro, the vocal director, to create new choreography to match each song.
Aside from the dancing, Latin's edition of Chicago has remained similar to the screen production, particularly because many of the actors are talented singers. Senior Elliot Kovitz, who plays Sergeant Fogarty, said, "None of our leads need as much help as the people who adapted the show imagined, so they have a bit more material and a bit more time singing solo." Latin's edition of Chicago has kept the core stylistic choices of songs and scenery which reflect the richness of the original production.
Like everything in our current world, COVID has played a part in this musical as well. Because of social distancing, the orchestra, which is usually confined to the wing, will have to bleed slightly on stage to account for distancing requirements. In regards to the performance itself, many components had to be modified. Dancing and singing need high breath support, and masks have proved to hinder the performers' capabilities. As for the onstage acting, Alessandra Mafrici said, "It's harder to sing with these masks." However, even with all the roadblocks this group has had to overcome, they still manage to remain positive and deliver a powerful performance.
Because of Mr. Baer's tremendous scheduling efforts, students generally aren't overwhelmed with commitments to the musical. Elliot said, "Mr. Baer does an incredible job at Tetris-ing everyone's conflicts into a schedule that still respects all of our time." As the show gets closer, however, practice lengths increase. Tech week needs everyone to stay until 7:30 p.m. most nights in preparation for the performances that take place the following week. Although the final stretch of prep is tiring and time-consuming, the 40 members participating in the production remain in high spirits and are excited to showcase their hard work.
While many professional casts spend close to a year, if not more, rehearsing a production, the Latin cast has spent a mere three months getting ready for opening night. This talented group of students have dealt with the difficulties of masks, learning choreography, and rehearsing songs and have put their hearts and souls into making this a successful performance. Latin is excited to welcome back its annual school musical with a full audience.
Leave a Comment
About the Contributors
Natalie Arora, Staff Writer
Natalie Arora ('25) has written for The Forum since her freshman year and is very excited to continue writing stories and helping to share school news...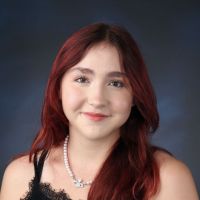 Kayley McCutcheon, Staff Writer
Kayley McCutcheon ('25) has written for The Forum since spring of her freshman year and will continue to share stories with her fellow Latin peers. The...