Latin Reacts to the 2022 Beijing Winter Olympics
The 2022 Beijing Olympics concluded with Norway taking home 37 medals, followed by the Russian Olympic Committee (ROC) with 32 medals, Germany with 27 medals, Canada with 26, and the USA with 25. This year's winter Olympics added seven new events to the lineup for a total of 15 sports and 109 medal events. The games fostered many successes and achievements. From stand-out gold-medalists 18-year-old freestyle skier Eileen Gu and figure skater Nathan Chen, to snowboarder Shaun White's final race before retirement, to women's hockey reaching record-breaking ratings for women's sports, the 2022 Olympics were exciting to witness.
Sean Episcope, a senior, said, "I thought that this year's Olympics were really exciting, especially seeing people like Shaun White and Chloe Kim competing. Seeing Shaun White was really cool since it was the last Olympic competition of his career, and he's obviously one of the best snowboarders ever."
American snowboarder and three-time gold medalist Shaun White did not receive any medals at this year's Olympics, but, after his final run, all of his competitors lined up to congratulate him on his historic career. White is arguably the most well known snowboarder in the world, making his first Olympic debut in 2006 at just 19 years old, when he won his first gold medal. Additionally, he was the first person to compete in the Summer and Winter X games for skateboarding and snowboarding, respectively. He won 18 X Games medals throughout his career.
Another notable Olympian this year was American snowboarder Chloe Kim, who made a name for herself at the 2018 Winter Olympics as the youngest woman to win an Olympic snowboarding gold medal at just 17 years old. This year, at 21 years of age, Kim received another gold medal in the women's halfpipe finals, making her the first woman in Olympic history to win back-to-back gold medals in the event.
Additionally, 22-year-old American figure skater Nathan Chen received a gold medal after placing first and setting ​​a new world record of 113.97 in the men's single skate short program event.
Sean said that his favorite moment of the Olympics was "seeing [Japanese snowboarder] Ayumu Hiramo win gold with a literal perfect run for his last attempt." He shared, " I personally thought that he should have been in first place after his second run and so did most of the people watching, since he completed tricks that have never been done in competition before, but he got gold in the end, which was super cool to see."
Freshman hockey player Sanya Arora said that her favorite events to watch were women's ice hockey and snowboarding. She said, "Part of me thinks that one day I want to be there and play for my country, because it would be a dream come true to play at the Olympics." She added, "Specifically, I watched the women's USA vs Canada game, [and] although the USA team lost, it was still very fun [and] very exciting to watch."
Sanya was not alone in her enjoyment of the women's USA vs Canada championship ice hockey game. The game alone averaged 3.54 million viewers on NBC, which is more than any NHL game televised in the U.S. this season and made it the second most-watched hockey game in the U.S. since 2019, barely trailing behind Game 5 of the 2021 Stanley Cup Final between Tampa Bay and Montreal.
Senior Nora Goodwillie commended Eileen Gu, a Chinese-American freestyle skier who represented China at the Olympics. Gu was the first freeski athlete to win three golds in a single Olympics, with two gold and one silver medal at this year's games. She will be joining Nora as a fellow member of Stanford's class of 2026.
"To think that I will be surrounded by multiple Olympic medalists and crazy smart and athletic people makes me nervous yet incredibly excited," Nora said. "When I found out Eileen Gu was in my class at Stanford, I immediately looked at her Instagram, and not only is she a two-time Olympic medalist, but she has achieved so many other amazing things like being a successful model. I'm excited for the years ahead and to meet all of these fabulous people."
A future D1 athlete herself, Nora has great respect for the effort required to make it all the way to the Olympics. "The Olympics are so crazy to me, and I admire every single athlete competing," Nora said. "Competing at that level requires an insane amount of practice and dedication that I strive to achieve as an athlete."
This year's winter Olympics were fueled by teamwork, camaraderie, and incredible athletic talent—things that we too can appreciate in the Latin community. Who knows—maybe one day we will be cheering on our very own Roman athletes as they represent the country at this renowned event in the coming years.
Leave a Comment
About the Contributor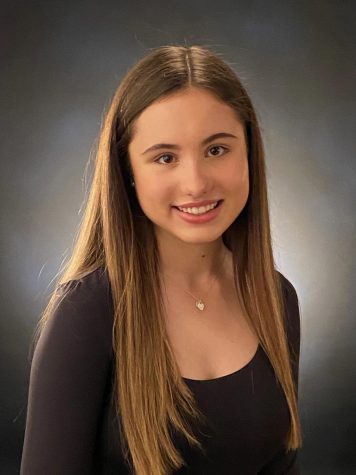 Lily Coleman, Media Editor
Lily "Pickle" Coleman (22') is a senior at Latin and is thrilled to be serving as Media Editor this year. In her time on The Forum staff, Pickle...