Service: It Must Return, and Here's How
Although students have prepared the occasional meal for the Night Ministry, snack bag for Asian Youth Services, and card for shelters, few of these activities, each of which were completed in community-time blocks, have incentivized students to seek out additional service opportunities on their own.
Community service requirements have disappeared at Latin, dating back to when the administration suspended them in 2020 due to COVID. However, Latin was already having discussions about getting rid of requirements before the pandemic.
Director of Student Life Tim Cronister said, "Obviously, we want to do outreach and service, and we want kids to be involved in it, but instead of just, 'Oh, let's count our 10 hours,' how can we get it to something that we just do?"
Now that is a difficult question to answer. How do you get teenagers to do service, helping the community and those in desperate need, without an incentive?
Service requirements are a solid answer, but they won't affect kids in the way the administration hopes. These hours will just be something that kids are forced to do, and students won't take much away from it unless they are truly passionate about what they are doing.
Mandatory events that focus on specific sectors of service are a much more viable answer. This approach would allow students to discover a true service passion, and, one hopes, continue their philanthropic activities throughout high school and beyond.
Events would have to cover many sectors of service, such as working with the homeless, elderly, environment, and people with mental and physical disabilities. And these events must be memorable, leaving a lasting impression on the student.
Latin has done similar events in the past but started to move away from them a couple of years ago.
During my freshman year, our whole grade took a trip to Uptown. I ate lunch with my advisory and then walked to a bookstore where we heard an inspiring story of a long-time community member who persevered through a tough life with a disability. Afterwards, we took another walk to a coffee shop where an investigative journalist told us about the most interesting stories he covered in Uptown.
The day is cemented in my mind, and since that class trip, I have spent hours working at Care for Real Food Pantry, which is at the northern edge of Uptown.
Junior Devin Abraham also had a memorable service experience, although at a different place. He volunteered at Temple Sholom's Monday Meal Mitzvah, serving hot meals to the homeless in an attempt to mimic a restaurant experience. Devin said, "It was great to see how happy it made people to have a meal that I contributed to. Their faces would light up, and it brought me so much joy, knowing that I was making the world a better place." Devin went on to contribute to the Monday Meal Mitzvah several times after.
Without requirements, students would have to be reminded of the benefits of service, allowing them to show gratitude and become more empathetic by seeing the struggles of people around them.
"Community service changes your awareness, and possibly your mindset," junior Alice Mihas said. "I previously participated in painting homes for community service and that had no impact on me, but I participated in another community service opportunity helping children with special needs and that was very impactful. I was able to help at-need kids while doing the thing I love."
Alice supports the idea of events, as exposure to multiple service opportunities ensures that the service done is not something mindless, but instead something that changes one's mind.
According to Mr. Cronister, "Service is about creating a well-rounded student who's empathetic, understands the world around them, realizes the privileges we have at a place like Latin, and leaves the world better than when we found it, having a positive impact on not only Latin but the larger community."
Service enables you to find a passion, so that helping others becomes something that you continue doing throughout your life, not just in high school. School-organized service events would expose students to meaningful experiences, encouraging them to help others in their free time.
Latin is considering moving back to events post-pandemic but has not taken action yet.
Leave a Comment
About the Contributor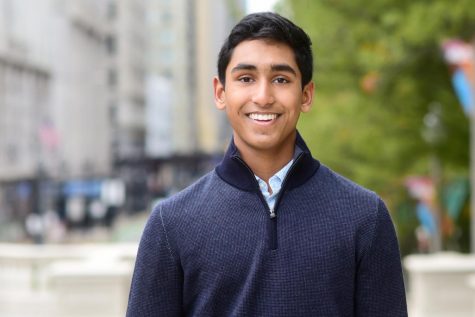 Akshay Garapati, Sports Editor
Akshay Garapati ('23) is excited to be serving his first term as the Sports Editor for The Forum. Previously, he served as the Opinions Editor. Editing...