The Wordle Hurdle
Amid bothersome homework, painful tests, and spiritless essays, a new hit game has sprung up and rekindled students' interest in words again—a feat their teachers thought impossible. It's Wordle: the addicting online game where players are given six chances to guess a five-letter word each day.
Senior Jaden Annacone said, "Every age group likes it."
Every day, freshmen and seniors alike diligently complete their Wordle, comparing their guess distributions to those of their classmates and avoiding spoilers.
"It's a fun bonding experience," said freshman Jackson Darke. "Even my grandma does it."
It seems unlikely that a word game could gain popularity among teens, but nevertheless, something about it has left students racking their brains for old vocabulary words, teaming up to take on the latest word, and practicing on the similar application, Wordus.
When asked about Wordle, senior Reed Rasmussen said, "It's addicting."
Fellow senior Isabel Wilson added, "I like that everyone has the same word."
Indeed, with every person needing to determine the same word, students strive to guess the elusive five letters in fewer tries than their peers.
"The feeling of accomplishment is enhanced by the fact that you're limited to six guesses and that you know everyone else is playing the same game/word as you that day," said Upper School math teacher Chris van Benthuysen.
Of course, the game is not for everyone.
"I think Wordle is a waste of time," said freshman Olivia Harris.
Perhaps a word game is not everyone's forte, but still, it has become a new fad for the majority of Latin's student body.
With Wordle's success, other variations of the game have succeeded alongside it, some allowing infinite guesses, others with themes like Taylor Swift Wordle and Star Wars Wordle, and several others spin-offs, like Octurdle, Worldle, and Nerdle.
"Honestly, I like them all," said Mr. van Benthuysen. "They're creative spins on something that's become a bit of a zeitgeist."
Recently, The New York Times bought Wordle, subsequently changing Wordle's URL and font.
"Given Wordle's success, it felt a bit inevitable that a larger company would try to buy it," said Mr. van Benthuysen, "Many people seem to be convinced that The New York Times is changing the game in ways that it absolutely isn't. Folks think it's gotten harder. In fact, the word of the day was already set for every day between now and sometime in 2027."
"The New York Times buying Wordle is a major success for the creator of the game," said freshman Avani Shah.
Leave a Comment
About the Contributor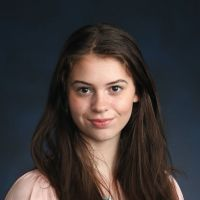 Caroline McHugh, Staff Writer
Caroline McHugh ('25) is excited to be returning for another year of writing for The Forum. She enjoys reaching out to the Latin community through her...