Will Omicron Impede Holiday Travel?
Just as Latin students thought that the pandemic was easing and that the world was returning to normal, another COVID-19 variant emerges.
In March 2020, school shut down from the first variant. Then, after vaccines were distributed, things were looking better until the Delta variant arrived. Now, the world is introduced to a new variant: Omicron.
Omicron was first identified on November 18 in South Africa. Since then, many countries including the United Kingdom, United States, and Japan have suspended travel from South Africa and several other countries in Africa.
Given that this variant was recently discovered, experts aren't certain of how it will change the course of the pandemic, but scientists suggest that all Americans get vaccinated and that anyone above the age of 16 receive their booster shot six months after they received their second dose.
Even with the help of vaccines, it is only fair to wonder how the Omicron variant will impact the lives of everyone in the Latin community.
Many Americans, including Latin students, plan to travel for the holidays. Is there a chance that these trips will get canceled?
Freshman Michael Kotcher is planning to travel to Hawaii with his family. "I think that we can still travel as long as we follow the correct protocol," Michael said. "My family is really hoping that it really doesn't get canceled, because the trip was planned for spring break of 2020, and we still haven't taken it."
As Michael said, following protocols is key to staying safe during the holidays. Wearing masks correctly, being fully vaccinated, washing hands, and getting tested after traveling are a few of many ways to be cautious about the virus while traveling.
Junior Sofia Uddin agreed with Michael that vacation plans won't be canceled. She and her family are planning on traveling over winter break. "We are going to the same place we did last year when COVID was more of a concern and we weren't fully vaccinated," Sofia said. If Americans were able to travel last year, when almost nobody was vaccinated, then it seems like traveling this year should be ok.
Still, Sofia acknowledged that it is important to take safety precautions while traveling. "I will be washing my hands and wearing my mask correctly," she said.
Sophomore Zuhair Alsikafi is not as worried about Omicron. When asked if he would be treating Omicron differently than other variants of COVID, Zuhair said, "Obviously I will wear my mask and just play it safe if someone is sick, but that's it."
Freshman Vijay Silvani, however, is more concerned about Omicron. "Omicron is a dangerous and fast-moving variant of COVID-19 and because of that, I think it is more threatening," he said.
According to the Washington Post, Omicron may be more threatening than other variants. Microbiologist Pei-Yong Shi is working hard to understand the effectiveness of the Pfizer vaccine against Omicron, but it's not a fast process. Additionally, early studies seem to indicate that Pfizer's COVID-19 pill will protect against severe disease.
For many, it feels as though this pandemic is never going to end. How does the world navigate nearing the end of COVID-19 if the virus continues to mutate and new variants emerge?
As of now, there is no clear answer. However, hope is in the air, and vaccines, as well as washing hands and wearing masks, are proven to help. Staying safe remains a priority.
Sofia still encourages Latin students to consider protocols. She said, "I think students should continue to wear masks, and I encourage people to get vaccinated."
Leave a Comment
About the Contributor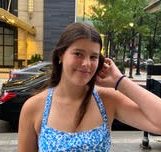 Juliette Katz, Staff Writer
Juliette Katz ('25) is delighted to be returning as a staff writer her second year of writing for The Forum. Juliette loves writing about current events,...