Artist of the Issue: Kimiko Darcy, Pianist Extraordinaire
Twelve years ago, junior Kimiko Darcy touched a piano for the first time. After noticing her knack for the instrument at a mere four years old, Kimiko's mother signed her up for private lessons. Her sister Eriko, now a sophomore in college, even recalls watching Kimiko perform when she was "so little that her feet couldn't even reach the pedals." The rest is history.
Interestingly, Kimiko did not always have the passion for the piano that she does today. For the first few years, she admitted that it was more of an obligation than a genuine love. "I was so young when I began playing that I kind of just went through the motions," she said. "As I got older, though, I definitely started to actually enjoy what I was doing."
Now, Kimiko finds it difficult to imagine a world where she is not a classical pianist. Among everything else in her life—school, sports, friends and family—piano is the constant that keeps her grounded. "What I most appreciate now about the instrument is that it's almost like a form of therapy," she said. "You can hear so many emotions through music, and I feel like in other activities that's harder to find."
With two private instructors and increasingly prestigious competitions to prepare for, Kimiko spends most of her time outside of school seated at the piano. Just a few years ago, she was selected to play at the renowned Carnegie Hall as a winner of an international competition—a feat that many instrumentalists would deem the peak of their career. More recently, she won both the state award for the National Association of Music Teachers, as well as an international award as a representative for the United States.
"I am extremely proud of Kimiko's accomplishments as a pianist such as performing at an incredible venue like Carnegie Hall or winning massive international piano competitions," Eriko said. "But as corny as it sounds, I would be just as proud of her without all of the fancy medals and plaques she has around the house."
Even despite her massive successes, Kimiko said, "The reason I continue to compete is because I want to keep improving."
Discipline is a quality of Kimiko's that radiates beyond the piano bench. Isabella De Marco, a junior and good friend of hers, said, "Kimiko is one of the most hardworking people I know, and puts the utmost effort towards everything she does. I really admire her work ethic, and how she still finds time to focus on school and sports. It is definitely not easy to manage so many activities, especially in high school, but she always has a positive attitude, regardless."
Echoing Isabella, junior Amanda Valenzuela said, "Kimiko is incredibly hardworking, and it absolutely shows. She has always been someone that would spend her free periods playing piano if she had a competition coming up."
A humble sensation, Kimiko is not flashy about her piano abilities. "I still remember when we first hung out outside of school freshman year, and she subtly mentioned she played piano," Amanda said. "She then proceeded to blow my mind as she played, and I was left with my jaw on the ground. It still blows me away to see her hands flying across the piano so quickly."
In addition to her musical talent, Kimiko is also a valued member of the Latin girls varsity cross country team. Just a month ago, her head coach Dan Daly broadcasted her talents to the entire squad—parents included. To culminate his weekly season recap email, he attached three videos of her recent performances—starring pieces by Bach, Ravel and Beethoven—and wrote, "Here is a little something to enjoy—our own Kimiko, in addition to being a fierce competitor, is also an award-winning pianist."
In reaction to the videos, sophomore Reese Benford, teammate to Kimiko, said, "Initially, I was in shock because I had no idea that Kimiko was an incredible pianist. She is very humble and selfless, and never mentioned that she was a state champion in piano. She let her playing speak for itself."
Such humility and ambition have not gone unnoticed by those closest to Kimiko, particularly her sister. "Once she has made up her mind to learn a certain piece or work towards a performance/competition, Kimiko really gives it her all," Eriko said. "She will, of course, take the opinions and advice of others into consideration, but she puts her vision first—and sometimes that means disagreeing with her piano teachers. What's really awesome about Kimiko is that she will convince her teachers to accept and like her interpretation of the music; I think that takes a lot of courage, especially when you are young and are working with some very harsh and accomplished teachers and critics."
It is this willingness to be a self-advocate despite what others may think, along with a genuine passion for the instrument, that Kimiko attributes to her steady improvement and success as a pianist. She encourages other aspiring instrumentalists to adopt a similar mentality in order to achieve their dreams as she has. "Just be patient," Kimiko said. "Listen to the advice of others, but always have your own interpretations. Feel yourself through the music, and if you truly love it, continue to practice, and you will see improvements."
View Comments(1)
About the Contributor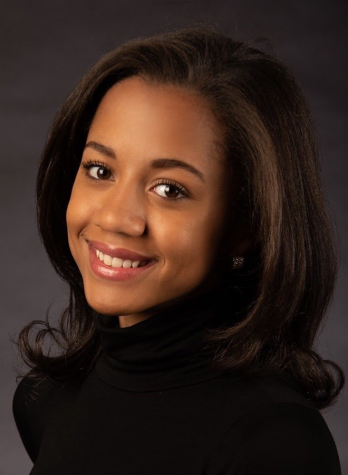 McKenna Fellows, Editor-in-Chief
McKenna Fellows ('22) is a senior at Latin, and is elated to serve as one of this year's Editors-in-Chief. She is an avid reader and writer, and in...