Checking in with Ms. VO
Kristine Von Ogden, or Ms. VO, as she prefers to be called, has made it through her first semester as the new Upper School Director. Her smile shined through her mask when we sat down to talk about her experience at Latin thus far. "It's been fantastic. Incredibly busy, but that's what I expected," she said, when asked how her first four months at the school have gone. "I felt like I had a good sense of the school even before I started, and all that's been confirmed, so it's been really good."
Ms. VO came to Latin after working at Lake Forest Academy (LFA) for over 20 years, most recently serving as the Dean of Curriculum and Innovation. She also taught French at every level at LFA, including the post-AP level. In fact, Ms. VO said, "This is the first time that I have not been in the classroom in 23 years."
Ms. VO said she misses teaching, but she explained that due to her busy schedule and the demands of being a new director, taking time away from the classroom was necessary. "I am not teaching this year, and I think that was absolutely the right decision," she said, "because there are many days where I can't find 20 minutes that I am not booked. I mean, that's pretty common."
Ms. Von Ogden isn't ruling out teaching in the future but thinks maybe the best way to fit in student instruction would be through involvement in an ISP or capstone effort. "I shepherded students through their capstones," she mentioned, "so it is something I'm really familiar with." While she isn't leading a Project Week this year, she has some ideas of her own for future Project Weeks. When asked what those ideas were, she offered, "Well, it would involve a plane, so that's a good thing, and probably the French language."
Even though Ms. VO is no longer teaching French, she is visiting classes in all subjects throughout the high school. She lit up when asked about visiting classes and described those visits as "fantastic." Classroom visits have been an important part of her experience so far. "I'm visiting classrooms all the time and seeing how that works here, and that's been wonderful, too," she said. She explained that classroom visits may or may not involve her; "that's not the goal," she explained. She needs to be discreet and blend in when visiting classrooms, though occasionally the teachers work her in.
"What's really funny is sometimes the students don't even know that I am there," she said with a chuckle. "I visited an English class, and they were doing a Kahoot. And everyone had crowded to the front of the classroom, and so when I came in, I just sat on the floor by the door and hung out for 20-30 minutes," she recounted. "There was a student in there who had no idea I was there. I guess after the break, they came back and a student said, 'Was there another teacher in here?' And they all cracked up because that student had no idea that I was behind him for almost half an hour."
In addition to checking out classes at Latin, Ms. VO has been exploring the cafeteria. "One day I tried the mac and cheese bar," she said. "I am not a mac and cheese person, but it was really quite good. I was surprised. It was very cozy." Her favorite meals are any with jalapenos. "The staff is really awesome about adding as many as I would like," she noted.
One problem she has, like most everyone at Latin, is how tight her schedule is. For example, "During club time," she said, "I meet with new faculty right now, so sometimes I'm double booked at that time." Time management is also an issue she cited as a challenge not just for her, but for the whole community. "It is at the top of the agenda of almost all of the meetings that we're having at the department level," she said, "because stress levels and anxiety levels are at an all-time high. Not just here, though. That is around the world."
Ms. VO previewed that administrators and faculty are looking at some short-term solutions to stress and time pressures, "which might be something fun, just to let people let off steam a little bit." But she added, "We have to get to the root of the problem."
One solution to stress and time pressures is finding time for people to connect, which is a big priority for Ms. VO. "We're often rushed from one place to another or from one thought to another or from one assignment to another," she said. "So I think that figuring out ways to provide time for people to connect with one another, downtime, is one of the toughest things here. It really is."
Ms. VO is practical when acknowledging the time lost to COVID and the importance of learning how to reconnect. "We can't make up for that lost time," she said. "It's kind of like how a lot of students will sleep a ton on the weekends to make up for the sleep that they lost. You can't make up on that lost sleep. But we can adjust how we do things moving forward to provide additional ways for people to connect."
Joe Edwards, the 11th and 12th Grade Dean, recognizes these post-COVID challenges. "It's hard to be new at any school, but it seems trickier than ever to be new at Latin as our community balances meaningful, historical traditions with significant, contemporary changes," he said. "All in the context of a global pandemic and return to full-time, in-person learning, I admire how Ms. Von Ogden has jumped in with both feet to help faculty, staff, and students navigate the challenges of this year. Her leadership and experience have been invaluable!"
Ms. Von Ogden seems to truly enjoy the role. "I'm here to make the days go more smoothly for the faculty, for the students, and for the families," she said. When asked what has been the best part of her experience so far at Latin, she said, "Just getting to know all the people, honestly. Getting to know students, faculty, staff, the parents, the board. It's the people connections. Those are the highlights for me all the time."
There are several teachers who joined Latin's Upper School this year, along with Ms. Von Ogden, including history and social studies teacher Debbie Linder. "I am enjoying getting to know Ms. VO," said Ms. Linder, "She has been not only welcoming but fun to chat with. Coming into Latin at the same time and at similar times in our careers has given us unique insights and, I believe, a shared appreciation for all that Latin has to offer."
Ms. VO is looking forward to the holidays at home with her 2-year-old French Bulldog, Peanut. When asked about some of her favorite holiday traditions or movies, she replied, "Oh gosh. There's a tradition in my family that started actually with my mom and her grandmother, watching old Fred Astaire and Ginger Rogers movies. I would watch those with my parents on New Year's Eve. So we'd stay up late and do that, and I transitioned that into watching `Holiday Inn' with my daughters." In addition to watching old movies, Ms. Von Ogden plans to "goof off," bake, and enjoy being with her family. Although she admits her family gingerbread house is "usually a disaster," she emphasized how fun it is to just be with her family. "It's really just about spending time with family," she said. "It's really just spending time together."
Winter break is also a good time to catch up on reading for pleasure. When asked about her reading pile, Ms. Von Ogden laughed. "I always have a stack of books going. I tend towards psychological and deep. I like if I have to read a page over again, because it's just written so well." She said, "I am about halfway through Anna Karenina. I love Russian literature and French literature. For magazines, I read the Atlantic and I devour the New Yorker."
When asked if she reads The Forum, she replied, "Yeesss!" Then she added, "I read a lot of The Forum during my interview process. I used The Forum to just learn about what was going on at the school. It was very important for me to hear the student voice."
Now, she can hear the students' voices in person. When classes resume in January, Ms. VO really hopes students will stop by. "I just want people to feel comfortable to come talk to me. I have just started meeting with students informally. I have my door open, all the time," she said. "Keep me in the loop. Let me know how you're feeling. Let me know what's going on!"
Leave a Comment
About the Contributor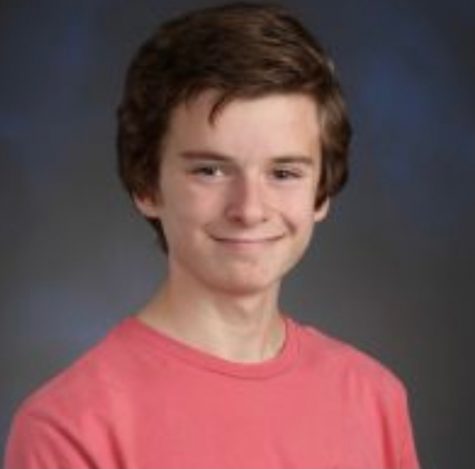 Matthew Kotcher, Arts Editor & Director of Staff Recruitment and Development
Matthew Kotcher ('23) is thrilled to continue to serve on The Forum as the Arts Editor and now as Director of Staff Recruitment and Development. Matthew,...