Kotcher in the Pie: Four Latin Students Rate Eight Pies
With the holiday and apple pie season upon us, the time seemed ripe to discover where to find the tastiest pie. Last year, The Forum taste-tested pizza pies, and for the first time ever, The Forum ranked pies, so readers could know where to go when in need of an apple pie. In order to compare apples to apples, the testers tasted only apple pies.
Latin Upper Schoolers Eve Drumm, Cole Hanover, Braden Sedler, and Chloe Sedler tested eight pies, each from a different local bakery or store, rating each plain and a la mode (with vanilla ice cream), warm out of the oven. The testers rated each category on a scale from zero to five. The criteria included crust, filling, overall plain, and overall a la mode. The scores from each category were averaged, and the highest average score was the winner of the contest.
The taste test was blind to avoid any bias the panel of judges may have had with a particular brand or name.
The apple pie from Lakeview's Bittersweet Pastry Shop and Cafe was disguised as pie number one. Whole Foods was pie number two. Pie number three was from Costco. Pie number four was from Dinkel's Bakery. Pie number five was from Sweet Mandy B's. Mariano's was pie number six. Magnolia Bakery was pie number seven. Pie number eight was from Roeser's Bakery.
Bittersweet Pastry Shop was the winner of the blind taste test. Their apple pie received a 4 in crust, a 4 in filling, a 4 with ice cream, and a 3.75 overall plain. The average score of the categories was 3.94. Junior Cole Hanover only had words of praise, saying, "The crust and filling stick together and melt in your mouth." Junior Eve Drumm offered a constructive critique and said,"It does have a bit of a dry crust." However, Eve's opinion was overruled by the other three judges who thought this was by far the best pie of the taste test.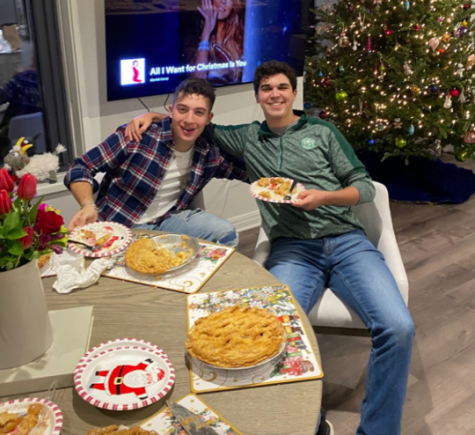 Chicago's iconic Sweet Mandy B's placed second. The bakery's apple pie received a 3.5 in crust and a 4.25 in filling. Its compatibility with ice cream dipped as it received only a 2.75. The overall plain score for Sweet Mandy B's Apple Pie evened out to a 4. The average score of the categories was 3.63. The Sedler sibling duo had lots to say about this pie. Junior Braden Sedler described it as "flimsy but stable." Sophomore Chloe Sedler said, "It was extra sugary but not equally distributed, and it had a pastry crust that hit the sweet spot."
Dinkel's Bakery came in third place with a 3.5 in crust, a 3.25 in filling, and a 4 with ice cream. The overall plain score was a 3.5, and the average score across each category was 3.56. "It was giving coffee cake," Eve said, reflecting on her first glance at the pie before eating it. She added, "It was good, though." Cole wasn't going to judge a book by its cover, saying, "Looks bad, tastes good."
Roeser's Bakery came in fourth. Crust received a 2.75; filling, a 2.25. Ice cream did not raise its game very much in the eyes of the judges, scoring another 2.75. Overall plain, the pie received a mediocre 2.75, for an average score of 2.63. Cole said the pie had a "grainy crust with a goopy, almost syrupy, texture." Other judges agreed. "This is definitely what fructose corn syrup tastes like," Braden said.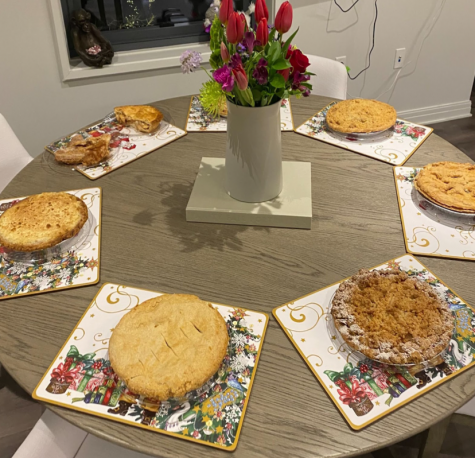 Costco earned fifth place with a 2.75 in crust and a 2.5 in filling. Most testers thought ice cream raised it a notch, as the "with ice cream" grade was a 3. The overall plain grade was 2.25, and the average across the categories was 2.63. Cole was of the minority opinion that the ice cream did not raise the pie's game. He said, "The shell-like crust envelopes the filling of a pie that is nothing special. The ice cream doesn't bridge the gap to a good pie." Chloe was not a fan of the disconnect between the crust and the filling, saying, "The crust and the filling feel separate."
Magnolia Bakery took sixth with an overall plain score of 2.25 and an average score across categories of 2.38. The crust earned a 2.25 and their filling also earned a 2.25. The pie earned a 2.75 with ice cream. "The apple was too soggy and sweet," Chloe said. Cole, on the other hand, praised it as "sturdy and comprehensive."
Mariano's earned second to last with a 1.5 in crust, a 1.25 in filling, a 1.25 with ice cream, a 1.25 overall plain, and a 1.31 average across categories. Eve did not mince words. "It tastes like stale bread," she said. Cole said, "The crust did not hold it together."
Whole Foods came in last with a lackluster average rating of 1.13 stars. Whole Foods earned a 1 in crust, a 1.25 in filling, a 1.25 overall without ice cream, and a 1 with ice cream. "It's the Dasani of apple pies!" Braden proclaimed. Chloe was not a fan either, commenting, "The apples taste manufactured and slimy."
While the judges had their own opinions on the pies they tried, they said that everyone in the Latin community should find some holiday cheer by trying the apple pies from each of these eight wonderful bakeries and choosing their personal favorite for themselves. To each their own slice this holiday season!
Leave a Comment
About the Contributors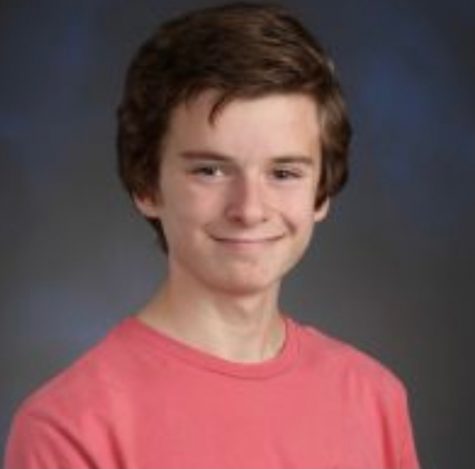 Matthew Kotcher, Arts Editor
Matthew Kotcher ('23) is thrilled to serve on the Forum as the Arts Editor. Matthew, a Junior, has been writing for the Forum since he was a Freshman....