Seniors Struggle With Heavy Workload Amid College Application Season
Latin students have struggled with the abrupt transition from remote to in-person learning; and on top of their heightened workload and busier schedules, seniors still have to endure the stressful process of applying to college.
Senior Shreya Wojno said she feels overwhelmed with schoolwork and college applications. "The combination of normal senior year homework, sports, extracurricular obligations, et cetera, combined with the millions of applications and supplements is a very difficult mix for any student," she said.
Shreya also said that college applications distract her from her classes, and she wished that teachers would have assigned less homework in the first quarter. "I feel like I'm doing so much writing right now for college that it's hard to focus on writing for class," she said.
Similar to Shreya, senior Lucy Norris explained that many seniors, including herself, are losing concentration in their classes from college stress. "Our focus isn't really there, so all the homework we're being assigned seems pointless, and I think the teachers should be accounting for all the stress we have." Lucy said she feels that it would be beneficial for teachers to assign less homework in the entire first quarter, rather than reducing the workload for seniors only during weekends in October. She said, "Not only would it allow us to focus on our applications, but just for our mental health in general."
Senior Jane Baer agreed with Lucy and Shreya. "I think the whole college prep process has come to consume such a large portion of our high school experience that it makes our senior and even junior year education seem insignificant or less of a priority," she said.
According to the Centers for Disease Control and Prevention, getting enough sleep, which is eight to 10 hours, improves school performance, concentration, and ability to focus.
Shreya said, "Maintaining a normal-ish sleep schedule while trying to have everything done in time has not been going well for me—I would say there wasn't a single night last week where I was in bed before 1 a.m.."
Upper School math teacher Michelle Neely has noticed an immense amount of stress in her senior students. While Ms. Neely has not assigned less homework than she would to other grades, she has been flexible with some of her deadlines and expectations for seniors. She said, "Many of my first quarter comments remarked that once students hit 'submit' for applications, perhaps they can make more time for calculus."
While she is thrilled to be learning in person, Jane acknowledges that this year has been more overwhelming than she had anticipated with the transition to in-person learning on top of college applications. "Returning to full in-person, along with it being senior year, has taken a much larger toll on the current seniors," she said.
Leave a Comment
About the Contributor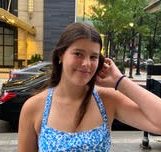 Juliette Katz, Staff Writer
Juliette Katz ('25) is delighted to be returning as a staff writer her second year of writing for The Forum. Juliette loves writing about current events,...