Day of the Dead Exhibit at Mexican Fine Art Museum
The National Museum of Mexican Art is featuring its 35th annual Day of the Dead exhibit: "Día de Los Muertos—A Time to Grieve and Remember." Curated by Latin parent Cesáreo Moreno, the exhibit features ofrendas, paintings, and sculptures by numerous artists, all dedicated to celebrating and remembering those lost to COVID, police brutality, natural causes, and more. For those who have experienced loss, the Day of the Dead exhibit is a wonderful way to keep the spirit of loved ones alive while gaining emotional closure.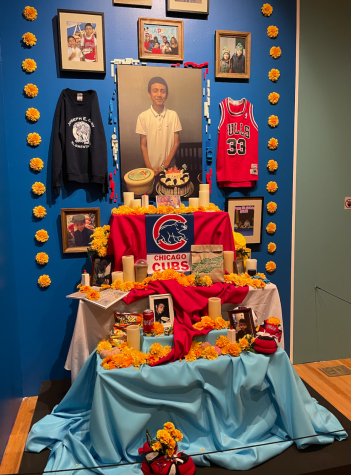 At the entrance of the exhibit lies a grand ofrenda—an offering to honor loved ones who have passed—decorated with items of remembrance. The ofrenda stretches across an entire wall and is dedicated to about 200 people lost to COVID. There are bursts of vibrant colors covering the entire ofrenda, and on a closer look, pictures of each person can be found throughout its intricate design. Countless sugar skulls, along with hearts, candles, and large bouquets adorn the altar. It also features an array of food, fruits, vases, maize, and pasteles. Flags stretching from China to Argentina line the wall, commemorating the origin country of each honored individual. The appearance is truly breathtaking; through every intricate detail, this ofrenda honors each and every person in a unique way. Moreover, its sheer size amplifies the gravity of the immense loss that resulted from the pandemic.
Most museums and exhibits are dreaded by teens because they are classified as "boring" or "bland." Well, not this exhibit. It is not only beautifully done, but it has something that our generation can connect to. The exhibit features an ofrenda from the family of 13-year-old Adam Toledo, who was fatally shot by the police in March of this year. The ofrenda includes things Adam enjoyed, like a bag of hot Cheetos, a McFlurry, a Bulls jersey, and other modern items with which teens and Chicagoans can empathize. It was truly touching to witness these little parts of someone's whole, memorializing them in the most intimate of ways.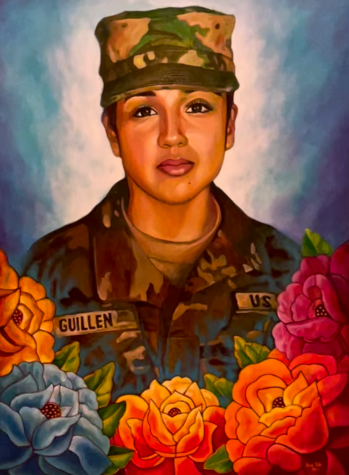 The memory of Mexican American soldier Vanessa Guillen is honored with a painting as well. Artist of the piece, Juan Solis, says that it is important that Vanessa's story is heard "as a connection of our stories among our communities." As many are familiar with the tragedies commemorated at the museum, particularly due to social media, this exhibit brings issues like social injustice to light, but in a different form: art. The past year has been extremely trying. However given that the majority of our generation has been educated on its issues, it was all the more impactful to see our Instagram reposts come to life in a museum.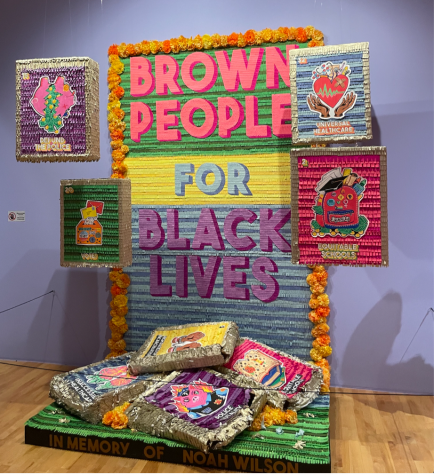 At the end of the exhibit, the final room features a colorful sculpture by the Yollocalli Youth Council titled "Brown People for Black Lives." The council consists of youth volunteers who seize "opportunities to become active agents of change in their community." The piece is a testament to this statement, transmitting a powerful message to museum-goers about systemic racism, universal healthcare, equitable schools, voting rights, and more. Its color and detail broadcast a powerful message of concern for others that can be relayed across all members of our community.
By connecting the Chicago community through compelling art, this exhibit will open your eyes. Everyone should visit "A Time to Grieve and Remember" before it closes on December 12.
Leave a Comment
About the Contributor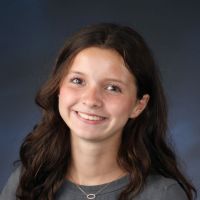 Eva Lapiere, Staff Writer
Eva Lapiere ('25) is delighted to be returning as a staff writer her second year of writing for The Forum. Eva loves covering articles on today's trends...