Adele is Back—At Just the Right Time
I think everyone has at least one memory that connects to an Adele song. Whether it's something as mundane as the first time you watched one of her music videos or a moment as profound as your first love, loss, or heartbreak, Adele's music has a transportive, magical quality that is truly timeless. We have lived through the last six years without any new content from the songstress … until now. And, like a long-lost friend, Adele's return comes at the perfect time for many of her fans in the Latin community.
Adele released her new single Easy on Me on October 15. It will be featured on her upcoming album, 30, which is due to come out on November 19. As the song breathes to life with the first few chords of the piano, the listener can tell that Adele is back in all of her bold, beautiful, British glory.
While Easy on Me set a record with 24 million Spotify streams on the first day, and the music video logged 112 million views on YouTube within the first 10 days, critics initially doubted the radio success of the song due to its simple, torch-song style. But as Chris Willman for Variety magazine wrote, "As a spare, balladic single that includes little more than the singer's massive voice and a piano, would a song this stark be just as much of a blockbuster at radio? After a week of adds and airplay, the answer is a definitive yes." In its first week, it became the most played song in U.S. radio history.
Despite the initial and soon-proved-wrong concerns of how the acoustic nature of the song would influence airplay, many critics praised the simplicity and classic feel of the song, including Cat Zhang, Assistant Editor at Pitchfork magazine, who wrote, "The stirring ballad relies on little more than piano and that divine voice of hers."
Easy on Me has been embraced by Adele fans as it marks her reentry into the world of music following a six-year hiatus. As she revealed in a recent Vogue interview, during that time, she experienced much anxiety and turmoil surrounding her marriage and divorce, which are consistent themes throughout the upcoming album. When asked about what role music played in her life growing up, Adele said, "It was my friend." She continued, "Music was literally my friend. I was an only child. Music was the sibling I never had."
In a statement Adele issued in anticipation of the release of 30, as reported by The Guardian, she "likened the album to the type of friend who appears during trying times with bottles of wine, good advice, comfort, impromptu trips out and surprise gifts of magazines and face masks—'to make me feel loved while inadvertently reminding me not only what month it actually was, but that I should probably exercise some self-care!'"
Junior Vanessa Block, a member of Romanettes, one of Latin's acapella clubs, said that Easy on Me is "a piece of the old Adele mixed with the new Adele, who will talk about her divorce throughout the album."
"The first time I listened to the song, I cried," Vanessa said. "I hadn't experienced anything like that before, and it was an immediate addition to my playlist."
Freshman Marlo Leik, another Romannettes participant and an aspiring singer/songwriter, shared her thoughts on the new song as well. "Listening to Easy on Me, as well as other Adele songs, is one of the best ways for me to chill out and relax after a stressful day," she said.
Senior Zoe Weiss also raved about Easy on Me, saying, "I love [Adele's] new song and I think it's so inspirational and honestly perfect for any occasion. I'm so excited for her new album!"
Junior Cameron Woan shared a similar reaction after listening to Easy on Me. "The new song is amazing," he said. "That's about all I can say. It's really, really good." When asked why Adele's music has such an impact on listeners, he said, "Adele is the voice of a generation of heartbroken people."
Latin's Adele fans agree that the timing of the new release is perfect, as many of us can use that type of "friend" right now, while we try to emerge from the isolation of the pandemic, adjust to the social and academic pressures of returning to in-person learning, and manage the stress of college applications, standardized test preparation, and homework. We're all looking for ways for life's daily stressors to "go easy" on us, and Adele's Easy on Me is the perfect antidote.
Leave a Comment
About the Contributor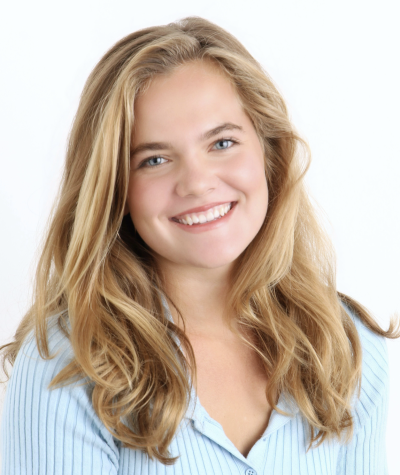 McLaine Leik, Managing and Standards Editor
McLaine Leik ('23) is thrilled to serve as The Forum's Managing and Standards Editor this year! She has been writing for The Forum since her freshman...