Taylor Swift Re-Records 'Red' Album
"It feels like a perfect night" to listen to Red (Taylor's Version). Taylor Swift released the re-recording of her album Red on November 12. There has been a large controversy over Swift's master recordings, as she does not have ownership of her first six albums. Because of this, she decided to re-record these albums and retake ownership of her work.
Fearless (Taylor's Version) was released earlier this year. It included several songs "from the vault" (songs not released on the original album). The release of Fearless (Taylor's Version) left fans confused about what order the albums would be released in, as Fearless was her second studio album. The subsequent release of Red (Taylor's Version) has added to the confusion, as the original version was her fourth studio album. Even more confusing is the surprise release of Wildest Dreams (Taylor's Version), which came out before a Red single or any mention of the re-recorded 1989.
Swift announced the release date of her version of Red back in June, along with information that the album would have 30 songs on it, including a 10-minute piece. Two months later, Swift posted a mysterious video. Upon analysis by fans, the video revealed the tracklist for the album. Fans were ecstatic to see the titles of the vault songs, as well as the announcement of cameos from Phoebe Bridgers, Ed Sheeran, Chris Stapleton, and Gary Lightbody.
Red (Taylor's Version)'s release has been very successful so far. The album and many songs on it quickly rose to the top of the charts. A highlight from the album is the highly anticipated 10-minute version of All Too Well, with previously cut lyrics from the 2012 song about Swift's ex-boyfriend Jake Gyllenhaal. Swift also directed and starred in a short film titled All Too Well, which was released after the album. Actors Sadie Sink and Dylan O'Brien starred in the short film.
Latin freshman Natasha Benjamin said, "One of my favorite songs from Red (Taylor's Version) is State of Grace. I love how much clearer her voice sounds, and the acoustic version is the perfect song to listen to on a cold, rainy day."
Other Latin students are enjoying the album, too. Freshman Scarlett Lipe said, "I really enjoyed the album and seeing how much improvement Taylor has had in the last 10 years."
Freshman Kayley McCutcheon said, "I think Taylor's version of the songs are really well made—they dive into the song more, and little changes from the original and new are so interesting to think about."
Fans are already hypothesizing Swift's next move, as she has been known to leave hints regarding upcoming announcements. So, what will the next re-recording release be? Many suspect it to be Swift's hit pop album, 1989. However, nothing is certain yet, and fans are left anticipating Swift's future endeavors.
Leave a Comment
About the Contributor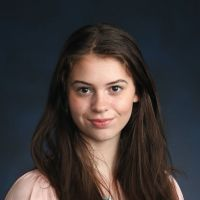 Caroline McHugh, Staff Writer
Caroline McHugh ('25) is excited to be returning for another year of writing for The Forum. She enjoys reaching out to the Latin community through her...