Sami Aday's Marathon Journey
Sami Aday, Latin's beloved Upper School lobby receptionist, completed his second Bank of America Chicago Marathon on October 10 nearly two hours faster than his first one.
His running journey began in July of 2017, which was also the year Sami started working at Latin. Aquatics Director Danielle Carlson, a good friend of Sami's, walked into school the day after running the marathon with hardly a limp. Sami said, "When I saw that, it motivated me."
Dan Daly, head coach of cross country and track at Latin, was another prominent figure in Sami's early running days. Coach Daly advised Sami to begin with one mile. "It was horrible," Sami said. He slowly began increasing his mileage, though, beginning with entering some 5k and 10k races.
Around five months prior to his first marathon, Sami entered the Soldier Field 10-miler, his longest run up to that point. "It was so hot that day. It took me two hours and 43 minutes. I was like, 'I finished, but I can do better.'" After that, Sami said, "I got into running for the 2019 Chicago Marathon, but I did not have a training plan."
At 320 pounds, he completed his first-ever marathon in seven hours and 19 minutes. Sami said, "I was happy that I finished, but I was not happy with my timing, so I thought that next year I will go and finish faster." He aimed to run marathon #2 in under six hours and 30 minutes.
August of 2020 marked a turning point in Sami's life. "I changed my whole lifestyle," he said. "I got on a diet, started working out, and it just changed everything."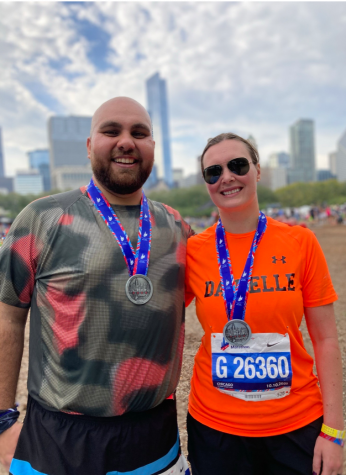 Due to COVID, the 2020 Chicago Marathon was canceled, which was a major setback to Sami's training. Nevertheless, on what was supposed to be marathon day, Sami and Danielle ran a 5k together, just for fun. However, this time, Sami ran around eight minutes faster than his previous record for the distance, showing the significant impact of his new way of life on his running.
In the middle of June, Sami started a 16-week program in preparation for the 2021 Chicago Marathon. Sami was committed to breaking the six-hour barrier. "When I started my 16-week program, the first week was three miles, four miles, and then five miles on Saturday," Sami said. "I was beat after those five miles, which was just the beginning, but every week I would go out and get my runs in."
After months of training, now 70 pounds lighter, he ran his second marathon. "Marathon day was a cool experience," he said. "I just thought about it as another day, going out for another run." Sami secured his new personal record time of five hours and 53 minutes, which, according to him, could have been faster if the weather were different.
Danielle praised Sami's dedication to this year's marathon. "Sami would get up and run at 4 a.m. some days before work and then greet every person at school with a smile and a personal hello," she said. "All the while you would never know how tired and sore he was. I don't know anyone else like that."
Despite the strain of Sami's marathon training, students didn't notice a change in his upbeat attitude. Sophomore Reese Benford said, "Upon walking into the building, Sami instantly provides positivity and encouragement."
Sami isn't done. His goal is to complete the six world major marathons in Boston, Chicago, Tokyo, Berlin, London, and New York. He disclosed that he has already filled out applications for London and Berlin. And he says he's considering doing an ultra-marathon as his last hurrah.
"Marathon training requires a lot, mentally and physically, and many people don't make it through," Danielle said, "I couldn't be more proud of him."
Leave a Comment
About the Contributor
Mia Kotler, Staff Writer
Mia Kotler ('25) is a new member of The Forum this year. She is a passionate writer who enjoys expressing her views and learning about issues of interest...