A Look Into Ms. McGlinn's New Book: `Ride on, See You'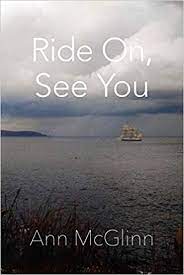 As autumn begins, students have much to look forward to in the coming months. There's the renowned Latin Halloween parade, Thanksgiving break, and now, reading Upper School English teacher Ann McGlinn's new novel can be added to that list.
Ms. McGlinn, beloved in the Latin community, is known for her kindness and genuine love of teaching. She is a two-time published author, whose first book is titled "El Penco." Her new book, "Ride On, See You," is just as action packed as her first.
Set in Dublin, Ireland, the story follows David Lenihan after he loses his wife Marie O'Dea in a tragic plane accident in the Everglades. He returns to Ireland, a place dear to both of them, where he is forced to grapple with the pain of losing someone he loves. Ms. McGlinn shared that writing the book became a way for her to cope with losses in her own family. Although poetry holds a special place in her heart, writing fiction helped her find closure and better process tragedy.
She added that readers will find that in the novel, "grief is at the fore, love of family and friends, and how that love can help us navigate grief. You never get over it, but you can navigate it well with the right help."
Back when Ms. McGlinn was a junior in high school, her father took a sabbatical and she spent some time living in Dublin. She formed very tight-knit friendships there that have followed her through her life, and some of the characters in her new book are loosely based on them. She highlighted that the novel is really a love letter to her friends there and to her parents, for taking her to the place that she fell in love with. Dublin helped her to realize her true passion for writing, and her novel's feature of a poem she wrote in high school is a testament to that.
The biggest challenge Ms. McGlinn faced while writing was time; there never seemed to be enough of it. Having a small child when she first started, she shared that she would often have to wake up at 4 a.m. to write before everyone else arose. She also wrote and published her first novel while working on her second novel. It was by no means an easy process, and she happens to be "an excruciatingly slow writer." Although difficult, Ms. McGlinn said, "writing is a major part of me. I mean, sometimes I think, wow, this is so hard. It would be so much easier sometimes to just not do it, but honestly, teaching and how I tell students to just write and not worry about it has helped me." This mindset gave her the freedom to let loose a bit more in the process of writing her novel.
When asked what she wanted readers to know before reading the novel, Ms. McGlinn said, "I hope people can really see the joy of friendship and see themselves in it, even if they have never been to Ireland or fallen in love. It is about lost love and grief, but it is also about the power of friendship and ultimately the hope that comes along with that."
"Ride On, See You" was 10 years in the making and is set to be released on February 1, 2022. Pre-order it here, and visit Ms. McGlinn's new website here. At just under 200 pages, this novel is an ideal one-sitting read. Whether during a long weekend in February or a break from homework, make sure to carve out some time for this touching story of grief, love, and finding healing in friendship.
Leave a Comment
About the Contributor
Amanda Valenzuela
Amanda Valenzuela ('23) is excited to be a staff writer this year. Her favorite class subjects are English and history and she loves to write about current...