Athletes of the Issue: Ben Gibson & Mia Kotler
"Fear the legion" is the slogan of Latin's cross country team. Head Coach Dan Daly typically closes each email with these words to pump up the team. It means to fear the fierce competition of the Romans and has grown to be a motto that the team embraces. This season, the slogan rings especially true, for there is a new reason to "Fear the Legion." New to the team, but definitely not new to running, freshmen Ben Gibson and Mia Kotler are fast—very fast.
Not only are they fast enough to make the varsity squad as freshmen, but they are already leaders on the team. Junior Akili Parekh, a team co-captain, said, "Benji is a vital part of the team. He always brings us together. He also is a very hard worker and has tons of talent and potential. The future for Latin cross country is bright."
Illinois MileSplit calls Ben a "Phenom." He was ranked top five in the country in track and field while in Middle School at Latin and came in second at Track and Field Nationals with a 4:31 time in the 1600-meter run—his personal record for that distance. Ben also holds the record for the fastest mile as a middle schooler in Illinois state history and is a two-time track state champion and the 2020 cross country state champion.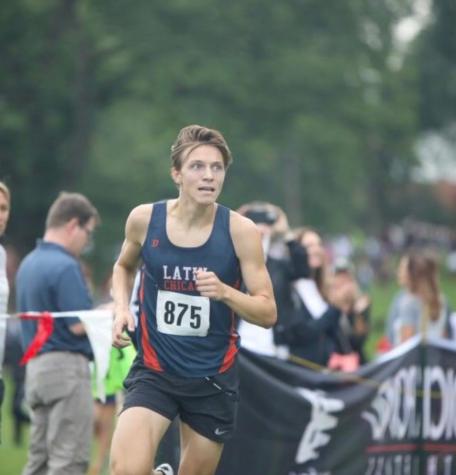 Ben trained diligently over the summer in preparation for the fall season. "Over the summer," he said, "I worked up an aerobic base as well as addressing my weaknesses so that I can stay injury free throughout high school." He puts in many miles a week, does regular strength training, and makes sure to do core exercises every day. An average person would look at what these runners do on a daily basis and be shocked, but Ben said, "My work ethic, it doesn't feel like work to me because I truly love the process. Sure, I don't always feel like doing core at night sometimes or remembering the little things, but I always do it because I know that it will separate me in the long run."
Mia also stood out as a Middle School runner at Latin. She came in third in the 2020 USA Meet of Champions, competing against talented athletes from across the country, and she took first in the 2020 Illinois cross country championships.
In her short high school career, she has already earned praise. She won the first Elgin 2-mile race, setting a course record of 11:25. She next won the freshman and sophomore race at the Hornet Red Devil Invitational. Then, in her third race, "First to The Finish," she came in second to a senior she hopes to beat in the state meet this November. In her most recent race, the Richard Spring Invitational, she placed in the top 20, running against the top Illinois athletes across divisions, and set her personal record of 17:25 for the three-mile race that is the standard cross country distance in Illinois.
"We knew Mia was going to run well at the high school level, we just didn't know she'd run so well this early in her high school career," Coach Daly said. "She trains with discipline, she's determined, and she's dedicated. We look forward to having her continue the Latin tradition of excellence!"
Coach Michelle Parekh also had high praise. "Mia is the consummate hard worker. She does not miss a day of training and always asks what more she can be doing. This hard work will serve her well throughout life, but we are excited to have her bring that energy to the team this season and to fill the gap left by the seniors who graduated last spring."
Beginning in fifth grade, Mia was running with the varsity girls cross country team and continued to run with them throughout Middle School. "Girls cross country at Latin has been a huge source of inspiration for me," Mia said. "Following in the footsteps of two elite runners [Latin senior Ava Parekh and recent graduate Marianne Mihas '21] has given me something to aspire to and work towards. Being part of the team this year feels like an honor and gives me a great amount of joy."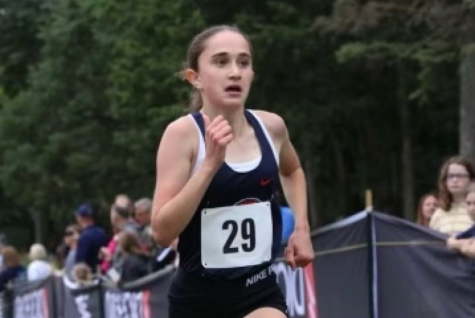 Although Ben and Mia run separately on the boys and girls teams, the speedy freshmen still look up to each other.
"Mia really holds me accountable and is a very good training partner as well as an amazing friend who inspires me every day," Ben said. "Although we approach the sport very differently, the balance we give each other makes us both more well-rounded athletes. She works harder than anyone I know, and never skips anything she thinks could possibly make her faster.
Mia noted, "Ben has long been a classmate of mine and now one of my closest friends. Reaching towards similar goals, we approach our running very differently, which is a good thing for both of us because we have a lot to teach each other. Ben and I are in similar boats when it comes to running, so it is great to have a partner like him."
"Mia and Ben were the middle school state champions last season," Coach Parekh said. "They each won the state series in a year when all divisions competed in the same race. That means they were truly the top middle school runners in the state of Illinois. Of course we were beyond excited to have them stay at Latin and run on the high school team. They have already made an impact by scoring in races and assisting in building a culture steeped in dedication and passion."
With these two runners just beginning their high school athletic careers, the future is certainly bright for cross country at Latin.
In the wise words of Coach Daly, "Fear the legion."
Leave a Comment