Seniors Showcase Work in Virtual Art Show
Throughout May, five members of the senior class hosted their virtual Art Showcase and Artist Talk. Eliza Bufferd and Cole Lindemann showcased their photography, while Elena Skender, Bea Parr, and Angela Gil highlighted their work in various mediums.
Eliza's portfolio consisted of many portraits and captivating light photos in which she experimented with her camera's exposure to get the final results. Eliza spoke about how the pandemic affected her art, stating that it "decreased [her] amount of photography, but increased [her] creativity." She explained that not being able to leave the house left her with objects that were "superordinary," but ultimately ended up being thought-provoking subjects.
Eliza also said that she keeps an eye out for "pops of color" that inspire her. Eliza's goal is to learn more about iPhone photography, a skill that will become increasingly useful.
Cole specializes in landscape and astrophotography. He took many of his photographs while traveling. He explained that "finding ways to combine" portraits and landscapes "interests [him] most." His photographs in Santa Monica and New York illustrate people in relation to their location.
When the city raised bridges this summer because of the Black Lives Matter protests, Cole took multiple photos to attempt to capture the "magnitude of the BLM movement." One of his works, a photograph of the bridge in Chicago "slicing" across the city, was awarded a gold key and silver medal from the Scholastic Art and Writing Competition.
Elena illustrated her progression throughout high school through many of her painted portraits. Her mixture of collage and paint in her portrait of five seniors in masks represents how although many of her "memories of happiness were from earlier, before COVID," her newer memories can also be joyful.
Elena noted that the progression of her artwork in her portfolio highlights "different time periods in [her] life."
Bea highlighted relevant world events through her art. In one striking piece, titled "Contagious," Bea used ink to highlight how "grim" the pandemic was at first, with the news reporting on the "fatalities" and "toxicity of COVID." She explained that the images of the virus inspired her to create "Contagious."
In another piece, "Angry Tweets," Bea reported on the "heated" crisis by displaying that people quite literally "weren't seeing each other," especially on social media. She employed Twitter mascots with blindfolds covering their eyes to emphasize the message.
Angela studied anatomy to create lifelike sculptures. In an independent study project, she integrated anatomy with sculpture to make her work more realistic. She documented the process of creating her first sculpture, made out of plasticine. To hone in on the anatomy part of her project, she first sketched the "muscular structures" of her face to prepare for the actual clay. She then attempted to create a sculpture that anatomically resembled her. Since plasticine, an oil-based clay, cannot dry, she has 3D printed models of her original work, as well as the photos of the sculpture showcased on the padlet.
Angela also paints, with one painting in her art showcase being a portrait of herself. She explained that the painting helped her "understand form" and that it prepared her for sculpting.
As the class of 2021 artists have demonstrated throughout their art exhibitions, creativity thrived this year despite a variety of challenges. Be sure to check out the padlets and see the phenomenal work the seniors completed. Cole's, Elena's, and Angela's art can be viewed here, and Bea's and Eliza's work can be accessed here.
Leave a Comment
About the Contributor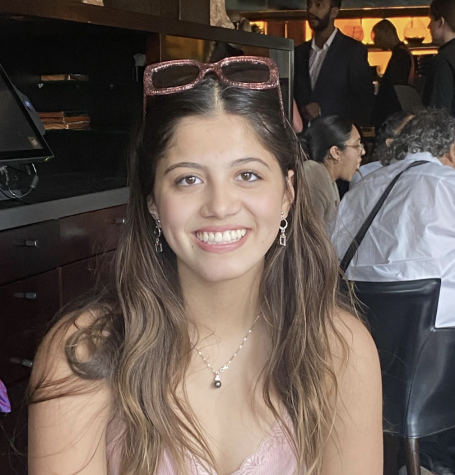 Ava Tse, News Editor
Ava Tse ('24) is a junior at Latin and is ecstatic to serve as a News Editor this year. This year marks her third year of writing for The Forum, and...