"Tiger" (Tiger Woods) Documentary Review
Holding 15 major championships, the lowest overall scoring average, and the most wins in the history of the PGA Tour, Eldrick Tont "Tiger" Woods is arguably the most dominant golfer of all time. On January 10, the two-part documentary Tiger was released on HBO Max, Hulu, and YouTube TV. Despite Woods's fame and fortune, the documentary reveals his rocky childhood that resulted in poor and regrettable choices made in his adult life. The documentary additionally unravels the racial barriers he has overcome throughout his rise to the forefront of a historically white sport.
Part One opens with a video of Woods on national television at the age of 2, already showing the world his potential. His father, Earl, said that "he would watch me hit balls into a golf net and he was totally immersed in that activity." When Woods was in his teen years, he was asked in an interview if he could help change the game from being an upper-class white sport, to which young Woods proclaimed, "Yes."
"Since I'm Black, it might be even bigger than Jack Nicklaus," Woods said. "I might be even bigger than him to Black [people]. I might be sort of like a Michael Jordan in basketball." A friend of the Woods family, Pete McDaniel, discusses that Tiger received racial threats and that some fans were even screaming the N-word while he was playing. However, Tiger's father continued teaching him how to block out distractions and focus on moving forward.
When Woods entered high school, girls started distracting him from his skyrocketing golf career. The documentary featured Dina Parr, Woods's first girlfriend, talking about her experiences with him. "I think he definitely saw the bridge to me being able to give him a normal life," Dina said. "I felt like [Earl and Tida's] plans were to create this robot, and I was probably the only person around him that really kept him in check." Woods's parents were not in favor of this relationship in the end, and they forced Woods to write a letter to Dina to end their relationship. On camera, Diana emotionally read aloud: "Me and my parents never want to talk or hear from you again. Reflecting back at this relationship, I feel used and manipulated by your family." Dina describes how this letter has shocked her to this day.
Many people who have followed Woods's personal life are aware of the affairs he had while married to his former wife, Elin Nordegren. "I heard rumors of sexual encounters, and I remember thinking, wow, he is a man full of secrets. But we all kept our mouths shut," said Former VIP host Tiffany Masters.
Mindy Lawton, a hostess at a restaurant Tiger and Elin would frequent, was the first known affair Woods had while married to Elin, and "for the squeakiest and cleanest celebrity on Earth, that spelled trouble," said Neal Boulton, former editor of the National Enquirer, which was all over the Woods controversy. However, Woods's team made a deal with the newspaper that, in exchange for their silence about the affair, he would appear on the cover of "Men's Fitness" which was owned by the same company. "Nothing was ever printed. In the eyes of the public, Tiger Woods remained Tiger Woods," Boulton disclosed.
Rachel Uchitel, another of Woods's "mistresses," exposed what happened between her and Woods while he was married after 10 years of silence. "He texted me constantly, asking when I was going to see him next. I knew he was married, and I knew he had responsibilities," Rachel said. "I got a call from Tiger in November, and he said he could not play the Australian Masters unless I came there," she shared. The story was leaked, and eventually Elin found out about the affair, to which Woods did not respond well.
In 2017, Woods pulled out of the Masters, as his injuries left him unable to participate in any tournaments. On May 29, 2017, Woods's car was found pulled over on the side of the highway with its blinkers on. The documentary shows the footage from the police car at the incident. Woods was in the driver's seat with no idea where he was. Five drugs were found in his system, including Xanax, Ambien, and opioid painkillers.
"Even though Tiger was deeply impaired [on that night], it's some of the most truthful moments of his life, because he realizes it's all over, and there was no way to hide from it," said Golf Magazine writer Michael Bamberger.
Woods came back to play at the 2017 Hero World Challenge after 301 days away from golf. The world started to notice how much more fun he was having with the game. "Now when I watch him play golf, I see him enjoying the camaraderie with his competitors, I see him connecting with fans in a way he never did before, I see a real genuine sense of gratitude for this second chance," noted Karen Crouse, a writer for The New York Times.
Tiger Woods is a man of tremendous worth who worked the hardest to reach the top of his sport. Aside from his mistakes exposed in this documentary, Woods bounced back from the lowest moment in his life and retained his popularity despite everything he went through. "After watching this documentary, I think more highly of him, because he was able to go through all of that and still find a way to be one of the greatest and well-liked golfers," said junior Jacob Pohl. "I think it speaks to how determined he is."
"Before the documentary, I had known Tiger had had some mishaps in the past. However, I didn't know the extent to how many problems he'd had," said Bella Flerlage '20, a former member of the Latin golf team. Bella added that she still respects his talent and hard work, but that Tiger needs to spend time rebuilding his life, especially given a recent car accident in which he was seriously injured while driving around 85 mph in a 45-mph speed zone. "The image of this amazing golfer and a figurehead of the sport quickly changed into a more negative connotation for me."
Leave a Comment
About the Contributor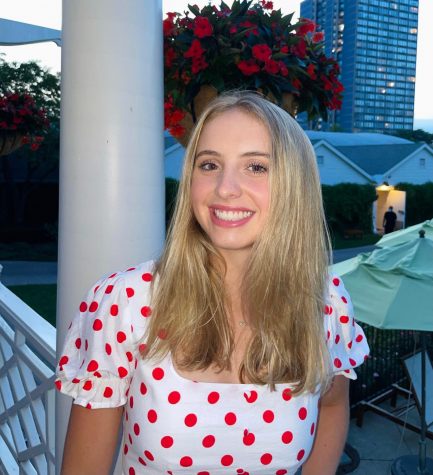 Emilia Rose, Features Editor
Emilia Rose ('22) is excited to serve her first term as a features editor this year! Since freshman year, Emilia has driven her focus on The Forum into...