Students Reconnect With Their Grandparents!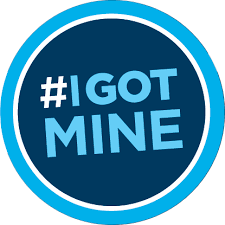 With the vaccine rollout well underway, Latin students are rediscovering lost activities from a year ago, including quality time with grandparents. To protect the most vulnerable, students across the world and at Latin had to restrict their time with anybody outside their immediate family. What proved most difficult for many was physical distance, especially with grandparents. Birthdays, holidays, weddings, funerals, and simple hang-outs were forced onto that tiny Zoom screen. Now, spring is in the air, and Latin students are excited about the light at the end of the tunnel and being able to enjoy their grandparents in person.
While most everyone acknowledges that Zoom isn't perfect, technology really helped families find a way to be together. Many grandparents surprised their grandchildren by embracing technology. Sophomore Armaan Shah noted that "because of the time difference between my paternal grandparents who live in India, I haven't been able to call them very much. Fortunately, we've been able to stay in touch via email and WhatsApp."
Sam Gibson, a junior, reported cheerfully that his grandfather took up Snapchat. "To stay in contact during the pandemic, I would Snapchat text my grandpa because he thinks I respond quicker there than on text," said Sam.
Will del Hierro, a sophomore, noted that while Zoom was not the same as connecting face-to-face, it was still rewarding. However, he is looking forward to his grandmother achieving full immunity. "My grandma just got her second dose, so she's still in the two-week waiting period to have total immunity, so we haven't gotten to see her in person yet," said Will. "Earlier on, though, she'd be on Zoom to celebrate birthdays, holidays, etc. Even though it wasn't really the same, it was at least something."
Sophomore William Bremen will have to wait just a few days longer than Will. "My grandparents have all been vaccinated, and my family is planning to visit them over spring break," William said. "We haven't gotten to see my grandma, who lives in New Orleans, for well over a year, so the opportunity to travel and see her now that she's vaccinated could not have come at a better time."
William added, "My paternal grandparents live in the suburbs of Chicago, so I have visited them throughout the pandemic by standing in their driveway and connecting with them through the window into their kitchen." He explained that peering through a window was "not as good as usual, but being able to see them at all has been great." William was appreciative for being able to see his local grandparents at all.
All three of sophomore Evan Jones' grandparents live out of town. Finally, each of the three has been vaccinated. Evan's "gran," his father's mother, lives in England. She is in her late 90s, and Evan reports that she was one of the first people in her town to be vaccinated. Evan's mother's parents live in Michigan and are both waiting for their second doses. "Prior to them getting the vaccine, my mom and I went to Michigan and spent a couple days talking with them outside with masks and the whole nine yards, but other than that I haven't seen them in over a year," Evan said.
He relayed that his family saw his English grandmother only one time over this past year as well. His older brother and his father were able to travel to England once during the pandemic to visit. While William can't wait for spring break, Evan is looking toward graduation, when he hopes his "gran" may visit as well as his Michigan grandparents.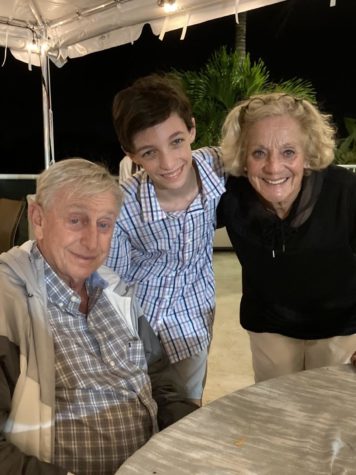 Spencer Stein, a sophomore, is also happy that his three living grandparents have been fully vaccinated. "All three of my grandparents are vaccinated, and I've seen them all," Spencer said. "Before that, though, I mostly talked on the phone but visited my grandparents in Florida once after quarantining for two weeks."
Parents, too, are happy and optimistic. Dr. Jyoti Patel, a Latin parent and member of the Latin COVID Advisory Committee, cautiously gives family gatherings the green light. "I think that based on CDC guidance and the large number of individuals who are getting vaccinated, families can come together," Dr. Patel said. "The CDC says that people can visit with unvaccinated people from one other household indoors without wearing masks or staying six feet apart if everyone in the other household is at low risk for severe disease. Families can see each other safely after a very long year apart! Grandparents who are vaccinated can feel safe with one other family. They can hug each other, eat together, and spend time together again. We still need to use caution but we can be safe and see our loved ones again."
Sophomore Hugh McKee's grandparents were recently vaccinated, but his family is setting an example by still being careful. "We all wear masks and keep our distance," said Hugh. "We've been able to see our grandparents a good amount actually."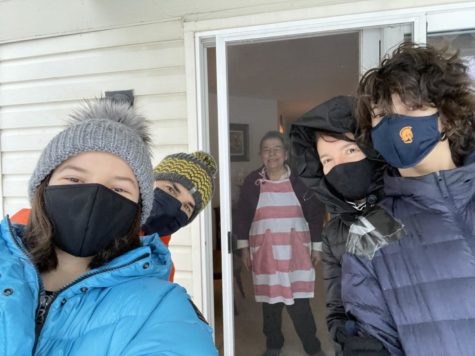 Senior Maya Gray also pointed out the importance of continued caution and mask-wearing. With one of her grandparents vaccinated and the other still waiting, Maya said, "The vaccine just makes us feel more comfortable seeing them. Nothing has really changed though. We're still going to wear masks and be distant from them."
While the need for caution and masking hasn't changed, the ability to be in person presents a dramatic change for the better. Junior Naomi Altman shared her excitement about seeing her grandparents inside. "My grandparents got vaccinated this weekend!" Naomi wrote with an exclamation point that might as well have been a smile. "Before they were vaccinated, I would drive with my siblings to their apartment and spend time with them outside, socially distanced, and masked. We would also have family Zooms with my grandparents and my cousins for birthdays and holidays. Now that they are vaccinated, my family went to their apartment and got to spend Shabbat with them."
Emily Mendelson also noted the difference between calling her grandparents frequently and connecting face to face. "I have been seeing my grandparents more often now that they have been vaccinated, which makes me so happy," Emily said.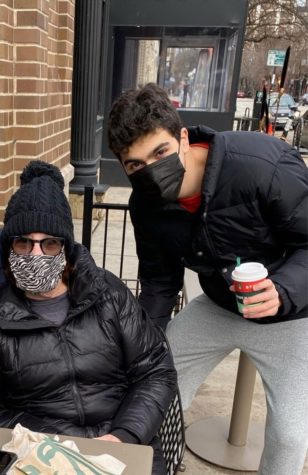 Cole Hanover, also a sophomore, noted that he isn't necessarily seeing his "Grammy" more now that she has achieved full immunity because he made it a point to see her a lot before the vaccine was available. Now that he isn't worried about being too close, he is putting her to work. "Lately, [Grammy has] been coaching me as a driver to help me prepare to get my license, which is really fun," Cole shared.
Grandparents in the Latin community have a lot to report as well. Mary Moss, grandmother of sophomore Madison Vanderbilt, said, "After being vaccinated, some of my concerns have eased. Although the concern is still present, I am not as tense about it as before, I can relax a little bit more. I feel more comfortable around my family and friends who have gotten vaccinations as well, although I always make sure to follow the CDC's guidelines of wearing my mask and staying six feet away."
Latin students and their families—including grandparents—have made it through the longest year ever but are looking forward to spring break, graduation, and better days ahead together.
View Comments (1)
About the Contributor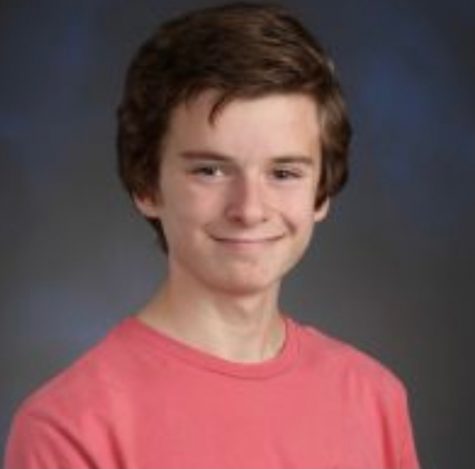 Matthew Kotcher, Arts Editor & Director of Staff Recruitment and Development
Matthew Kotcher ('23) is thrilled to continue to serve on The Forum as the Arts Editor and now as Director of Staff Recruitment and Development. Matthew,...