Time to Turn Away from Amazon and Toward Bookstores
Whether or not you are an avid reader, bookstores are a kind of safe haven. Maybe it's the symbolism of being surrounded by an abundance of stories, maybe it's the quietness, or maybe it's the woody scent. Maybe it's the eclectic personalities of different book covers lined up next to each other like kids in a cafeteria line.
Unfortunately, however, these oases are soon to fade into nonexistence, courtesy of society's best friend and worst enemy: Jeff Bezos.
Changing Hands Bookstore, an independent bookstore right outside of Phoenix, Arizona, has a poster that reads, "Buy books from people who don't want to colonize the world." My interpretation of this expression is that there's something very human in buying not just books, but anything, from local stores run by local people—supporting those who send their kids to the same schools and eat at the same restaurants as you. As consumers, we have the responsibility to decide whether we want our neighborhoods to be filled with vibrant businesses or for-lease signs, and whether we want everyday people to interact with customers at a bookstore or place books into cardboard boxes in an Amazon warehouse.
On top of sustaining local communities, paying the couple of extra dollars at a bookstore helps undiscovered authors get picked up in the publishing industry. According to Upper School librarian Gretchen Metzler, the "book economy [is] the idea that if we want publishers to have the funds and the abilities to support authors, we need to be willing to buy into that system." She added, "If everybody's buying from Amazon, and Amazon is keeping book prices really low, it's harder for publishers to support artists, especially authors that might not have a history of publishing."
Ms. Metzler underscored that a publisher will have no problem backing established authors like J.K. Rowling and Stephen King, but, with a lack of money resulting from consumers buying books for lower prices from Amazon, publishers are more hesitant to pick up the independent or undiscovered authors, particularly authors in marginalized communities. "We know that established voices in literature are predominantly white and predominantly male as well." Libraries, bookstores, and Amazon all contribute to "keeping publishing afloat," she said. She added that while Barnes & Noble, the biggest bookstore chain in the world, is usually closer to the list price, they still get a deal by buying in bulk—something independent bookstores usually don't get because they aren't as profitable as big chains.
"We need to constantly be supporting [local bookstores]," Ms. Metzler said, "because it can't just be that every once in a while [purchase] that will keep them afloat. It has to be more consistent." She emphasized that, for the sake of our local economy, we should consider buying local for all products, not just books.
Websites like Bookshop.org act as alternative e-commerce stores to Amazon, as they support local businesses. Bookshop aims, according to its website, to "help strengthen the fragile ecosystem and margins around bookselling and keep local bookstores an integral part of our culture and communities." Sarah High, a partnerships manager at Bookshop, noted in a recent interview with KSAT-TV that the company gives 65-75% of sales to booksellers, while 10% of all sales go into a general pool for all bookstores, and stores around the country can get a 30% profit if buyers link directly to the store on Bookshop.org.
Anjali Prachand, a graduate of the University of Chicago Laboratory Schools and a freshman at the University of Michigan, worked at Volumes Bookstore in Bucktown the summer after her freshman year of high school. "I think that buying local is so important," she said."You get to choose to support businesses that have values that you share, too. Especially in the context of the BLM movement, buying books from Black-owned businesses makes a difference."
While it would be fruitless to argue against the convenience of Amazon, maybe it's time we start prioritizing experience over convenience. As Anjali put it, with bookstores, "You get to have that personal connection with the people you're buying from," unlike what you get from an Amazon purchase. The simple act of going to a bookstore to buy a school book supports local businesses and provides an opportunity for safe human interaction, both of which are essential during this pandemic. Local Chicago bookshops include Semicolon Bookstore on Halsted, Pilsen Community Books on West 18th, Unabridged Bookstore on Broadway, Volumes Bookcafe on Milwaukee, and Women & Children First on Clark.
Anjali concluded, "Supporting local businesses helps you put your money where your mouth is, so to speak. You're supporting your local economy, rather than putting money into a billionaire's pocket." Ultimately, she said, "when you have the option, shopping local and small is great."
View Comments (1)
About the Contributor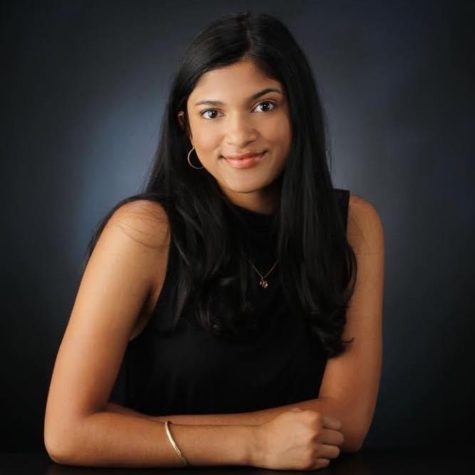 Ashna Satpathy, Standards Editor





Ashna has been writing for ​The Forum​ since freshman year, and it remains one of her favorite activities. She also enjoys working out, making...