The Return Of Sports: What Took So Long?
As COVID-19 cases decline in Illinois, and certain high-risk populations begin receiving the vaccine, Chicago has moved to Tier 1, which under IDPH guidance allows schools to resume contact sport practices and competitions. Although Illinois was one of the last two states to approve a winter season, many students and athletes are hopeful that the return of sports is the beginning of a renewed sense of normalcy.
When asked why Illinois took so long to reach Tier 1, Athletic Director Sonny Lim, said, "Our large population, or more importantly, the densely populated pockets of people, lent itself to a higher rate of COVID cases, hospitalization, and deaths, keeping Illinois from having more sports."
Basketball resumed contact practices and hopes to play games later this year. Swimming and other low-risk sports have already scheduled meets and competitions. For some, sports are providing long-needed mental well-being and are recreating a lost sense of community. "Sports and mental health go hand in hand for me," said junior soccer player Sam Gibson. "Being able to play sports makes me much happier overall, so homework feels like less of a chore."
Sophomore Cameron Woan agreed, adding, "Sports do so much for high schoolers. They provide a real sense of purpose for a lot of students that can't quite be replicated."
The return of sports also promises to help new freshmen acclimate to Latin. Zuhair Alsikafi said, "It's really hard to form tight connections and friendships online, so I feel like sports being back is helping students get closer and build a sense of community and togetherness that they did not have before."
Alice Mihas, a sophomore, echoed Zuhair's sentiments. "Sports make people work together to achieve one common goal," she said. "People learn to communicate with others while building bonds through the work and experiences they share. Sports are essential to creating a strong cohesive community."
Some Independent School League schools may stay remote, and others are not planning to resume athletics this winter, so Latin may struggle to find opponents within its conference, further complicating a return to play.
Although sports provide many benefits, athletics in the COVID era could prove dangerous. With restrictions loosening, some people may not be as careful or vigilant as they were before. The emergence of a new variant also adds greater risks, and it will be months before high school students are eligible for vaccination.
"I worry that things might change quite rapidly with this new COVID variant that is beginning to spread quicker than expected and a slower than anticipated vaccine rollout," said Mr. Lim. "If people let their guards down just because they know that the vaccines are coming out, we may have to fall back again." A step backwards would be devastating for many Latin students who have looked forward to athletics since the beginning of the year.
Others will continue to look for areas with looser restrictions. "The idea that suburban teams are less regulated and have to abide by fewer strict rules is very enticing for someone who just wants to play," Sam admitted. "Suburban club soccer teams have been practicing for weeks now and clubs in the city have been doing nothing." If a significant number of student athletes join suburban club teams, Latin's plans could become compromised, further diminishing the chances of sports returning.
For some, ensuring the continuation of Latin sports should be just as much of an institutional priority as returning to in-person learning. Mr. Lim said, "Sports and in-person learning are both important as they play a vital part of our students' well-being and mental health concerns as this pandemic progresses. As an educator, we see how important it is that our student-athletes have opportunities to connect, be social and interact. Athletics is as important as any other subject, department, and/or part of our students' upbringing."
The future remains uncertain, but members of the athletic department are emphasizing the importance of continued vigilance against COVID-19. "If we are to have any sort of sports this spring, summer and/or fall, we all need to do our part," said Mr. Lim.
Leave a Comment
About the Contributor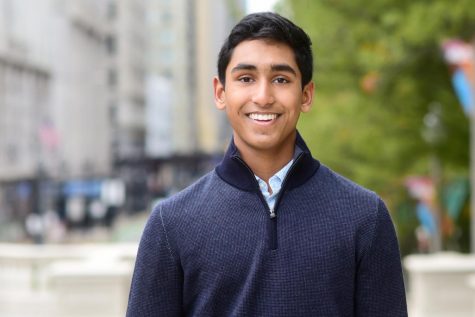 Akshay Garapati, Sports Editor
Akshay Garapati ('23) is excited to be serving his first term as the Sports Editor for The Forum. Previously, he served as the Opinions Editor. Editing...