Spotlight on Mr. Edwards
Upper School Romans know Dean of Students Joe Edwards for his charisma, his hallway greetings, his appreciation reminders during gatherings, and of course, his weekly videos.
Senior Eliza Bufferd particularly enjoys the funny anecdotes included in each video. "The best was when his child gave him a haircut," she said. Senior Eli Aronson said he appreciates "the fact that he is personable. He knew me as an underclassmen just by saying a simple 'hi' in the hallways." He also noted a running inside joke between him and Mr. Edwards: "Last year in the silence of the Learning Commons, he told everyone that I smelled, so it's now a running joke that we always wave our hands in front of our nose."
Mr. Edwards has practiced his knack for helping others throughout his life—working at Burger King, a diner, a tuxedo shop, a casino, a bar, the University of Chicago, and more. Mr. Edwards' background may seem sporadic, and he admits feeling the same, saying, "I never would have guessed that I would have done half of the things that I have done in my adult life. But when I look backwards, I see how the dots connect."
Mr. Edwards was born in Spokane, Washington, but he considers Fort Myers, Florida, where he moved at a young age, to be his home. Although he described his childhood overall as "fairly unremarkable," Mr. Edwards was hugely impacted by the unexpected loss of his father at the age of 11. He grew up with his mother and sister and attended what he refers to as a "sterile," large public high school.
"Like any of my friends," he said, "I needed to work, to have some money to spend on just hanging out and being a teenager." He worked at Burger King and a diner called Shoney's, but when he was a junior, he stumbled into a meaningful and peculiar job: working at a tuxedo shop.
Mr. Edwards said that when he went to rent a tuxedo for Homecoming, the owner of the tux shop, who had opened the shop fairly recently, gave him a bunch of coupons to hand out to his friends at school and said that if he got 10 of his friends to come in with a coupon and rent a tux, Mr. Edwards would receive his own tux for free. The owner of the shop was named Larry, and Mr. Edwards ended up getting around 80 people to rent a tux from him. When he went back, he said, "One, Larry gave me a free tux, and two, he gave me a job."
"So for the last two years of high school, I worked in a tuxedo shop, and it was awesome." His paycheck of six dollars an hour felt like "big money at the time," but really, it was the customers who illuminated the experience. "Everybody that goes into a tuxedo shop is happy. People are getting ready for weddings, prom, homecoming. People would rent tuxes to go to fancy events or dinner jackets to go on cruises and it's just a fun place to work because everybody is looking forward to something and excited about it." He added, "What's not to like about getting dressed up once in a while?"
Sometimes we learn the best lessons when we are thrown into the deep end and must learn to swim. Mr. Edwards learned this lesson at age seventeen, between his junior and senior years of high school when Larry handed him the keys to the tux shop for six weeks and said, "Make sure we're still open when I get back."
"That was quite literally him and his family's livelihood, and that's really intimidating," said Mr. Edwards. Nevertheless, "He had trust in me and he had coached me up to be able to do it, so I just needed to have the same faith in myself that he had in me," said Mr. Edwards. However intimidating it is to run a shop at age seventeen, Mr Edwards said, "I think that six weeks was his way of showing me that I could do it, in a way that maybe I didn't know for myself." Larry showed Mr. Edwards "how businesses are run, how to conduct myself in situations, and frankly how to have confidence in myself to figure stuff out even when it's uncomfortable."
Additionally, Mr. Edwards said, "What I really appreciated about Larry and something that sticks out in my mind is just how kind he was in treating people." He explained how tuxedos are an expensive undertaking, but, "no matter what it was that someone was paying, he would give them the nicest stuff that he had. I think that speaks a lot to who he is as a person, and how he never wanted money to be a barrier to somebody looking their best on their special days."
"I think that was really a powerful lesson for me to bear witness to—that life is more than just profit. It's also how you treat people and how you help people be the best that they can be, and look the best that they can be in that case. It was little things like that all the time: the way he treated me, the way he treated his customers, the way he treated other people."
After high school, Mr. Edwards attended the University of Chicago, noting that, "Other than when I had been a newborn baby, it was the first time I had ever seen snow, which was really interesting." He majored in history, focusing on 20th century social movements, and did his undergraduate thesis on the role of the gaming industry in the Civil Rights movement which, he said, "was sort of a way to convince my mother that I should go to Las Vegas for spring break to do research." While visiting Las Vegas, he was fascinated by "the history of both the gaming industry and how a lot of the people that got Las Vegas up and running really sympathized with Civil Rights leaders in ways that are sometimes missed in historical narratives."
Mr. Edwards also found an interest with The Flamingo Casino, a seemingly random location, but as part of his research he was drawn to its history and the "people that had literally worked there for decades." So, he thought, "Wow, I could work here, too." He had to decide whether to accept a job at the casino or accept an offer to get a Ph.D. in history at George Washington University. "It seemed like things were lining up neatly for me. But ultimately, at that point in my life, doing another six years of school was sort of intimidating and not really something I was looking forward to. So I thought, 'Okay, let's go to Las Vegas and make this a thing.'"
Following his decision to stay in Las Vegas, he flew to Madison, Wisconsin, where his now-wife Renee, whom he had met at the University of Chicago, was attending graduate school, and asked her if she would marry him and move to Las Vegas. "She said yes to everything, and I feel very lucky that she did."
Mr. Edwards and his wife, who was working at a nonprofit day treatment facility for kids who had just entered the foster care system at the time, also got lucky in having time to spend with their newborn son, Jack. Mr. Edwards worked nights at the casino supervising roulette pits and watched Jack during the days, and his wife worked days and watched their son during the nights.
While he notes he was, by no means, a "hard core gambler," he said, "gambling is almost secondary. It's also a town that has amazing restaurants, amazing shows" and "When you're 25, it's got a lot to offer. It's a generally happy place to live, which was a really cool experience."
"But, ultimately, Las Vegas is not where we saw ourselves for the next 50 or 60 years of our lives." His wife started applying to Ph.D. programs. "When she got into the program at the University of Chicago at the School of Social Service Administration, it was kind of a no-brainer for us because we had really enjoyed our time there as undergrads. We loved the city of Chicago, despite its winters." He found it "sort of tricky because roulette is not a transferable job skill and so I was kind of like, 'Well, what am I gonna do?'" He ended up working at a bar in Hyde Park called The Pub.
Once again, Mr. Edwards found himself in an intimidating, deep-end situation, and had to learn to swim. After his manager was injured and had a long recovery, Mr. Edwards was again "thrust into this management position all of a sudden," and he went "from just being like 'Okay, I'll pick up some shifts here and there to make some extra money,' and suddenly, it became a more permanent thing for me, so I ended up doing that for a while."
He and his wife were then offered the opportunity to become resident heads for undergraduates at the University of Chicago, which he said was "sort of my entry into administrative work." Additionally, he worked for housing and dining, supervised the resident heads, and was responsible for student and operations in three or four dorms. "I started to learn a lot about university administration," he said. "I just liked it. I liked it a lot and I decided that, wow, this administrative thing is something that I could really see myself doing." During this time, he also earned a master's degree ("It's hard to be in an academic environment and not get sucked into the actual academics at some point," he noted), and then he "bumped over from the student life side of things to the academic side of things as an academic advisor and then Associate Dean of Students."
He described his time at the University of Chicago as "an opportunity for me to continue growing as a professional and ultimately, after spending my undergraduate years there, after working there and getting a masters for another 11 years, I was kind of like, 'Okay, am I gonna spend the rest of my career at the U of C, [or] am I gonna see what else is out there?'" He decided he "just wanted to continue growing, and I started looking around and this opportunity came up at the Latin School, and it struck me as a really unique opportunity for me to take."
He noted that each individual school within the University of Chicago is ranked in the top five in their respective fields. "I had the good fortune to work with students at a pretty high level and see what contributes to their success and their challenges, and it was my goal to use some of that knowledge in working with high school students, which was new for me at the time, but I sensed that, maybe having seen what informs success or challenge at that point, maybe working with students at an earlier point can help." Ultimately, he said he wanted to help students "when [they're] starting off [their] more serious academic life, versus wrapping it up."
Reflecting on his life and the events that made him who he is today, Mr. Edwards said, "If there's a red thread that connects all of my different experiences, it's that whether it is working at Burger King and serving people the food that they want, working in a tux shop and giving people whatever style it is that they want, or in a casino, or in a college, or now at Latin, my goal has always been just to help people realize their own vision." He added, "I've got my own ideas, I've got my own thoughts, but your life is yours and my life is mine. How can I help you realize your vision? I don't want to imprint my vision on you, but you tell me where it is you want to go and how I can help you get there."
His advice to any young person is that, while it's important to have goals, "I also hope that people are willing to entertain ideas that come out of the blue sometimes."
The only way to understand what it is to be human is to build empathy, and only once one builds empathy can one be a better leader. Mr. Edwards—from persisting through life's curveballs, taking risks, and seeing the value in each human interaction—has become an empathetic role model for Romans. "I enjoy the sense of helping people realize their own vision," he said. "It may not be something I agree with, it may not be something that I would want for myself, but that's okay. That's actually the point."
View Comments (3)
About the Contributor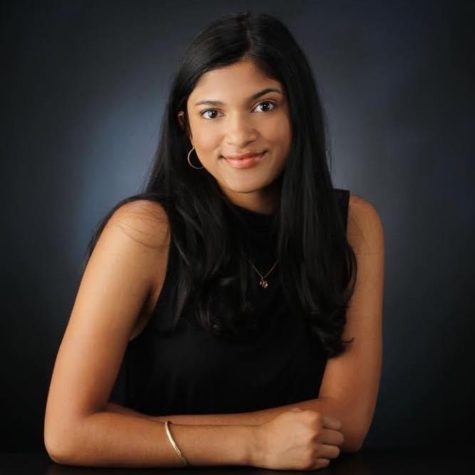 Ashna Satpathy, Standards Editor





Ashna has been writing for ​The Forum​ since freshman year, and it remains one of her favorite activities. She also enjoys working out, making...