How did Latin kids spend New Years? (and how socially distanced was it?)
Typically, winter break is a time to relax, spend time with families and friends, reflect on the past year, and look forward to the next. Yet, as COVID-19 cases continue to rise around the country and a new variant of the virus emerges, how did students spend the holidays and new year?
Photos and videos of gatherings posted on social media over winter break caught the eyes of many. Armaan Shah, a sophomore, commented, "It was really nice to see small group gatherings that followed COVID safety protocols. Seeing people wearing masks and socializing while remaining distant definitely put a smile on my face. However, when people weren't following safety protocols, I felt very disappointed. I understand why people want to go back to 'normal,' but what I don't understand is why some people aren't playing their part in mitigating this virus, especially as lives are lost."
Before and during the break, Latin regularly sent emails to the Latin community reminding families of risks involved in travel and gatherings, COVID precautions, and various laws put in place by Illinois and the city of Chicago.
Junior Samuel Cutinho said, "I think the emails that school sent over break didn't have much impact, because, in reality, not many students check email over break and students wouldn't listen to the school first but rather their parents on how to responsibly handle COVID."
Sophomore Molly McKee added, "I think the communications department is doing everything in their power to warn people of the consequences of traveling and I think that they are doing a great job of it, but at the end of the day, everyone is going to do what they want. So a few emails aren't going to stop them."
A survey conducted by The Forum revealed that 39% of the 166 students and faculty members who responded traveled over winter break; however, few members of the Latin community quarantined for the full 10-day period recommended by the CDC, with many attending in-person school. Additionally, the majority (57%) saw someone outside their immediate family, whether this may be grandparents, cousins, aunts, uncles, or friends. While it is possible to both travel and see friends safely, these two factors can both increase the risk of contracting the virus.
How many students took part in preventing COVID transmission? Of those surveyed, only 8% gathered in a group of more than 10 people. And of those that did gather at all—46% of the respondents—66% of students wore a mask, and 37% gathered outside. Both are encouraging numbers and have been a large reason why only 5 of the 1,376 members in the Latin community tested positive through the saliva screener. That rate is less than 1%, which is remarkably low considering the national (8.5%) and citywide (10.3%) rates.
Samuel expressed optimism about the future. "I don't really think the actions over winter break will harm the new hybrid system, because there was a week break between the end of winter break and the new term so students could get their tests done."
Sophomore Patrick Shrake agreed, adding, "The saliva testing implemented by the administration may eliminate most harm throughout the quarter." However, the administration and medical task force have warned that saliva screening is not an alternative to COVID precautions, such as social distancing or wearing a mask, as the virus often takes a couple of days before it appears on tests.
The pandemic, as Patrick affirmed, must not be taken lightly, as it still imposes a serious risk. "I think that a lot of people need to reconsider their decisions, because even if they think they or their families will be okay if they contract the virus, they may be putting others or others' families who may be in high-risk categories at a great risk," he said.
Molly added, "I feel like everyone might be slacking a little bit because this has been going on for so long, but we have to keep taking precautions even as a vaccine is coming out."
Leave a Comment
About the Contributor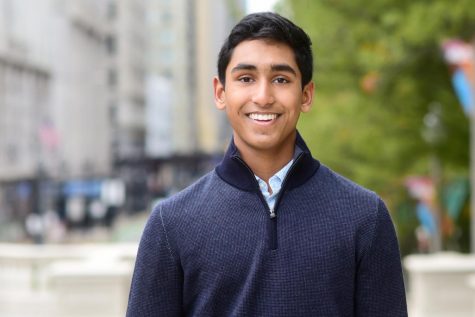 Akshay Garapati, Sports Editor
Akshay Garapati ('23) is excited to be serving his first term as the Sports Editor for The Forum. Previously, he served as the Opinions Editor. Editing...